Heavenly Sake from Hokuriku
1. Ishikawa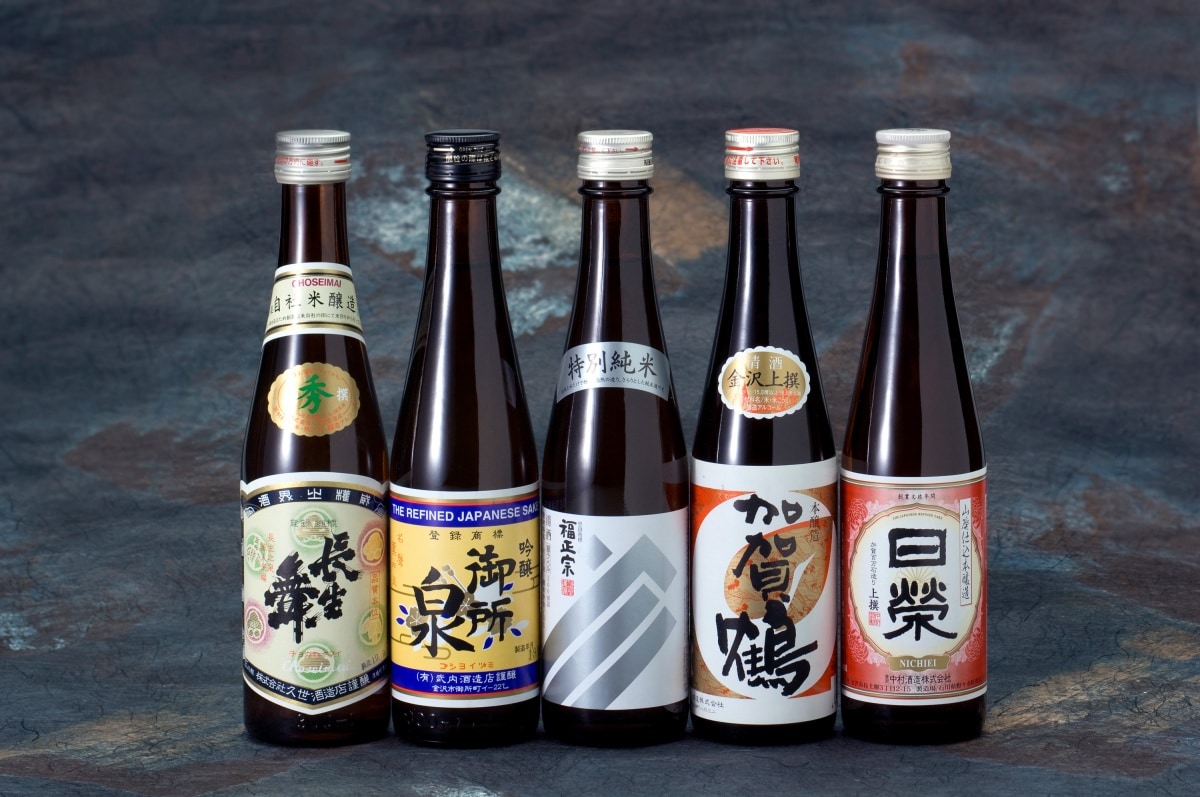 Ishikawa Prefecture, located in the center of the Hokuriku region, has over 30 breweries crafting fantastic quality sake.

Ishikawa has fertile land for rice cultivation, and sake makers source the water needed for brewing from the pure snowmelt of Hakusan National Park. Along with Mount Fuji and Mount Tateyama, Mount Haku is known as one of Japan's "Three Holy Mountains."

Among flavorful Ishikawa sake, Tengumai (天狗舞) and Kikuhime (菊姫) are highly ranked and popular with Japanese sake drinkers nationwide. Produced by Shata Shuzo, a brewery founded in 1823, Tengumai is a rich and tasty sake that can be enjoyed either chilled or warmed. Meanwhile, Kikuhime Co., Ltd. was established back around the year 1570, and its namesake sake is mellow, smooth, and refreshing. Tengumai and Kikuhime are both reasonably priced and readily available throughout the year.

(Photo courtesy of Kanazawa City.)
2. Toyama
Located to the north of Ishikawa, Toyama is home to about 20 sake breweries. These breweries make use of snowmelt from Tateyama National Park, home to Mount Tateyama. The mountain is part of Japan's Northern Alps, an area famous for producing the rich rice ideal for Japan's sake brewing.

Numerous types of sake are bottled in the region, but Kachikoma (勝駒) and Tateyama (立山) are both crowd-pleasers. Kachikoma, from Kiyoto Shuzo (founded in 1906), tastes sweet with a rich, full body. On the other hand, Tateyama from Tateyama Brewing (founded 1830), is sweet and lighter bodied. Even new sake enthusiasts can appreciate these two popular sakes from Toyama!
3. Fukui
Fukui, the southernmost prefecture of the Hokuriku region, has about 35 sake breweries. Manufacturers in Fukui also use the crystalline snowmelt from Hakusan National Park and locally grown rice in their sake production. Their brews go well with the foods the prefecture is known for, such as Echizen-gani (crab), Wakasa-gyu (beef), oysters, and mushrooms.

Among the offerings from the various Fukui breweries, Kokuryu (黒龍) and Born (梵) are especially popular domestically. Kokuryu, from Kokuryu Sake Brewing Corporation (founded in 1804), tastes fruity and fresh, but with a hint of bitterness. Born, on the other hand, is a line of fresh and mellow-tasting sake from Katou Kichibee Shouten, established in 1860. Sake from this maker has historically been presented to Japanese emperors, several prime ministers of Japan, and visiting overseas dignitaries. This sake is perfect for those occasions when you're entertaining special guests.