Taste Ichiju-Sansai in a Real Japanese Home!
Feast your eyes and stomach on these fantastic dishes, with vegetarian options together with meat and fish. Japanese food, and especially the mix available with ichiju-sansai, offers a wide selection of great Japanese cuisine. Here are our top five tastes from KitchHike, which you can book for a meal in a real home kitchen all across Japan!
5. Fit for a Vegetarian (Hiroshima)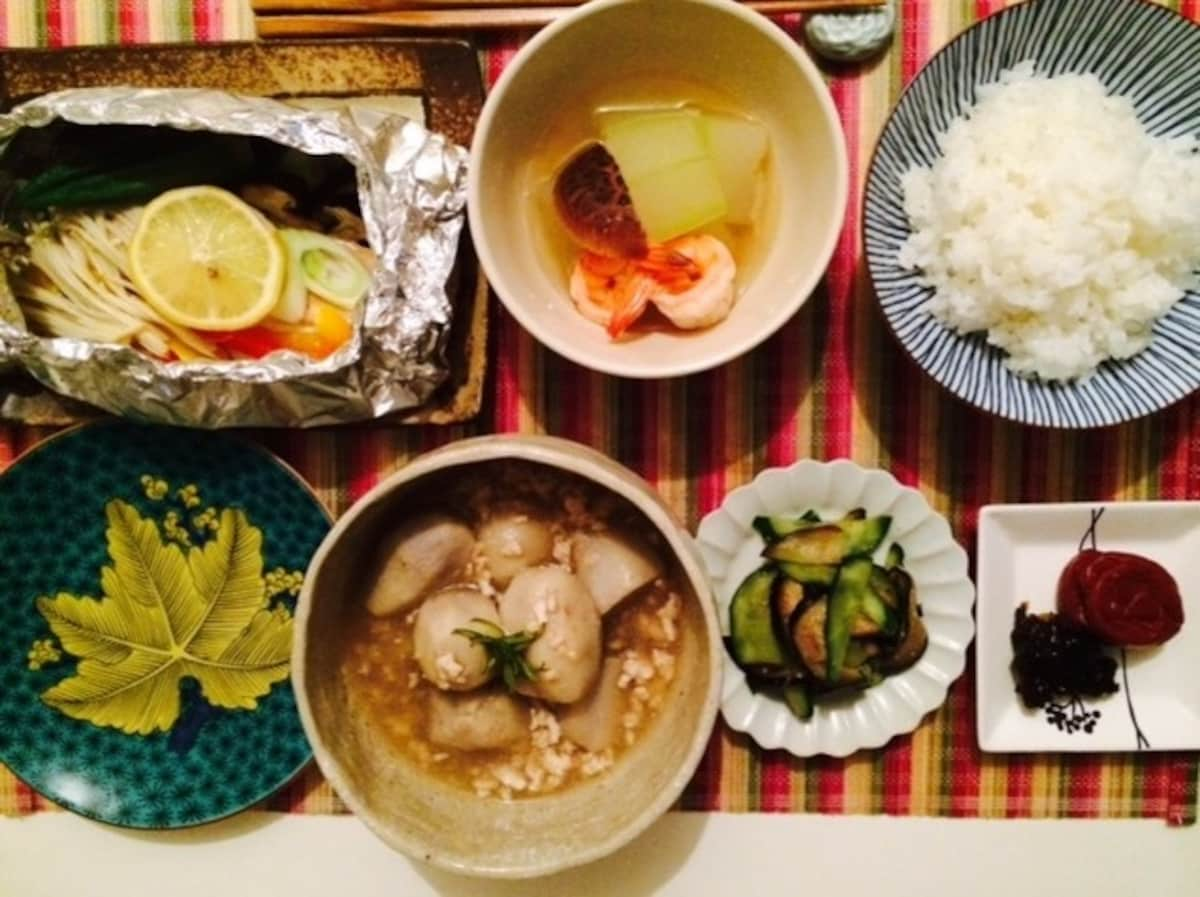 This is a great menu from a member of KitcHike in Hiroshima. It includes a wide selection of vegetarian delights that will appeal to everyone.

The soup is made with winter gourd melon, shrimp and shiitake mushroom. For the side dish there's a tasty looking cucumber and eggplant salad with a mustard soy sauce dressing.

For the main dish you'll find a healthy meal of salmon and vegetables topped off with a lemon for that added touch of vitamin C. And, as a little extra there is an umeboshi for those added nutritional goodies. Click below to sign up for your meal!
4. Fish or Meat Meal (Tokyo)
This wonderful meal is offered at a share-house in a Japanese housing complex in Tokyo. It's a colorful meal presented in the traditional ichiju-san-sai (one soup, three dishes) style. Including, rice, miso soup, fish or meat, side dishes and a dessert, this is a great meal to fill you up!
3. Two Kinds of Fish (Chiba)
This is a very tasty meal offered in Chiba using a great variety of ingredients. It includes a grilled black porgy fish (kurodai) covered in marmalade. There's also a second fish: a full dried and baked saury. Test out your chopstick skills as you work to get the meat out from between the bones! Other parts of the meal include simmered koyadofu (freeze-dried tofu) with dried gourd shavings and carrots, as well as simmered enoki mushrooms with onions and sakura ebi shrimp.
2. Teriyaki Chicken (Kyoto)
This Kyoto meal is a wonderful mix of meat and vegetables, with its main dish of teriyaki chicken bringing a sweet taste to the meal. While it's made from soy sauce mixed with sake, teriyaki actually isn't all that commonly eaten in Japan—it's one of those foods that seems to have caught on more overseas than it did domestically. So this is a rare opportunity!
1. Pork Cutlets in Batter (Tokyo)
This final menu comes from Tokyo, and is a really wonderful mix of taste and presentation. It includes Japanese rice, miso soup, a main dish of katsu (deep fried battered pork), several side dishes and even a seasonal fruit and a homemade Japanese dessert! A feast for the eyes as much as the soul and stomach, this dish offers a great balance! Click below to set up a session for this great home-cooked meal!