4 Days in Tohoku's Treasureland
Day 3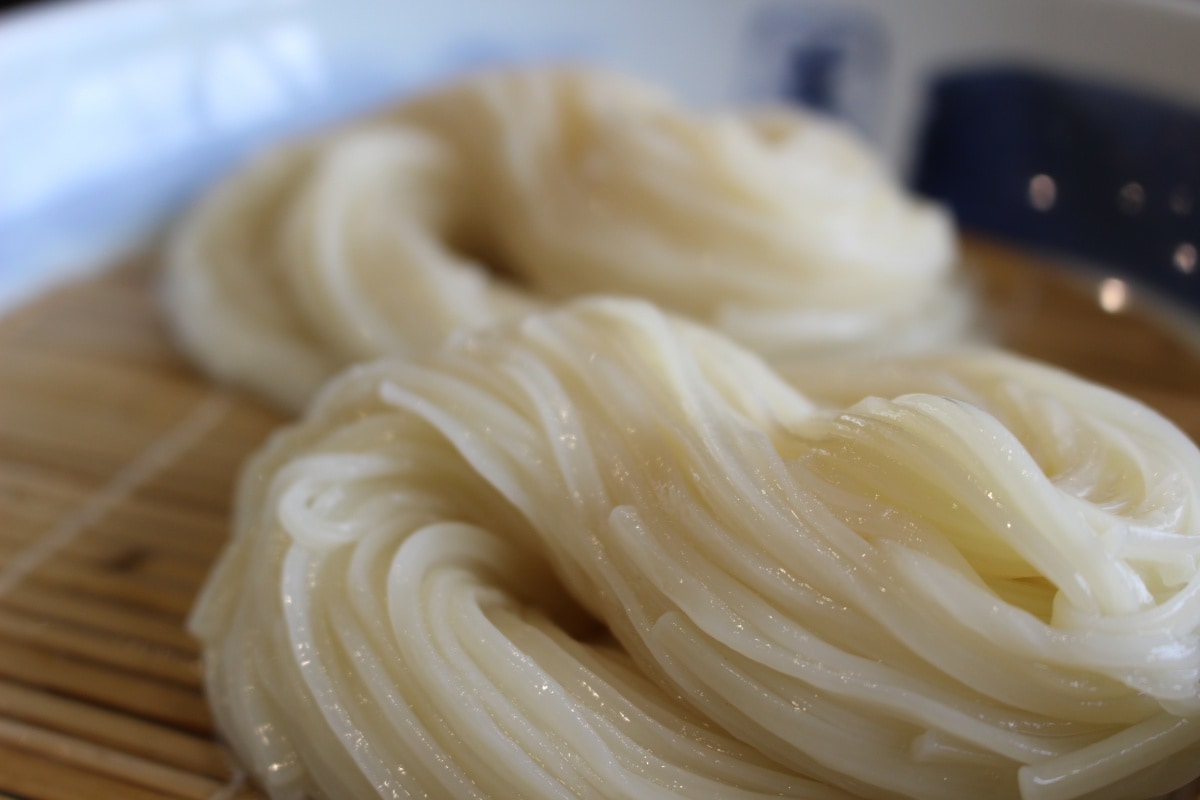 Inaniwa Udon at Sato Yosuke

In Japan there are handmade noodles, and then there are Inaniwa Udon noodles. This Akita specialty is thinner than typical udon, and made through a very laborious traditional process of hand-stretching and kneading.
Famous Inaniwa Udon producer Sato Yosuke (佐藤養助) offers curious visitors an opportunity to try this process (1,500 yen). Dough is already provided—you'll handle the kneading and stretching work, and they'll even ship the noodles to you in about a week's time (domestic addresses only).
Afterwards, I tasted the professionals' work at their restaurant nearby. Typically served cold, the thin, flat, slippery noodles had a nice, chewy texture, and tasted great with the dashi-based and sesame-flavored sauces. Chopped green onions, fresh wasabi, and grated ginger were also served on the side.

https://www.sato-yoske.co.jp/ (Japanese only)
The Uchigura of Masuda

The central historical district in Akita Prefecture's town of Masuda features a main street lined with centuries-old Japanese residences. This in itself is not unusual, but these historic structures are narrow and elongated, many extending well over 100 meters, and their occupants still live in them today!
More importantly, they are notable for what's inside the complex—uchigura, or inner storehouses. Unlike in other parts of Japan, these are no mere storehouses, but actually function as living spaces. It's possible to tour many of these uchigura and appreciate their incredible craftsmanship, with distinctive red lacquered wood making an elegant contrast against black plaster walls.

https://masudakanko.com/en/uchigura/
Apple Picking

As with Yamagata beef, Tohoku's large temperature differences between day and night are perfect for growing apples. In fact, the region is Japan's top producer. Picking your own apples (among other fruit) right off the tree is quite fun, and some orchards offer all-you-can-eat options, while others may charge based on the number or weight of your harvest.
Northern Akita has a number of apple orchards, particularly in the Nakayama district of Odate City and the Fushikage district of Kitaakita City. We made a detour to Kagaya Kajuen, a small family-run farm growing several varieties of apples. Climbing up on a ladder at times, I selected some internationally-renowned Fuji, as well as Beni Akari apples. The latter is a new variety unique to Akita. I enjoyed their crisp texture and excellent balance of sweet and sour.

http://www6.plala.or.jp/kagaya-kaju/ (Japanese only)
Making Damako-nabe Hot Pot

We then drove out to Akita's Oga Peninsula, a land where both culinary and cultural tradition live on amid beautiful natural scenery. Our first destination was Ninigi Café, a rustic farmhouse that is an actual family residence, cozy café, and traditional inn, all under one roof.
Although we were staying overnight elsewhere, we dropped by for the chance to make one of Akita's local specialties, damako-nabe hot pot. The café owner, a father in his 40s and serious music aficionado, brought out some mashed rice and showed us how to roll it into little, bite-sized balls.
Once complete, these were added to a hot pot with burdock root, Japanese parsley, and leeks, along with bits of chicken. Savory, hearty, and filling, this Akita soul food was perfect to share with others on the cold autumn evening.

http://ninigi-cafe.com/ (Japanese only)
Day 4
The Namahage

Our second destination entailed something nearly synonymous with the Oga Peninsula: the Namahage. A local tradition every New Year's Eve, young men put on masks and traditional straw garments and transform into Namahage, scary ogres that move from house to house searching for naughty children with the goal of scaring them into good behavior.

Even if you're not in Oga on December 31, you can still experience this amusing Akita tradition at the Oga Shinzan Folklore Museum. Stepping into this traditional, thatched home filled with the scent of smoke from the irori (traditional Japanese sunken hearth), I sat down with other guests on the tatami mat. After much thumping and banging outside, two Namahage entered and promptly began the ritual, though I am pleased to report that no naughty children were in our company that day.
Next door, the more modern-looking Namahage Museum introduces the history and incredible diversity within this tradition. Though the basic practices of the Namahage are the same, different communities around the peninsula create different masks, samples of which are on display here.
Takashimizu Brewery (Akita Shurui Seizoh Co. Ltd.)

Officially, Akita Shurui Seizoh Co. Ltd. started in 1944, but like many Japanese sake producers, its roots run much deeper. 12 Akita brewers, who had been brewing sake through the Edo, Meiji, Taisho, and Showa eras, joined forces and started the brand Takashimizu, which means "high spring water."
Using spring water, as well as special Akita-grown sake rice, the company produces a range of different sake. While much of the process is machine-run, they still set apart a special section for their entirely handmade ginjo types.
Brewery tours are generally offered three times a day, and during winter, those on tour during the 10:30 time slot may also spot the staff making the sake. Note that as of the time of this writing, however, brewery tours, tasting, and on-site shop sales have been suspended due to Covid-19. For information as to when they will resume, please call the brewery at 018-864-7331.

http://www.takashimizu.com/
Lunch at Honke Abeya

Akita boasts one of Japan's top three brands of free-range chicken: hinai-jidori. Every day restaurant Honke Abeya (本家あべや) takes deliveries of these premium birds to ensure freshness, then serves them to patrons in a variety of styles, from classic charcoal-grilled yakitori skewers to rice bowls and hot pot dishes.

Prior to the shinkansen trip back to Tokyo, we stopped for lunch at Honke Abeya's Akita branch, located near Akita Station, and ordered oyakodon. Honke Abeya made a masterpiece of this staple of Japanese cuisine starring chicken and egg served over rice. Topping a base of Akita komachi rice, the delightful combination of dashi, healthy yellow egg, and savory, juicy chicken meat brimmed with savory umami flavor and, as I feared, disappeared all too quickly.

http://honkeabeya.com (Japanese only)
Conclusion
Despite all being part of the larger Tohoku region, I was impressed by how much variation there was in each of the three prefectures I visited. In areas such as food, landscape, architecture, and cultural traditions, they offer a trove of incredible discoveries.