The City of Salmon – A Day in Murakami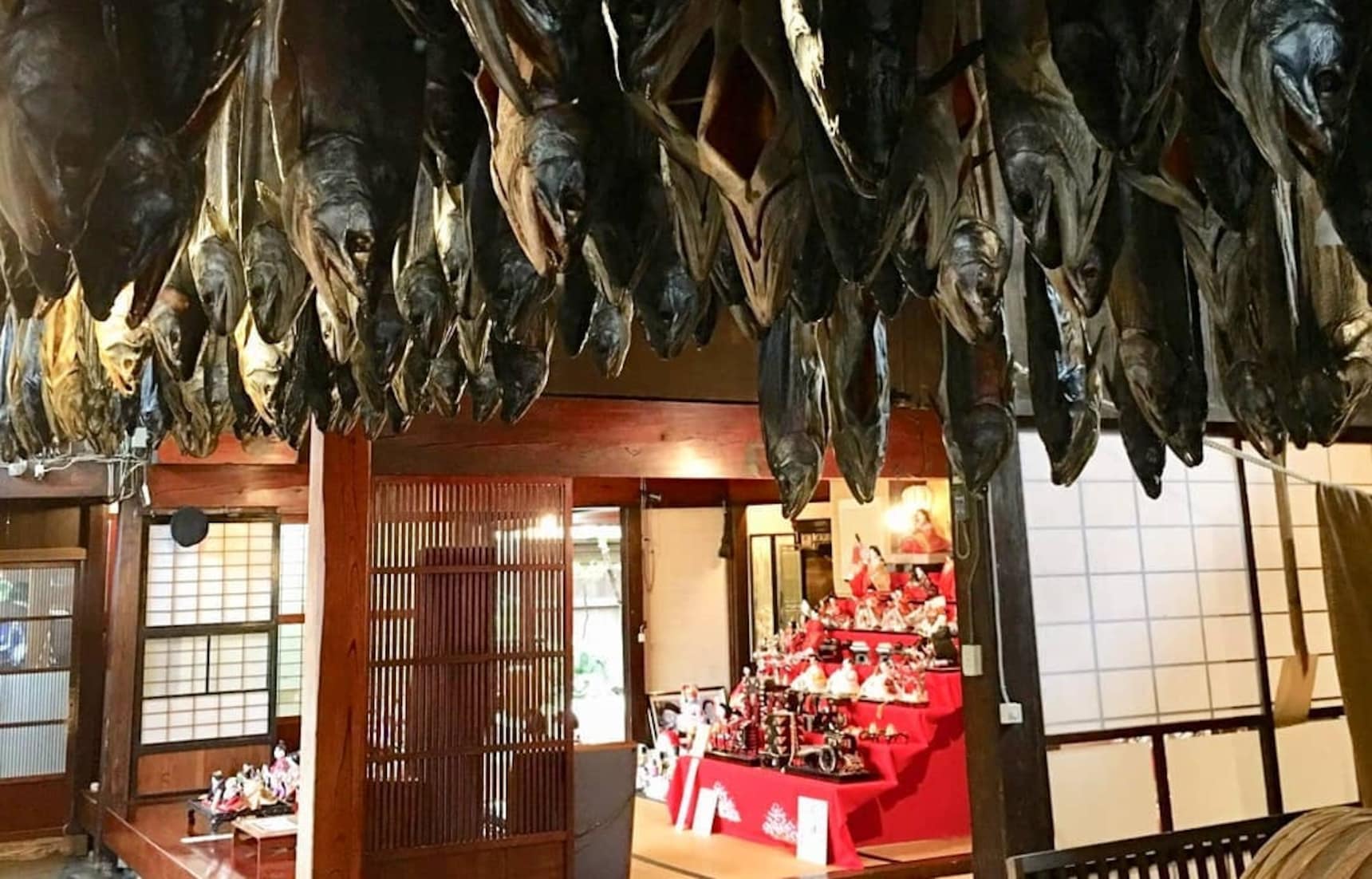 The Hanging Salmon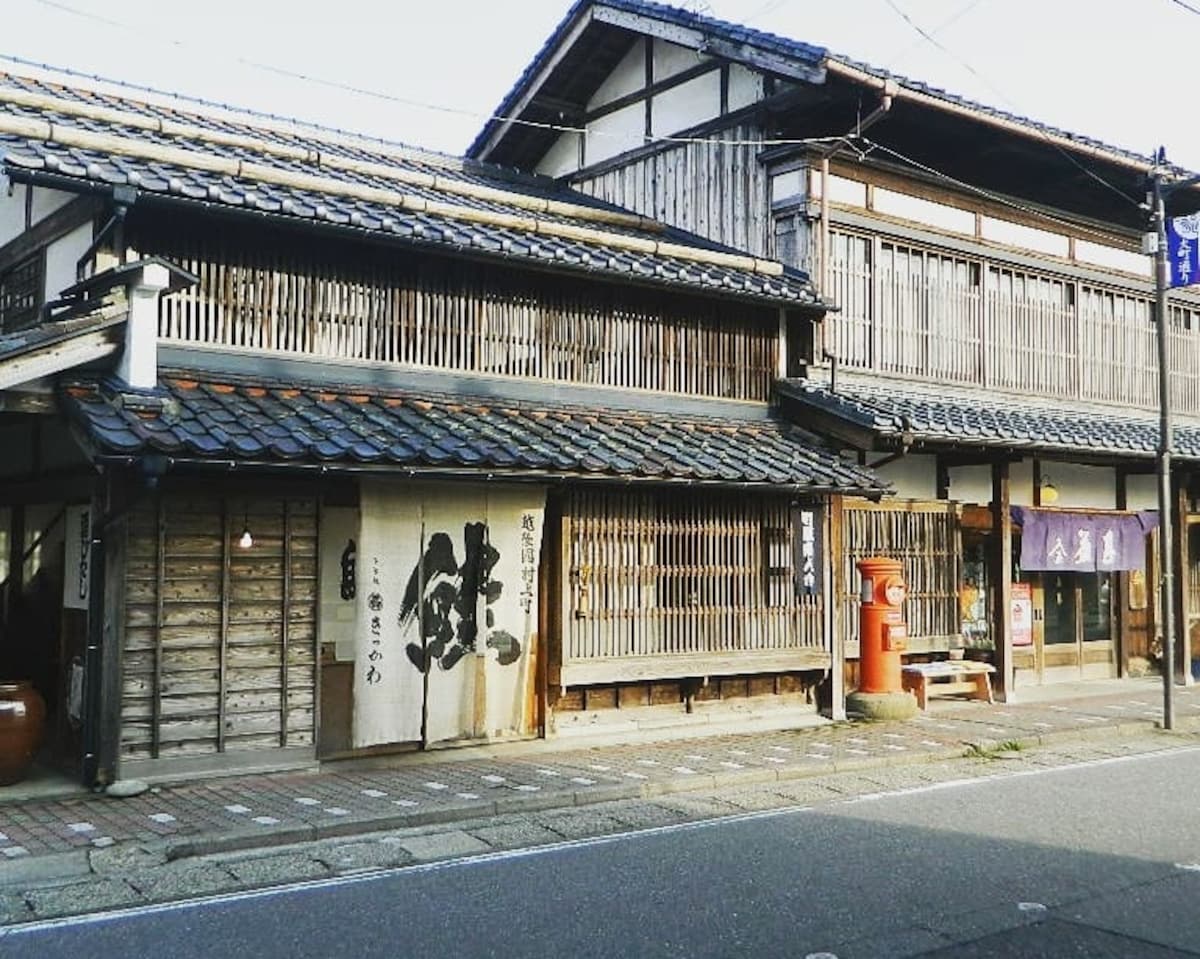 Every year in Murakami thousands of salmon are caught in local rivers to be dried, salted, and hung all around the town. This creates a surreal atmosphere – which is even a little creepy at times! Kikkawa, a historic salmon outlet in the middle of the city, has the biggest collection, with hundreds hanging in various states of fermentation year-round. Every salmon is salted by hand - a grueling, painstaking process for the workers, but worth it for the incredible final product. They are then hung until completely dry, which takes anywhere between a few months to a year. Once ready for consumption, they are taken down, hand-sliced, and sold.

Kikkawa also acts as a museum, presenting information, tours, and free taste-testing! There are around a dozen different flavors, including standard salted salmon, miso salmon, and soy-sauce salmon. If you like what you taste, you can buy a set for around 1000 yen, with some cheaper options available.
100 ways to enjoy salmon!
It is said that the people of Murakami know 100 ways to enjoy salmon. One of the most unique is the local tradition of sake-bitashi. Sake-bitashi was born from the area's innovative gourmet culture combined with Niigata's deep lust for good sake. It's easy to try yourself! First, buy some dried salmon bits from any specialized store in Murakami. Next, get some local sake and pour it into a small cup. Finally, soak a piece of the dried salmon in the sake until it softens, and enjoy! Sake-bitashi heightens the salmon's natural umami flavors and makes each piece juicer. You can also sip the dipping sake and appreciate its evolving taste!
Know Your Salmon! Murakami Salmon Museum
The Murakami Salmon Museum, known as Iyoboya Kaikan, displays the fascinating lives of these unique fish and how they intersect with the history of the area. The museum's main attraction is the glass viewing window that peeks directly into the depths of the Miomote River, whereby salmon can be spotted swimming throughout autumn and winter. A small aquarium filled with other local river creatures is also nearby.
The Most Northern Tea in Japan
Murakami is not just famous for salmon – its locally grown tea is renowned with experts internationally. It is also Japan's most northern tea producing area. Any further north and the air gets too brisk for good tea growth.

Murakami's tea culture is best experienced at Fujimi-en and Kokonoe-en. Both are tiny, family-run institutions of Niigata with impressive histories. Their premises are equally stunning and packed with artifacts and traditional architecture. They offer free taste testings, along with a great range of beautifully packaged teas for purchase. If you're after something cold, Fujimi-en's ice-cream tea is a refreshing pick-me-up perfect for summer!
Drink Tea in Style
While respecting their traditions, residents of Murakami understand the need for innovation. There's no better example of this than Fujimi-en's new-age 'tea bar.' Modelled on an upscale wine bar, this renovated section of their premises allows space to savor tea crafted by experts. The tea here has been brewed prior and aged in wine bottles for up to several months. It is then carefully poured into a special glass that disperses the aromas and highlights the flavor. Then, much like wine, customers are expected to slowly sip their drink and appreciate its subtle characteristics. This groundbreaking method is paving the way for a new generation of modern tea-lovers!
Murakami-gyu
If ancient salmon preparation and historical tea brewing weren't enough, Murakami's own brand of beef, known as Murakami-gyu, is another delicious reason to make the journey. There are plenty of restaurants and butchers selling various cuts and styles, including the highest-standard A-5 ranked beef. The cows are feed on Niigata's local rice, koshihikari, which is known across Japan as the best variety available.
Only the Purest – Murakami Sake
If you're particular about your sake, Murakami's two sake breweries are sure to satisfy! Miyao Brewery, located near the center of Murakami, are obsessed with gathering the purest ingredients available. They source their water from the adjacent Monzen River, which comes from underground streams stemming from the Asahi Mountains. Their brewing methods are backed up by over 200 years of history, and their Shimehari-Tsuru range is savored across Japan. While they do not have free tastings, they offer a free tour in Japanese.
Close to Fujimi-en, Taiyou Brewery provide free tastings of their delicious sakes inside their decretive parlor. You can also buy a fresh brew straight from the tank, which is poured, bottled, and labeled for you right there and then. Due to contamination concerns, both Taiyou and Miyao don't allow visitors into the actual brewing rooms, so if you wish to see sake-making in action, Echigo-Sakura Brewery in nearby Niigata City is a better choice.
How to get to Murakami
Murakami Station can be accessed by train from Niigata City. There are several lines that head toward the town, including the direct Limited Express Inaho train, which takes approximately 45 minutes, and the Rakuraku train, taking an hour. Murakami can also be reached via local lines with a change-over at Shibata City, although these lines can be quite slow.

Once you arrive at Murakami Station, a nearby tourist center has bus information and rental car options. The best way to get around is via the local tourist bus that circles the city's attractions. Each ride is a flat rate of 100 yen. Most of Murakami's attractions are within walking distance, so if the weather permits, walking is also a fantastic way to take in the incredible Edo-era buildings and find hidden gems!