Delicious Wagyu in Japan's Volcanic Heartland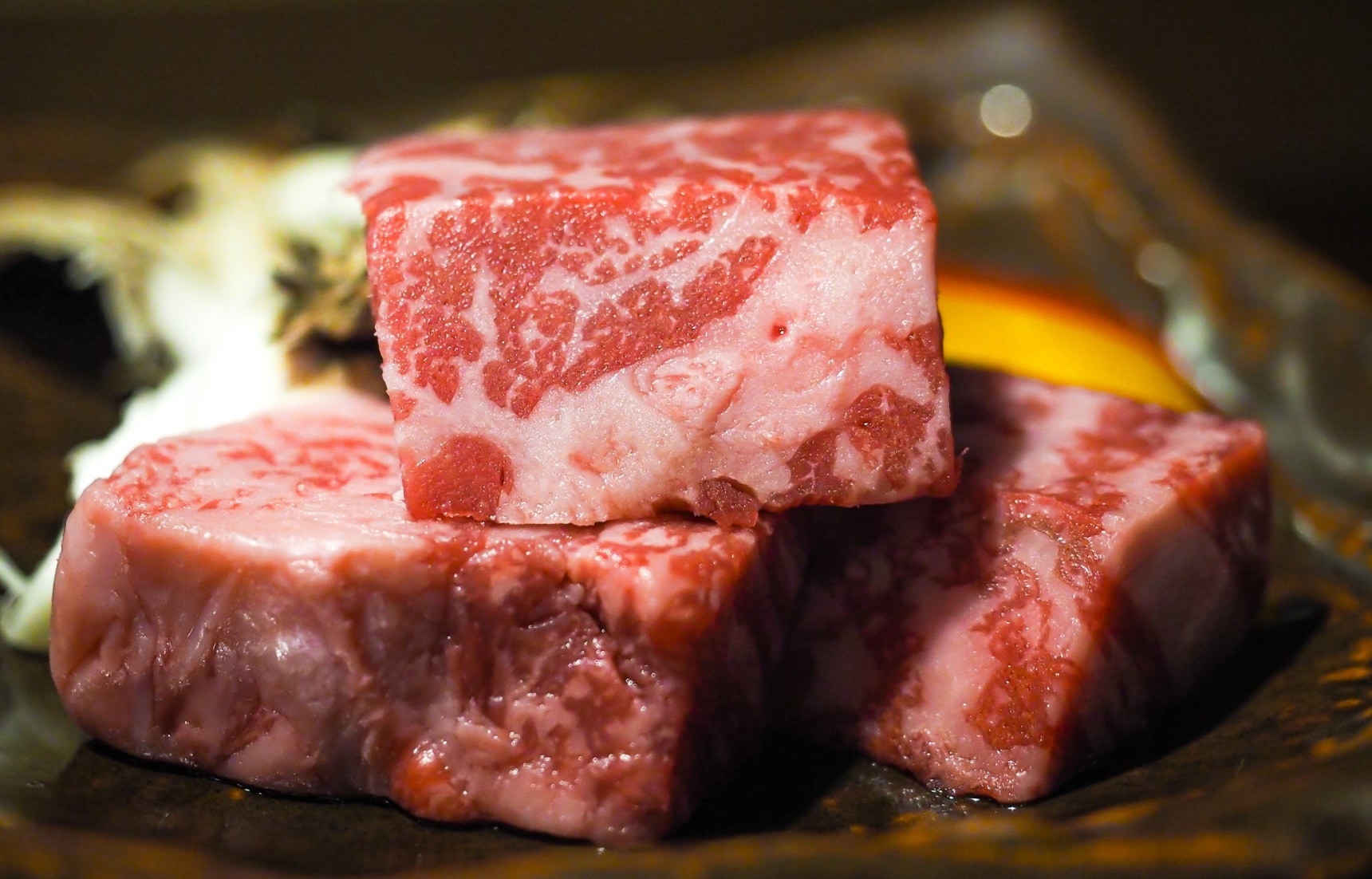 Dozens of wagyu "brands" exist in Japan other than the renowned Kobe version, each with their own distinguishing character. One of these is Akaushi, which hails from the volcanic Aso region of Kumamoto in Kyushu. While most known for smoldering craters, Aso offers an exotic stop-over for the gourmand seeking to taste the best of Japan.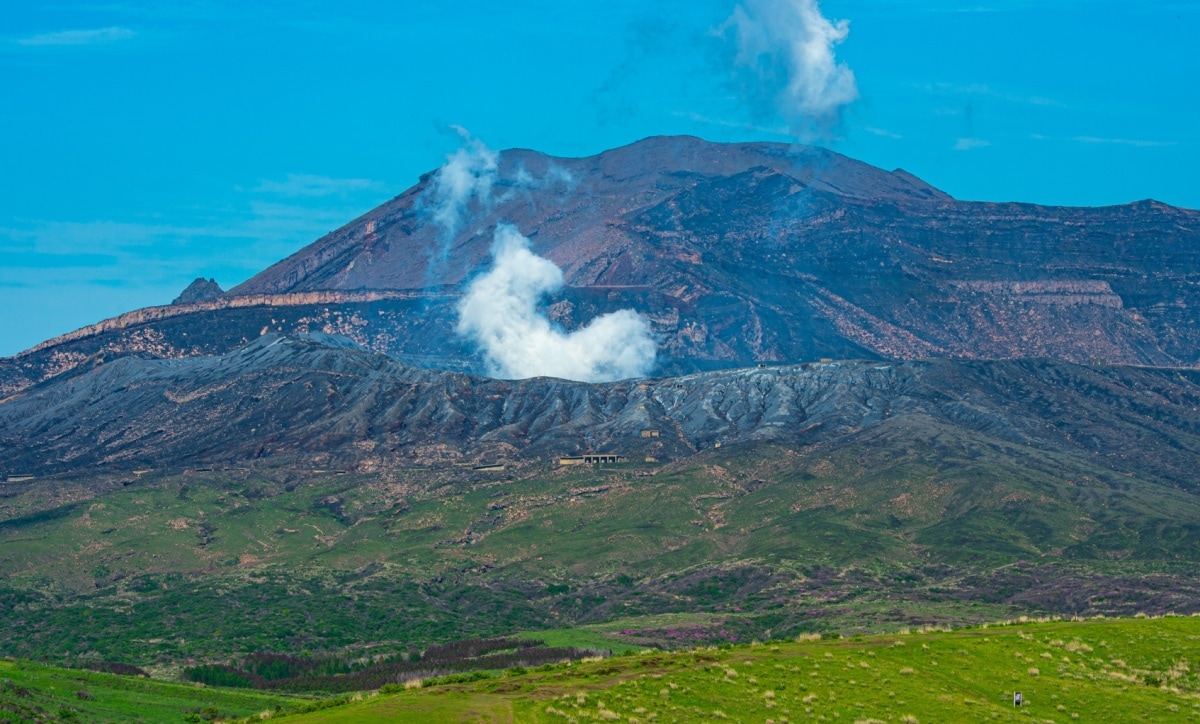 The bizarre shape of Mt. Aso is recognizable even on a map. It's made up of three distinct terrains--the outer rim, inner caldera, and the central volcanoes. The region was formed by four massive eruptions, the oldest occuring 270,000 years ago and the most recent 90,000 years ago, which expelled the body of magma beneath the earth, collapsing into a huge caldera. The five central volcanoes of Aso were gradually formed thereafter, and they are still active today, spewing out gas, smoke, and even ash. In fact, the iconic crater of Mt. Nakadake remains closed as of 2022 due to a recent uptick in volcanic activity.
Despite this, Aso is quiet, rural, and utterly charming, stippled by rustic towns and graced by gorgeous, seasonally-changing scenery. There are several hiking trails in the area that cater to a wide range of skills and time frames. The tallest peak of Mt. Taka is recommended for experienced mountaineers, while Mt. Eboshi can be conquered in just two hours.

It's currently impossible (as of 2022) to get close to the active Mt. Nakadake crater, but many of these walks feature magnificent views of it from all angles, allowing a peek at the fierce energy lurking below. The outer rim is equally worth a visit, with the highest point of Daikanbo Lookout treating visitors to sweeping panoramas of the caldera and five peaks. Not to be overlooked is the adorable cone-shaped mini-volcano Komezuka, which is covered by vivid fresh grass during the warmer months.
Cultivating a New Kind of Wagyu
The sweeping plains, pristine water, and fertile earth have also made Aso one of Japan's most prosperous breadbaskets. Along with staples like rice, vegetables, and fruit, Aso is most celebrated for Akaushi wagyu beef, which is served throughout the region. Akaushi comes from a species of Japanese Brown endemic to Kumamoto Prefecture, which were originally bred from the Simmental with native Japanese cattle and officially registered in 1944.

Akaushi were bred to be resistant to cold and suited to free-range pasturage, qualities easily adaptable to the high altitudes and grassy plains of Aso. They are known for their gentle personalities and being very easy to raise, with roughly 20,000 now populating Aso. Akaushi beef is exceptionally lean with moderate fat, yielding a mild, savory flavor highly agreeable to even those unacquainted with wagyu. They are raised under strict criteria outlined by the Japanese Akaushi Registration Association, requiring the longest and last place of feeding to be in Kumamoto Prefecture, along with a ranking of at least 2 or above by the Japan Meat Grading Association. As Akaushi are free to wander the pastures of Aso, you'll likely encounter some curious cattle during your expeditions!
Where to Eat Akaushi Beef
After the taste, the best thing about Akaushi wagyu is the budget-friendly price. For between 1,000 and 2,000 yen, you can feast upon top-tier Akaushi at numerous specialty restaurants dotting the Aso caldera. And after burning through calories on one of the hikes, you'll more than likely deserve it! Of course, prices depend on quality and cut; luxury renditions as expensive as 10,000 yen or more are not uncommon.

One of the most renowned and affordable is "Hanabishi," a wagyu restaurant conveniently located near Aso Shrine. The hefty menu invites patrons to experience Akaushi through a wide choice of hearty dishes, including hamburg stews, cutlet curries, and donburi beef bowls. For those averse to rare meat, hamburg is the way to go. If you prefer to relish the intrinsic flavors and aren't put off by rawness, then a beef bowl or cutlet should be more than satisfactory.
Hanabishi is located on the cherry tree-lined Monzenmachi Shopping Street, which radiates a quaint, serene ambience recalling the rustic Showa Period (1926--1989). The street is also famous for an abundance of natural spring water that wells up into multiple sinks along the curbside, each boasting their own unique design and flair. Feel free to fill up a bottle to help wash down your meal! Also nearby is Aso Shrine, one of Japan's oldest shrines dating back over 2,000 years. As of 2022, the shrine is undergoing significant repair work after being severely damaged in the 2016 Kumamoto earthquakes.
The Other Delectables of Aso
Rivaling Akaushi is "Ajisai beef," which is cultivated throughout Kumamoto Prefecture. Ajisai are bred from the Holstein Friesian dairy cattle with the Japanese Black, and is a relative newcomer to the wagyu world. Ajisai is known for its soft texture, medium fattiness, and delicate marbling, making it more suitable for sukiyaki or shabu shabu than Akaushi. Complementing the meat are several local dairy products made from Jersey cattle milk, including black sesame pudding and "horoniga pudding," which can be found in Aso's hot spring town of Tsuetate Onsen.
Kumamoto and Aso are also famous for basashi raw horse sashimi, which has a meaty, lean texture somewhat similar to akami tuna sashimi, depending on the cut. For locals, this is the epitome of Aso cuisine, but no one would blame you for passing--even the most daring find it a challenge! Basashi is also on the menu at Hanabishi, and is a staple at restaurants and izakaya throughout Kumamoto City.
A Hot Springs Paradise
Bubbling with geothermal activity, natural hot springs are plentiful in Aso. An ample selection of enchanting hot spring villages dot the caldera. However, for the best of the best, it's worth hopping out of the caldera for the hidden valleyside town of Kurokawa Onsen.

Nestled in sleepy farmland without a convenience store in sight, Kurokawa Onsen feels completely disconnected from the hectic world. There are dozens of outdoor open-air baths to soak in, with warm, nourishing mineral-rich waters hugged by lush wilderness. Each bath has its own character, from the sophisticated and spacious to the offbeat and cozy. You can purchase a wooden "onsen hopping pass" at Kazenoya Information Center for 1,300 yen, giving you access to three different Kurokawa Onsen hot springs from a line-up of 28.
If you can, line up your visit to Kurokawa Onsen with the wintertime Yuakari festival, generally held between December and April. After dark, the central river glows with the tender light of hand-crafted bamboo lanterns, weaving together an ephemeral, otherworldly atmosphere.
Getting There
To get to Aso, take the Kagoshima Route of the Kyushu Shinkansen bullet train from Hakata Station in Fukuoka to Kumamoto Station, which takes between 30-50 minutes, depending on the service.

From Kumamoto Station, board the Trans-Kyushu Limited Express (Kyushu Odan Tokkyu) and get off at Aso Station, which takes just over an hour.

While Aso City and some other caldera towns are connected by train, the best way to explore the region is by car. For hiking, drive up to the Mount Aso Visitor Center for maps and the latest volcano information.

More All About Japan articles about the area attractions:

More about Mt. Aso

A Train That Conveys the Spirit of Recovery

Japan's Most Notable Volcanos

In Incredible World in Miniature