6 Hiking Trails Close to Tokyo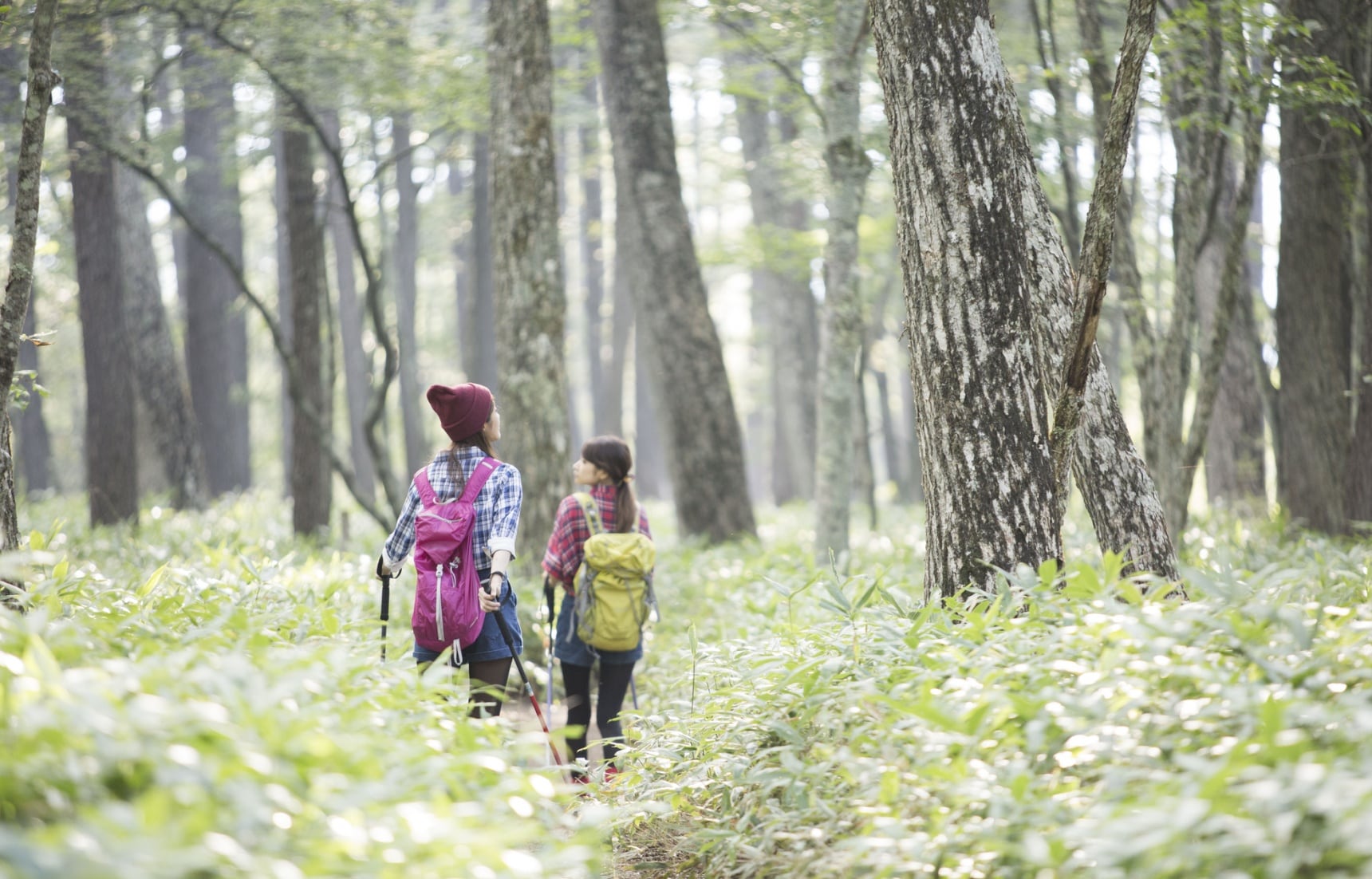 Easy Hikes
If you are not in the mood for a hardcore trail, these easy hikes (okay, walks) provide a nice dose of nature and pretty sights without the sore muscles.
Musashi Kyuryo Shinrin National Park - 90 Minutes from Ikebukuro
There is no other way of putting it: this national park is huge! Over three km² (304 hectares), exploring the various areas, mini-hiking trails and flower fields of Musashi Kyuryo Shinrin Park can easily entertain you for several hours. There is always something in bloom, although the Icelandic poppies—shown above—which bloom throughout April, the autumn maple garden and wild plant course are considered particularly lovely. You can find out which flowers are in bloom from their handy online pamphlet. If you prefer to swap out walking for biking, you can rent bicycles on site.

Entrance costs ¥450 for adults (high schoolers and above) and is free for children, making this is a budget-friendly option if you are looking for a fun day out for the kids.

Closest Station: Shinrin-koen Station
How to get there in 90 minutes: from Ikebukuro Station, take the Tobu-Tojo Line express train and get off at Shinrin-koen Station. From the north exit, take the bus towards Rissho Daigaku or Kumagaya, and get off at the Shinrin-koen West Gate (森林公園西口) or Namegawa Chugakko (滑川中学校) stop. On weekends and national holidays there is a direct bus to Shinrin-koen.
Sayama Area Walking Courses - 45 Minutes from Ikebukuro
Home to Tokyo's two most important reservoirs, the Sayama Hills area offers nice 'lake' views, woods filled with plenty of birds and lots of options for entertainment nearby, in case you get your fill of nature.

There are several options for a pleasant walk, such as following the main walking path around Tama Lake while passing through several major parks and a couple small shrines, for which you can find a map here.

Ghibli fans can also follow a trail inspired by My Neighbor Totoro, thanks to the Totoro Fund which has bought and preserved many areas of land in the area to ensure they remain wild. It can be a bit of a challenge to follow, as there are so many little woods that make up the trail, but you can find a basic map on their official site.

Closest Station: Seibukyujo-Mae Station
How to get there in 45 minutes: From Ikebukuro Station take the Seibu Ikebukuro Line rapid train towards Hanno, and switch to the Seibu Sayama Line at Nishi-Tokorozawa.
Mid-Level Hikes
If you are already somewhat familiar with hiking, there are several mountains near Tokyo that require a little bit of stamina, without being overly intense.
Ome Kyuryo Hiking Course - 60 Minutes from Shinjuku
A pleasant course with several shortcuts and ways down, this hike is easy to customize based on how you feel on the day. The most popular choice is the 11 kilometer (6.8 mile) trail up to Mount Raiden (雷電山). Start from Ome Station and walk towards Ome Railway Park (青梅鉄道公園) to find the entrance to the Ome Kyuryo course (青梅丘陵). The first section is quite gentle, and on the way, you can stop at Konpira Shrine and get some great views of the city and mountains.

The trail rises to an average altitude of 400 meters (1312 feet), and once you pass the Karakai Castle ruins the final bit of the trail consists of a steep climb to the top of Mount Raiden, at around 494 meters (1620 feet). From here you can either continue on up to higher peaks, or decide to explore a little further afield, by heading down towards Ikusabata Station (軍畑駅) and taking a side trip to the Sawanoi sake brewery, which is just one station down the line towards Okutama.

Closest Station: Ome Station
How to get there in 60 minutes: from Shinjuku Station take the JR Chuo Line special rapid bound train for Ome, known as the Ome Tokkai (青梅特快) and get off at the last stop.
Mt. Mitake in Okutama - 90 Minutes from Shinjuku
One of the most popular day hikes from Tokyo, the selection of trails and charming shrine make Mount Mitake a surefire hit with both inveterate hikers and those seeking a bit of nature near the city.

Depending on your interests and fitness level, you can choose from a variety of trails. The easiest takes you from the cable car station to Musashi Mitake Shrine, just follow the road that takes you through the little mountain top village.

For the maximum beauty within a short two hour hike, head to the Rock Garden. The trail will take you along a little river valley with pretty waterfalls, mossy stones and beautiful tall trees. On the way you will also pass by the Tengu Rock, which (vaguely) resembles the mythical mountain spirit.

If you are looking for more of a challenge, follow the signs to get onto the trail that leads to the top of nearby Mount Otake, which is 1267 meters (4156 feet) high and offers splendid views over the surrounding mountain chains. Another option is taking the trail from the shrine to Mount Hinode, which is a little smaller at a height of 902 meters (2959 feet) and is known for the flowers which bloom along the trail.

You can get information about the hiking paths from the Mitake Visitor Center, located between the clable car station and Musashi Mitake Shrine.

Closest Station: Mitake Station
How to get there in 90 minutes: take the JR Chuo Line rapid train bound for Ome (who can find a timetable here) and get off at Ome. Transfer to the JR Ome Line bound for Okutama, and get off at Mitake. A short walk from the station there is a bus stop where you can catch a bus that will take you to the cable car.
Serious Hikes
Lace up your hiking shoes for these challenging day hikes into the lush mountains of the Greater Tokyo Area. Although like most mountain trails in Japan there will be signs posted periodically, sometimes they will only be in Japanese, so make sure to double check the characters before you go, to make sure you don't make any surprise detours.
Koburi Pass and Yukade - 70 Minutes from Ikebukuro
A little known gem in nearby Saitama prefecture, this hike can be done in either direction, depending on whether you want to tackle the ragged up-and-down ridges between Suwa Shrine and Higashi Agano at the beginning or end of your hike.

If you want to sweat first and enjoy a more relaxed hike later, start your hike at Higashi Agano Station and head to the trailhead, which is right behind Fukutoku-ji Temple (福徳寺). Follow the signs for Yugate (ユガテ), a lovely little spot filled with blooming flowers and quaint fields. From here the toughest part of the hike begins, taking you up and down through the forest until you reach Suwa Shrine (諏訪神社). After catching your breath you will head to the highlight of the hike, Koburi Pass (顔振峠). Note that to get there you will walk up a paved section of road. You will find a couple cute noodles shops overlooking the valley, which is particularly beautiful during the plum blossom or cherry blossom seasons.

From here you will make your way back down, passing a tiny shrine on the way. Keep an eye out for signs pointing to Agano Station (吾野駅). The trail is about 12 kilometers (7 miles) but may take an hour longer than expected or more if you decide to spend some time enjoying the views from the pass. If you are heading out to Saitama, be sure to check if any of the prefecture's colorful flower gardens are in bloom, as they are well worth a detour after your hike.

Closest Station: Agano or Higashi Agano Station
How to get there is 70 minutes: from Ikebukuro Station catch the Red Arrow Limited Express on the Seibu Line, and ride until Hanno. Here you will switch to the Seibu Chichibu Line to either Agano or Higashi Agano. You can also take the regular express train to Hanno, which will tack on an additional 10 minutes to your journey.
Mt. Tanzawa - 80 Minutes from Shinjuku
Clearly marked and offering a fantastic view over both Mount Fuji and Tokyo, Tanzawa is a good option for relatively fit hikers. The trail will take you through a nice section of Tazawa Oyama Quasi-National Park, with an interesting section of ridgeline between the two main peaks. Toward the top of the mountain the stairs get rather steep, so you are sure to get a real workout!

Make sure to stock up on water and snacks before hitting the trail, as there aren't many spots to buy supplies after the first hut, and if you visit during the offseason the few facilities may well be closed.

The trail is about 19 kilometers (11 miles) roundtrip if you go all the way up to Mount Tanzawa instead of the slightly closer Mount Tonodake, which actually has the best view of the two. While it can certainly be done as a day trip, you will either want to catch the first train out in the morning to make sure you have plenty of time, or book accommodation nearby to extend your stay.

Closest Station: Shibusawa Station
How to get there in 80 minutes: from Shinjuku Station take the special express rapid train towards Odawara and get off at Shibusawa Station. From the station take the bus to Okura (大倉) which will drop you off at the trailhead.
Looking for More Hikes?
This is only a partial list, focusing on some of the best trails a bit off the beaten path. However, there are several other famous spots which are also a quick train ride away from central Tokyo.

Famous (and popular) Mount Takao is under 50 minutes away from central Tokyo and offers cablecars in case you decide you want a more leisurely way to ascend or descend the well-cared-for slopes.

If you have a little extra time, the Yoro Valley is a little over two hours away from Tokyo and is well known for its beautiful riverside trails. It is particularly gorgeous during the fall, with excellent autumn leaves which just begged to be photographed.

Got a JR Pass and want to make the most of it, while still getting some hiking time in? Check out this list of beautiful mountains and hiking destinations right by bullet train stops.