Endless Design Possibilities: Fukuyama Denim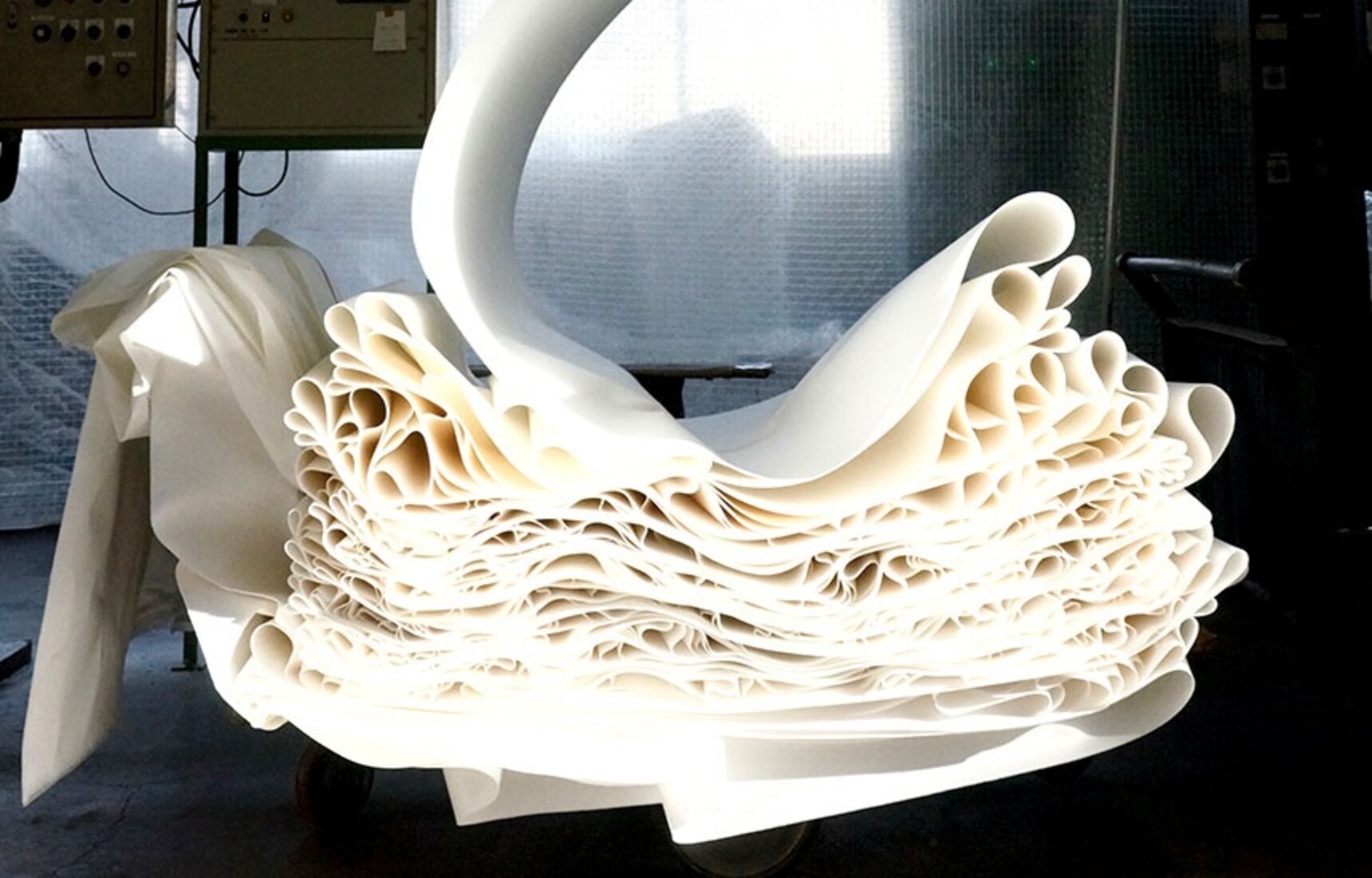 Specialists in every step of denim manufacture—spinning, dyeing, weaving, washing—abound in Fukuyama, a leading producer of denim in Japan, and a name hailed by denim heads as the epitome of luxury. The area's indigo-dyed yarns and cloth of all types, specialized prints, and wide range of weaving methods never fail to tickle the sensitivities of designers. Not merely beautiful, Fukuyama denim products are also a step ahead environmentally. The locale is a driving force behind the worldwide appeal of Japanese denim.
A loom in operation at Shinohara Textile, where both old and new weaving machines are used for different ends. Denim woven on vintage mechanical looms is popular for the rough borders it yields.
From right, these fabrics by Shinohara Textile are 100 percent Tencel (unwashed); 100 percent Tencel (washed); a Tencel-polyester blend notable for its sheen and stretchiness; and the sheerest of the lineup, a Tencel–cotton blend.
Yarn that has passed through an indigo bath appears green at first, but with oxidation soon turns deep indigo in color. (Photo courtesy of Sakamoto Denim)
Warp threads are twisted into ropes before dyeing so their core remains white, an advanced technique preferred by denim connoisseurs. (Photo courtesy of Sakamoto Denim)
Bassen, discharge dyeing, the specialty of Sanyo Senko, achieves varied effects through repeated bleaching or other chemical processing. The more complex designs are beyond the capacity of machines, and must instead be left to the instincts of experienced artisans.
Here we see Tomonoura, the port of Fukuyama, on the Seto Inland Sea. The old stone lantern here, which is still lit at night, gives the impression of having traveled back in time.