Shoryudo: Enter Japan's Dragon Route
Climbing Higher into Paradise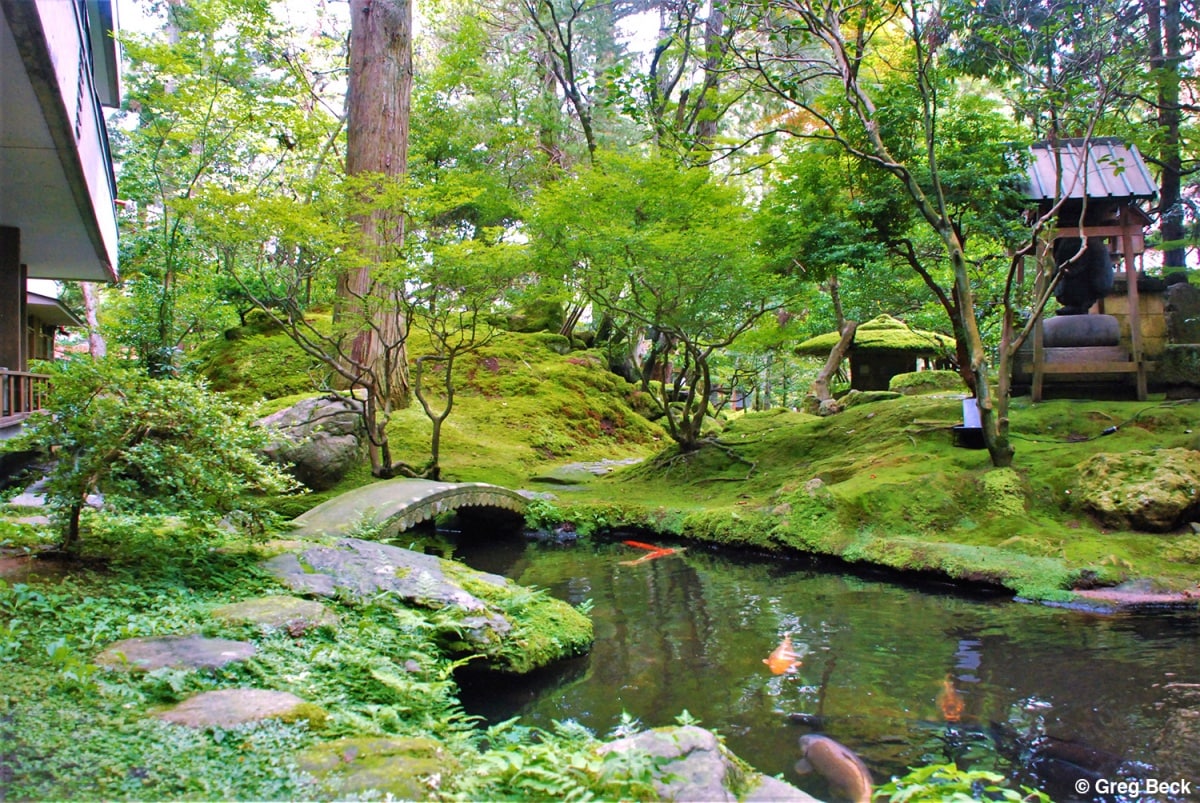 From Hida, I jumped up to the mouth of this Dragon Course, to the city of Nanao, on the inland bay of Ishikawa Prefecture's Noto Peninsula. Famous for their Wakura hot spring town. I stayed at a luxury hotel with bayside views, called Ae-no-Kaze, where I was pampered and served a seven-course meal while watching live, dinner theater performed in the round, including several traditional, local arts, such as their intimidating style of taiko drumming.
You will pay a premium to stay there, but it is worth the experience, at least once. Heading to historic Ipponsugi District, I visited the Hanayome-Noren (meaning "bridal-curtain") Museum, to learn about the region's unique culture of making exquisite door-hangings for brides to pass through before joining their groom's family. They also featured an exhibit on Dekayama: 20-ton parade floats used in their annual festival, assembled and pushed through the city, entirely by hand, without any machines or metal, including nails or motors! The exhibit had a 360-degree Virtual Reality video that was truly immersive! Before leaving Nanao, I visited shops, like the Kitajima-ya Tea House, Torii Shoyu-ten—the world's smallest soy sauce manufacturer, where third-generation owner Mrs. Torii makes small-batch soy sauce entirely by hand—and toured the Noto Shokusai Fisherman's Wharf, going on a "Sea Bird" Bay cruise, feeding seagulls, drinking local craft beer, and eating some truly amazing sushi! Like Gujo, in Gifu Prefecture, Nanao City is truly a magical destination, hidden in plain sight.
Just like Gifu's Takayama, the already well-known Kanazawa is a great central point for exploring Ishikawa Prefecture's surrounding cities and has a strong tourism infrastructure. The Nomura-ke samurai household, for example, was teeming with tourists, but for good reason: the guest house, relocated to the same family's 400-year-old garden, could not be more authentic, including Nomura's historic samurai armor, a tea ceremony room, and Buddhist altar. There is also Sakuda Gold and Silver Leaf Company, in the traditional Geisha tea house district called Higashi Chaya, where you can peer into the press room, to witness pure gold being carefully pounded thinner and thinner into leaf, and Kenroku-en, a Central Park-like massive Japanese garden with endless corners to explore.
Heading to Komatsu City, I spent my final night staying at Houshi Ryokan, literally the second oldest hotel in the world (less than 20 years younger than the first, also in Japan). Once again, I ate the finest multi-course dinner, prepared with local, seasonal ingredients, relaxed in the baths of their all-natural hot springs discovered by the hotel's founder, a Buddhist monk named Houshi, and walked through their carefully maintained 1,300-year-old garden and koi ponds. In addition to the warm and aesthetic atmosphere, there is a special, intangible feeling from being somewhere so historic, and speaking to the 46th and 47th generation owners of the family business, and other employees who have also worked there all their lives.
The trip to Komatsu Airport and back to Tokyo for me was quick, but you could just as easily linger, or tour your way back by train. Shoryudo's Dragon Course left me feeling relaxed, revitalized, and extremely lucky to have experienced so many wonderful new sights, and reverential when reflecting on how many hundreds of years most of what I saw has existed, through the hard work and respect of the people I met, and their families before them.

(Original photos by Greg Beck)

For more information about the Shoryudo area, go to http://shoryudo.go-centraljapan.jp/en/index.html