Shoryudo: See More, Do More, Travel Smarter
A major point of regret facing travelers is a large chunk of precious vacation devoured by transit time between destinations. However, if you prefer to maximize your time by thoroughly exploring one region, Shoryudo, in central Japan offers the Japanese history, culture, food and sights to satisfy your travel appetite.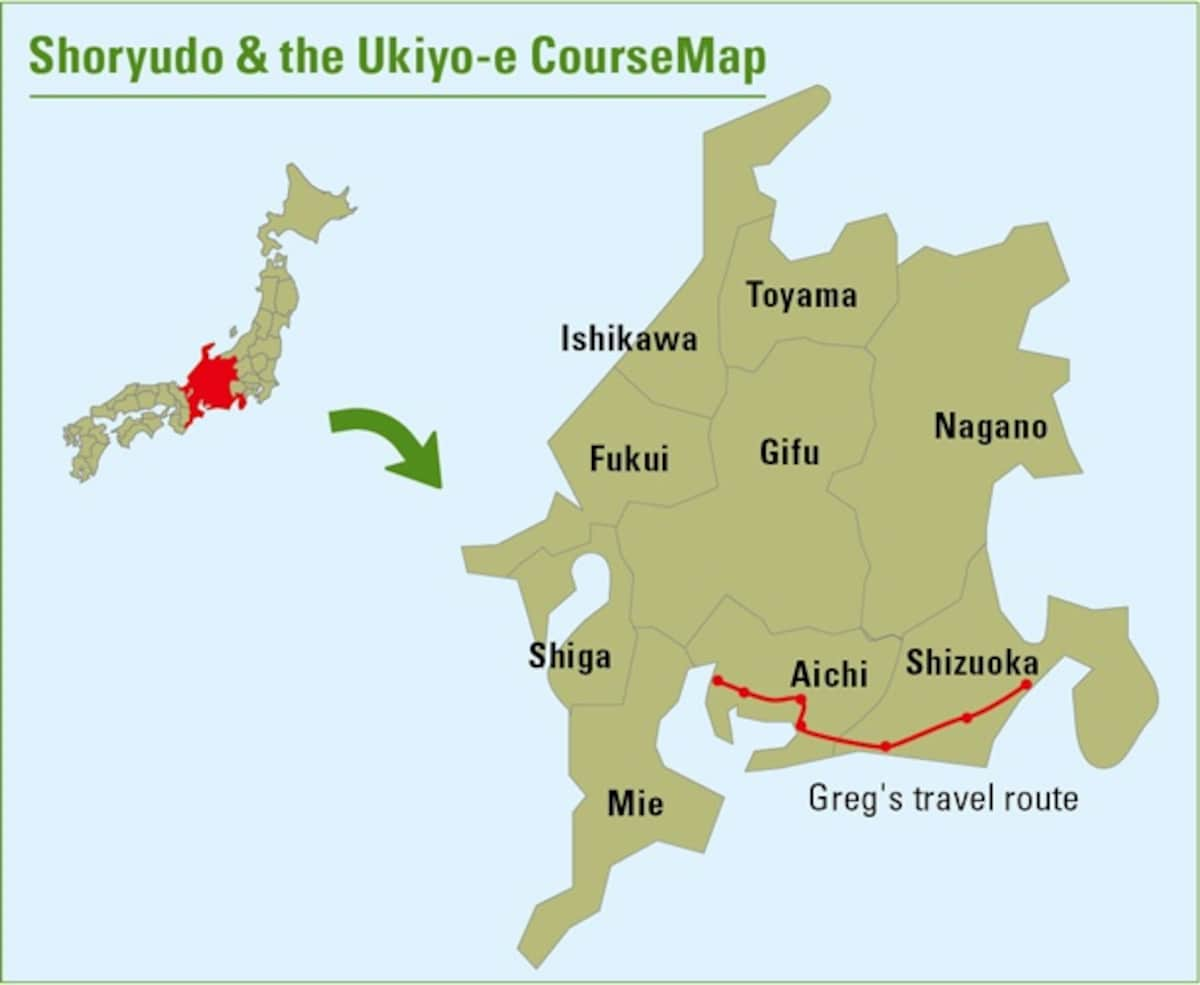 I recently enjoyed exploring Shoryudo's "Ukiyo-e Course," so named for the route that inspired many scenes in well-known ukiyo-e woodblock paintings, on the historic road connecting Tokyo to the old capital of Kyoto. The Ukiyo-e Course roughly follows the ancient travel route from Edo to Kyoto, offering beautiful landscapes depicted in ukiyo-e prints and destinations attached to samurai history.
Shizuoka: The Land of Fuji, Green Tea & Family-Friendly Fun
My first stop, Shizuoka, is a prefecture with quick access not just to Mount Fuji, but surrounding locations to better appreciate its famous form. That is why when UNESCO registered Mount Fuji as a World Heritage Site, they included 25 component areas, important to the mountain's aesthetic and religious worship. Just two hours after boarding a train in Tokyo, I stepped off a bus at one such site: a beachside pine grove called Miho no Matsubara. Quaint souvenir shops selling uniquely flavored, soft-serve ice cream (including baby anchovy!) lead to a Shinto shrine and a slender, wooden boardwalk lined with pine trees that are hundreds of years old. This Kami no Michi (Gods' Path) exists to guide Shinto deities to the shrine, from the pine grove on the beach, where roughly 30,000 more, even older, pine trees, grow to the beach with breathtaking views of Mount Fuji.
Driving through Shizuoka's famed green tea fields to Grinpia Makinohara, I enjoyed lunch and an educational tea leaf-picking experience! My guide at Grinpia taught me about the cycles of tea leaf crops, mechanical and hand picking methods, and the process of turning fresh leaves into dry tea, ready to steep. After picking the perfect tea leaves from rolling rows of green bushes against a strikingly beautiful blue sky, I cooled off inside their souvenir shop, enjoying free samples of teas, treats, and seven strength-levels of matcha ice cream, each a deeper shade of green than the last.
For my last stop in Shizuoka, I visited the Unagi Pie Factory, in beautiful Hamamatsu City. Hamamatsu, famous for freshwater eel, or unagi, has long been home to these crunchy, glazed, puff pastry snacks. They may sound odd, but are lightly sweet and savory, and taste great! The assembly lines, video presentation and Q&A with a factory worker were presented in a cute and visually fascinating tour. There was also a café, photo op areas and souvenir shop with plenty of free Unagi Pie samples.

Fellow traveler Wendell helps me model at one of the family-friendly, over-sized Unagi Pie props.
Aichi: Castles, Culture, Miso & Much More
Heading west, into Aichi Prefecture, I checked in to the impressive Gamagori Classic Hotel. Despite costing less than US$100 a night, it had the interior of a beautiful, Western hotel with vaulted ceilings and a fancy French restaurant with a live violin performer. Outside, hawks circled a walking path through their traditional Japanese garden, and my hotel room looked out over the picturesque island Takeshima, where I walked the next morning. Takeshima ("Bamboo Island") is home to five, small shrines. Before a walking bridge was built in 1932, people would walk to the island at low tide. Buildings are built around trees, since every plant on the island is protected, and butterflies drift through the bamboo forest, which was planted over 800 years ago. Some original plants still survive today!

Just north of Gamagori is Okazaki City, the castle town and birthplace of Japan's famous military ruler Tokugawa Ieyasu. Outside the castle, reenactors playing famous samurai greeted visitors and delighted Japanese children with a choreographed show. Inside of Okazaki Castle is a samurai museum with armor, antiques and many beautiful katana blades. My favorite part though, was the neighboring building's exhibit on the Battle of Sekigahara in 1600, which led to the establishment of the Tokugawa Shogunate, the family who would unify and rule Japan for 268 years. The animated diorama with lights and narration was absolutely wonderful!
I visited the Haccho Miso next, where the CEO is the 19th generation in the family business. This region is famous for an especially dark, red miso, or akamiso. After eating an amazing meal of udon noodles and chicken in red miso broth, I took one of the guided tours of the production area. Row after row of massive barrels slowly ferment the popular miso for two years. Each barrel contains six tons of Hatcho miso – enough to make 300,000 bowls of miso soup!
Just opposite Nagoya to the west is Tsushima City, where a famous and recently designated UNESCO Intangible Cultural Heritage festival was taking place: the Owari Tsushima Tenno Matsuri. The small, nostalgic town's atmosphere was magnified by everyone dressed in traditional, summer yukata for the festival. Every street was lined with yatai food stalls or games for children. Tsushima Shrine is dedicated to the powerful Shinto deity Susano-O, so many visitors pay respect to relieve his aggression and pray for health from infectious disease. The main event came at sunset when the city gathers around a riverbend where, following a fireworks show, five boats are each hand-decorated with hundreds of dangling paper lanterns, floating reverently past an altar to Susano-O.

The Owari Tsushima Tenno Festival happens on the fourth weekend of every July. Check the link below for more info.
Heading back to Nagoya, Japan's third most populated city, I strolled the Osu Shopping Arcade, where the World Cosplay Summit is held every August and ate the local favorite, red miso pork cutlet at Yabaton. I also squeezed in two more great tours. At Toyota's Commemorative Museum, I learned about the Toyoda Family, who created many innovations in cloth production as well as cars. Daily tours, even in English, demonstrate different developments in the modernization of weaving, Toyota's progress as a car company and humanoid robots including one that played an actual violin! My other tour was at the Noritake Garden, with historic Noritake buildings that still produce, sell and display collections of their elegant tableware. Starting as a Japanese export company, Noritake's first customers were all in New York! I learned their biggest customers now are other manufacturers, who incorporate their parts and technology in surprisingly varied applications!

Every day on the Ukiyo-e Course in Shoryudo, I experienced a non-stop whirlwind of incredible food, fun, culture and history. My most lasting impression, though, came from how much I never expected to learn and had no idea I wanted to until it was already blowing my mind. These unexpected moments that grasp your curiosity and open doors you never knew were there are exactly why I first fell in love with traveling. I hope you get a chance to experience that too.

(Original photos by Greg Beck)

For more information about the Shoryudo area, go to http://shoryudo.go-centraljapan.jp/en/index.html