The Top 11 Hot Spring Hot Spots in Japan!
Before the advent of modern medicine, onsen (hot springs) were revered as sacred places blessed with magical healing properties. During the Edo Period (1603-1868), sick patients would soak in onsen for weeks, then leave the pools feeling healthy and refreshed. You can try it too, with these top onsen spots all around Japan!
Noboribetsu Onsen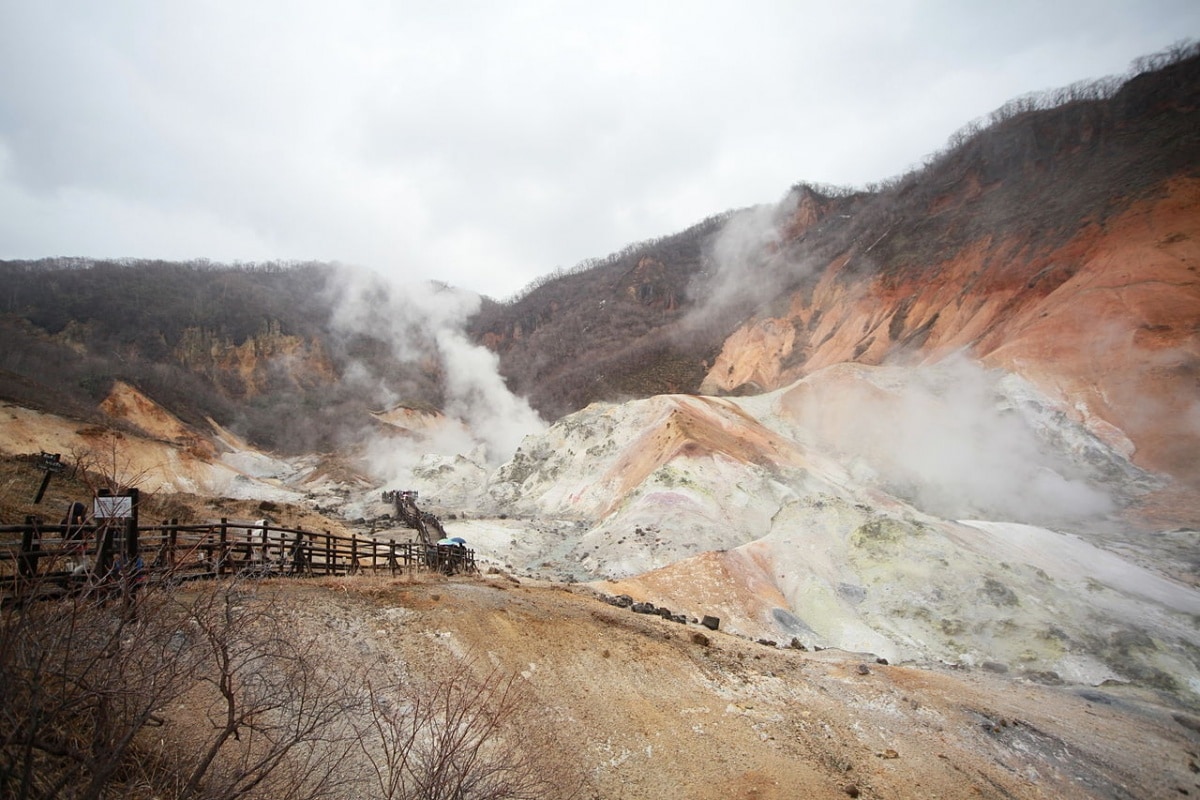 Visit the best hot spring resort in Hokkaido in terms of popularity, history, accessibility and quality, Noboribetsu Onsen! Located an hour away from Sapporo's New Chitose Airport in the Shikotsu-Toya National Park, most of the water collects at the Jigokudani (Hell's Valley), creating an ethereal, steamy, rocky landscape. Noboribetsu also offers 11 kinds of spring water of exceptional quality. It is rich in sulphur and sulphides, which soften and whiten the skin, and iron, which relieves muscle aches and reduces fatigue!

If you are looking for a spacious, modern, indoor bath, head to Daiichi Takimotokan! This bathhouse consists of numerous pools, and collects water from 7 different spring water sources with differing properties, minerals and health benefits.
Hakone Onsen
Just an hour and a half from Tokyo is Hakone Onsen, one of the most popular onsens in Japan for centuries! The town has a myriad of spa facilities (including bathhouses and ryokan) and shops all over town! At the entrance to Hakone is Yumoto, the most popular hot spring in Hakone with plenty of baths with outstanding water quality. There are plenty more onsen facilities at the Lake Ashi, and if you are looking for accommodation, check in at the antique, homey or resort-style inns along the Hayakawa River and Sukumogawa River!

One recommended bathhouse is Tenzan, a rustic, traditional style bathhouse which consists of both indoor and outdoor pools.
Kusatsu Onsen
Situated in Gunma is Kusatsu Onsen, voted the best onsen in the country and just 3 hours from Tokyo by bus and train! It has the greatest natural flow of spring water, most of which emerging at the Yubatake (hot water field) in the heart of the town. The water is known for being sulfurous and highly acidic. There are plenty of free public hot springs you can enjoy, and tons of inns, hotels, cafes and shops to spend time at! Kusatsu is one of the most recommended Onsen town for families as there are a tropical park, an adventure park and mountain hiking options to work out during day time!
Yudanaka-onsen Hot Spring
With a history of over 1350 years, the Yudanaka Onsen was considered one of the best onsen in Japan by the greatest Haiku poet, Kobayashi Issa. Conveniently located next to the Yudanaka train station, this onsen village is special, as the springs are close to the surface, thus creating hot springs almost everywhere in town. After a relaxing bath, stroll through the numerous shrines in the village. Another notable attraction in Yamanouchi is the Jigokudani Monkey Park, where you can see macaques soaking in the springs themselves! Their adorable facial expressions are priceless!

The Kaede no Yu public bath is located within the train station itself, and there is a free public foot bath just outside if you are not ready for a full submersion!
Yamashiro-Onsen Hot Spring
It was the year 725, almost 1300 years ago, when the holy priest Gyoki stumbled upon a wounded crow washing itself in the spring water, and was healed shortly after! Ever since then, the town of Yamashiro Onsen was founded, built around the Yamashiro-onsen Yokuden - a communal onsen. Strolling through the town can take one back in time, with its nostalgic, olden inns and houses. For good health, drink the famous spring water called Otoku-shozu (for men) or the Onna-shozu (for women)!

Visit the public houses, called Soyu and Ko-Soyu in the heart of the town. Soyu is a modern gender-separated bathhouse, while Ko-Soyu, meaning old public bath, is a rustic bathhouse inspired by Meiji Period architecture.
Shuzenji Onsen
The Izu Peninsula in Shizuoka is one of the most famous hot spring spots in the country. While in Izu, head to Shuzenji Onsen, one of the best and oldest onsen town in the area. Steeped in history and surrounded by lovely mountain views, the Shuzenji Onsen was actually named after the town's Temple, founded by the revered Kobo Daishi 1200 years ago! Kobo Daishi also founded Tokko-no-yu, the most famous onsen in Shuzenji which is now a public foot bath for all visitors to enjoy. Moreover, in Shuzenji, you can stroll through a zen bamboo forest, check out the designer cafes and shops, or stop by one of the many ryokan!