Top 10 Japanese Companies Over 800 Years Old
5. Tanaka Iga (885)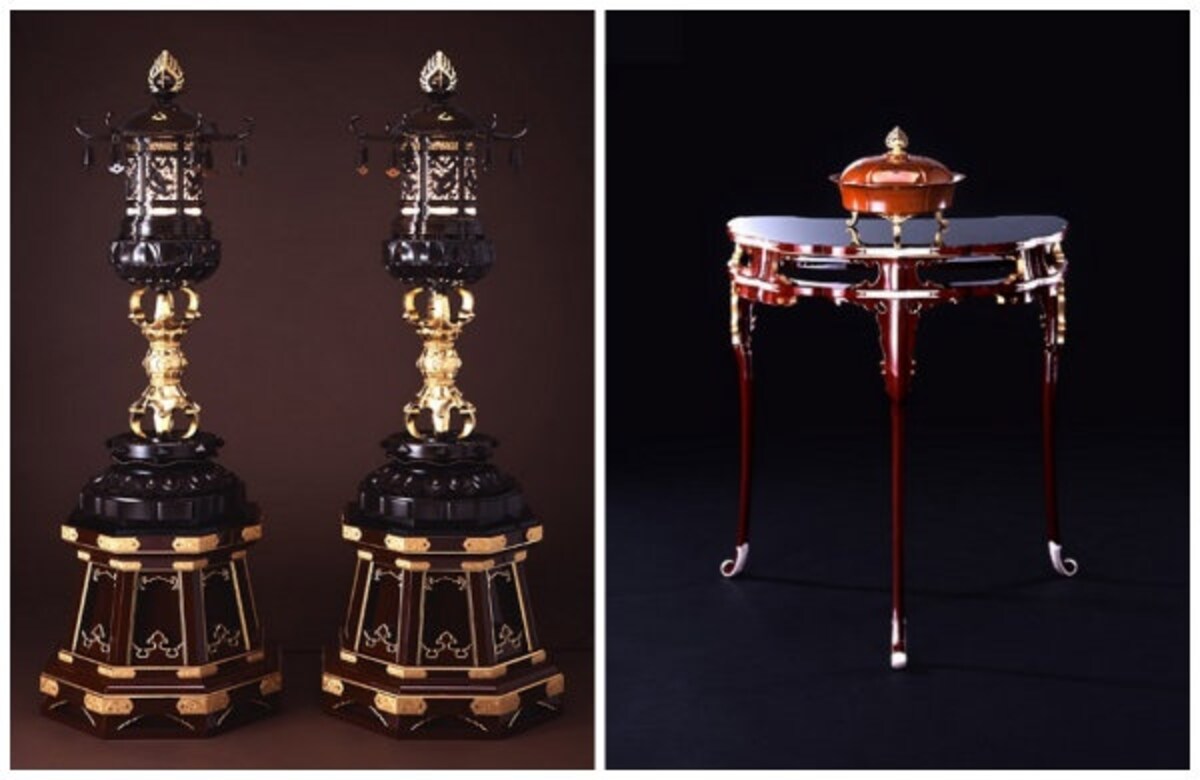 Based in Kyoto, this company was established around 888 (or 885, depending on who you ask) and has been producing high quality Buddhist goods for well over 1,125 years, like the lanterns pictured above. The company uses its collectively amassed skills and techniques to produce the stunning goods. Unfortunately, as gorgeous as the three-legged table above is, we have a feeling it's out of our price range.
The company is hardly trapped in the past though. For more elaborate projects, Tanaka Iga produces 3-D computer mock-ups of items before production beings, like the altar and other furniture in for Nakayama Temple (pictured above).
4. Hoshi Ryokan (718)
This inn, located in Hokusan, Ishikawa Prefecture, was thought to be the oldest hotel in the world until 2011. Now it's only considered the third oldest. We don't know about you, but that still seems like an impressive accomplishment to us!

Complete with expansive, lavish hot spring pools, this almost 1,300-year-old company was founded by a woodcutter. After having visions, a monk came down from the mountain and entreated a local woodcutter to help him find the hot spring. Once they had discovered the spring, the woodcutter, Sasasekiri Gengoro, built the inn and passed it on to his children.
If you're interested in visiting, you can book rooms online, starting at ¥26,000 (roughly US$260) per person per night, including meals.

As a point of trivia, we would like to explain that the hotel's name is Hoshi, but it is operated by Zengoro Ltd Co. Zengoro is also the name of the family in charge of both the hotel and Zengoro Ltd. Co. The family name has obviously changed over the centuries.
3. Koman (717)
This inn, located in Toyooka City in Hyogo Prefecture, was founded after a divine dream.

Hyuga, whose family established the hotel, was visited by four deities one night who told him that he needed to protect the people who lived in the area and their ancestors. After building shrines for the gods, his family set to work reclaiming the land and eventually the hot spring was uncovered. The story of the inn is told in an official historical scroll (pictured above along with the hot spring).
In addition to a number of hot spring baths available to guests, this lovely hotel is also located near numerous sightseeing spots.

For those of you interested in staying at the inn, rooms start at around ¥27,000 (US$270) per person per night, including meals. You can book a room on the website (Japanese only).
2. Keiunkan (705)
This picturesque inn, located in Yamanashi Prefecture, is officially the oldest hotel in the world–and the second oldest active business as well! Founded after a hunter discovered a wounded white monkey healing itself in the hot spring, this inn has been a popular destination for the sick for over 1,300 years. The monkeys are probably a bit annoyed that we stole it from them, though.

In addition to the exquisite facilities, the hotel's natural surroundings are sure to make even the most stressed businessperson feel relaxed for once! If you're interested in taking a trip to the inn, rooms start around ¥22,000 (roughly US$220), though this does include meals. You can book a room with Japanican.
1. Kongo Gumi (578)
And at last we have the oldest company in the world. Founded in 578 by a Korean immigrant who came to Japan to build Buddhist temples, this company has been in existence for over 1,400 years. But there's a slight catch: the company doesn't exactly exist anymore. In 2006, the company hit a rough patch financially and was bought out by another company, Takamatsu, which turned it into a wholly-owned subsidiary. Though the company still continues to build Buddhist temples, it's up to interpretation whether or not Kongo Gumi is still the oldest, active company in the world. We're still counting it, out of sheer amazement of its longevity.