5 Restaurants for a Taste of Ichiju-Sansai
In Japan, it's said you should eat a one-soup, three-dish ichiju-sansai meal at least once a day to maintain a healthy diet. Even in more formal Japanese cuisine, the basis remains ichiju-sansai. Need proof? Check out the following restaurants you can book with Pocket Concierge, all of which are based on this traditional concept.
1. Ginza Yamaji (Ginza)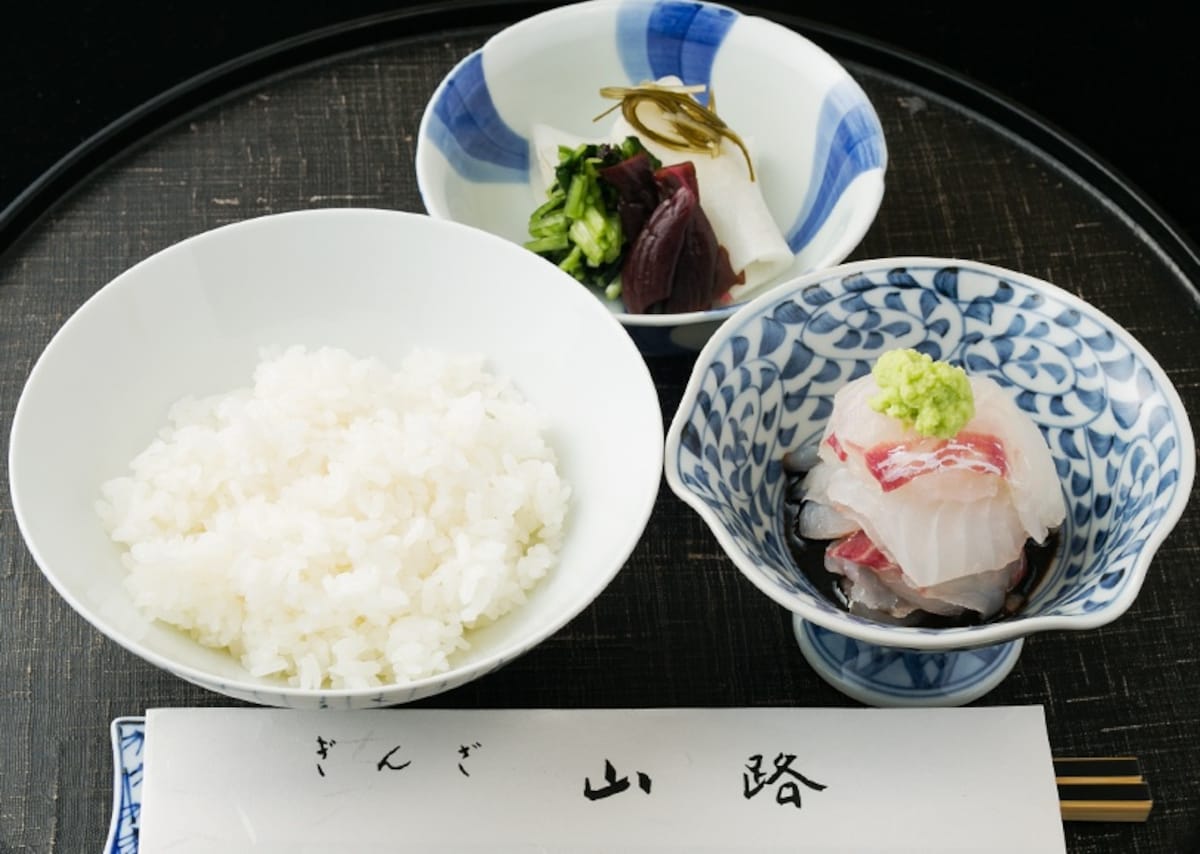 Located on Showa-dori in Ginza, this Japanese restaurant has been awarded one Michelin star. Offering traditional Japanese cuisine, it's enduringly popular with a large number of longtime regulars. Private rooms are available, as well as a counter area. The private rooms require you to take your shoes off, but you needn't worry about getting numb legs from kneeling in seiza position, as there's a sunken floor beneath the table.

The beautifully-arranged food features seasonal ingredients used to great effect in styles such as nimono (simmered dishes), yakimono (grilled dishes) and wanmono (seasonal soups), all of which are sure to satisfy your appetite. Upon making a reservation on Pocket Concierge, you can also register up to two ingredients you'd prefer to avoid in the 10-course omakase (chef's choice) menu (¥25,000).
2. Genyadana Hamadaya (Nihonbashi)
Established in 1912, this restaurant is located at Genyadana, a site made famous as a fated meeting place for the characters Yosaburo and Otomi in the kabuki play Yowa Nasaka Ukina no Yokogushi, better known as Kirare Yosa. This luxurious ryotei is a local fixture offering traditional, multi-course kaiseki cuisine. It boasts two stars in the Michelin Guide Tokyo.

The immaculate building is made in the sukiya-zukuri without the use of nails, and houses a beautiful garden. Guests can dine in total privacy in the restaurant's discreet rooms. Three types of full-course meals are on offer (¥34,500 to ¥57,500), with fresh ingredients brought in every morning from all over the country.
3. Kifu (Kagurazaka)
Kifu is a new Japanese restaurant located in an alley in the historic geisha district of Kagurazaka. The proprietor, with experience in Japanese restaurants in Japan and New York, has crafted a new form of Japanese cuisine, incorporating sauces and Western-style ingredients. Guests can savor an omakase meal with a toasting drink (¥17,500), or get the chef's selected course meal paired with four cups of sake (¥19,500).
4. Ebisu Kyoshizuku (Ebisu)
Even if you don't have the time to go to Kyoto, it's possible to enjoy the seasonal flavors of the ancient capital used to great effect in Kyo-kaiseki cuisine at Ebisu Kyoshizuku. The restaurant is limited to five groups per day; guests who would like to opt for a vegetarian option can do so by stating their preference when making a reservation. Guests can choose from two types of full course meals: the regular chef's selection (¥17,500), and the chef's selection using seasonal highest-grade ingredients (¥24,000).
5. Kappo Odaijima (Roppongi)
Japanese cuisine doesn't necessarily have to be paired with sake: as this establishment in Roppongi proves, it goes very well with wine as well (¥22,500).

Kappo Odaijima offers full-course meals along with six kinds of wine. Service is available in English, French and Italian. You may just discover something entirely new while chatting about the ins and outs of Japanese cuisine and enjoying your wine!