5 Stunning Walks in the Japanese Countryside
5. A Road That Links the Past to the Present (Suwa Taisha, Nagano)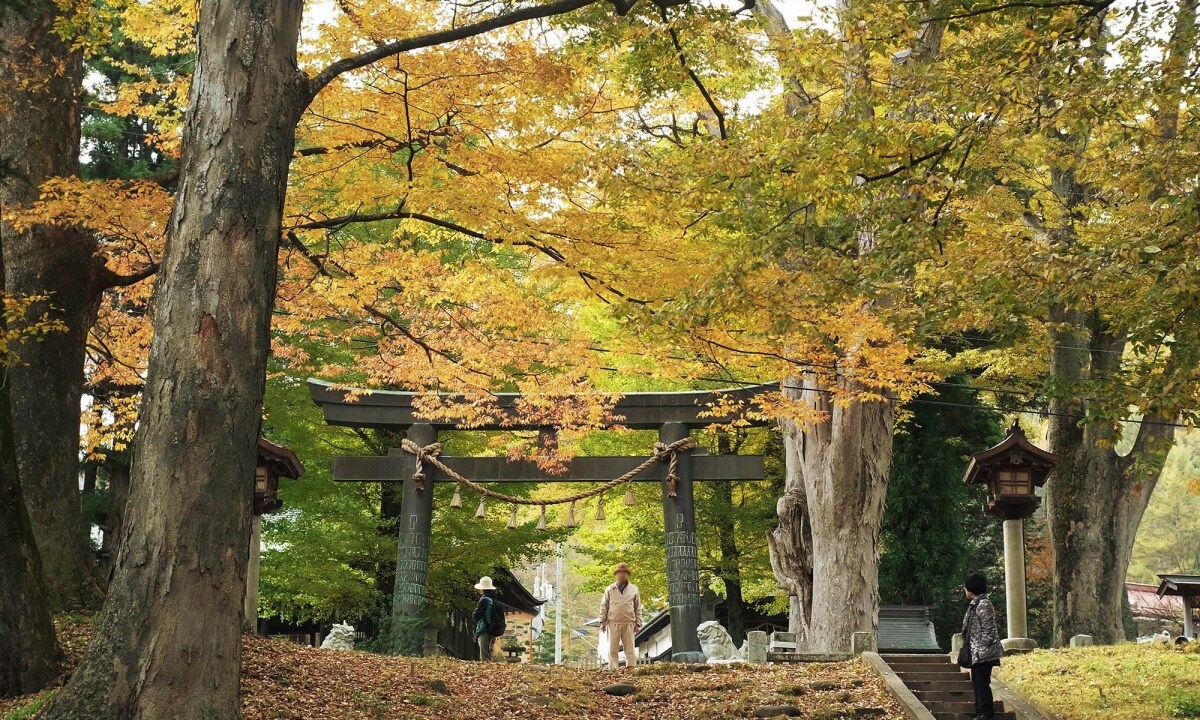 Chino City is home to the Maemiya, or the entrance to the main part of Suwa Grand Shrine, and it's where I was born and raised. The old Suwa Grand Shrine road is a road I've walked along on countless occasions since my childhood. From the front of the Maemiya past the Suwa Taisha Kamisha Honmiya (upper shrine) and the Homotsuden (treasure hall) to the Narayaki Shinto Shrine, the walk takes around an hour or so. Midway along the road is the Jinchokan Moriya Historical Museum, which I designed. Even now, when I return to my hometown, I always visit this road.

From around the middle of the Edo Period (1603–1868), stone statues and similar objects began being placed in the vicinity of the road. Along the sides of the road there are a lot of old houses and objects such as travelers' guardian deities and stone statues that make you aware of Shinto and Buddhism. It's by no means a well-known road, but to local people it's a place that gives them a sense of faith. The areas around Shinto shrines have a pleasant feel to them. Furthermore, by observing historical Shinto and Buddhist deities it's possible to feel the flow of time, linking the past to the present.
4. A Street with a View of Mount Fuji (Fujinomiya, Shizuoka)
My family home is located on the slopes of Mount Fuji. Whenever I look at the mountain, I feel like my home is inside it. From December to March, when the winter air is clear, you can see Mount Fuji straight ahead from the mountain climbing trail entrance.

Yamamiya Asama Shrine, which serves as the goal of this road, is where you purify yourself before climbing Mount Fuji. The mountain is not only beautiful—there's also a sense of terror as you get closer and closer. At times, it's calm and feminine, but other times you see it is rough and masculine. Through the changes in its various expressions, I feel the power of nature that is beyond human grasp.
3. A Lakeside Road Enveloped in Silence (Ashigarashimo, Kanagawa)
This is a road that takes you to Shirahama, which is a lesser-known beach on Lake Ashi. The opposite side of the lake has become popular as a tourist destination, but this side has fewer people, even though the road has been paved for hiking. It's a perfect spot to bring your dog for a walk, since it has very little traffic.

When writing a novel, you decide roughly on how the story is going to end, so it's easy as long as you follow the plan accordingly. The idea of a road is similar to this, because you would usually look for the shortest distance to get to any destination. But let's say on your way to the police box, you unexpectedly get sidetracked and find yourself at the top of a mountain, discovering a view that's out of the world. The story gets closer to reality when things start to go off-road. The same goes for our real lives. This is what I want to illustrate in my novels. So, even with a usual destination in mind, I prefer to take the long roads.
2. A Road in a Town where Craft is Alive (Kanazawa, Ishikawa)
This path takes you to Utatsuyama from the Higashi Chaya district, where my shop is located. The slope, rich in greenery, will take you to the wildflower garden of Utatsuyama Park, and uphill beyond the park is the Iris Garden. I often notice the shift in seasons through the changing mountain landscape, which may be filled with cherry blossoms or autumns leaves.

Kanazawa is known as a thriving town for crafts. When general Maeda Toshiie came to be in charge of the Kaga Domain during the Edo Period, he brought craftsmen with him from Nagoya to energize the region's cultural industries. The arts and crafts of Kanazawa began not with objects for everyday use, but with the arts and crafts of the Kaga Domain's purveyors. That's why there' a lot of decorative craftwork such as Kutani-yaki (pottery with overglaze painting) and Wajima-nuri (eight-coated lacquerware).

When I work in the studio, I often need to reset my mind. For that, I take breaks outside and prefer to stroll on a path that hasn't been overly well-kept. Although the wildflower garden at Utatsuyama Park is well-maintained, I like how it's not obtrusive. Perhaps because I work with ornate decoration, I'm attracted to the beauty of a natural state.

Since its designation as a historically preserved district by the Landmark Preservation Commission in 2001, the Higashi Chaya district has been popular among tourists. However, not many people wander out to this path, which is just behind the main street. If you meander just a little beyond the main tourist street, I believe you can discover a special path that is unique to this place.
1. A Road Becoming a Film Set (Kesennuma, Miyagi)
When I was living in Kesennuma, I often took a stroll along this road, which stretches from Route 26 to Isaribi Park on Mount Hayama. I even shot my film Haru's Journey there. There used to be a ropeway that led to Hayama, but it is currently closed. At the peak of the mountain, there's a place called Isaribi Park where the isaribi (fires for luring fish at night) from squid-fishing boats can be seen. You can enjoy such a great ocean view from the eatery and the the observation deck where the locals gather.