13 Places to Go Canyoning in Japan
Gunma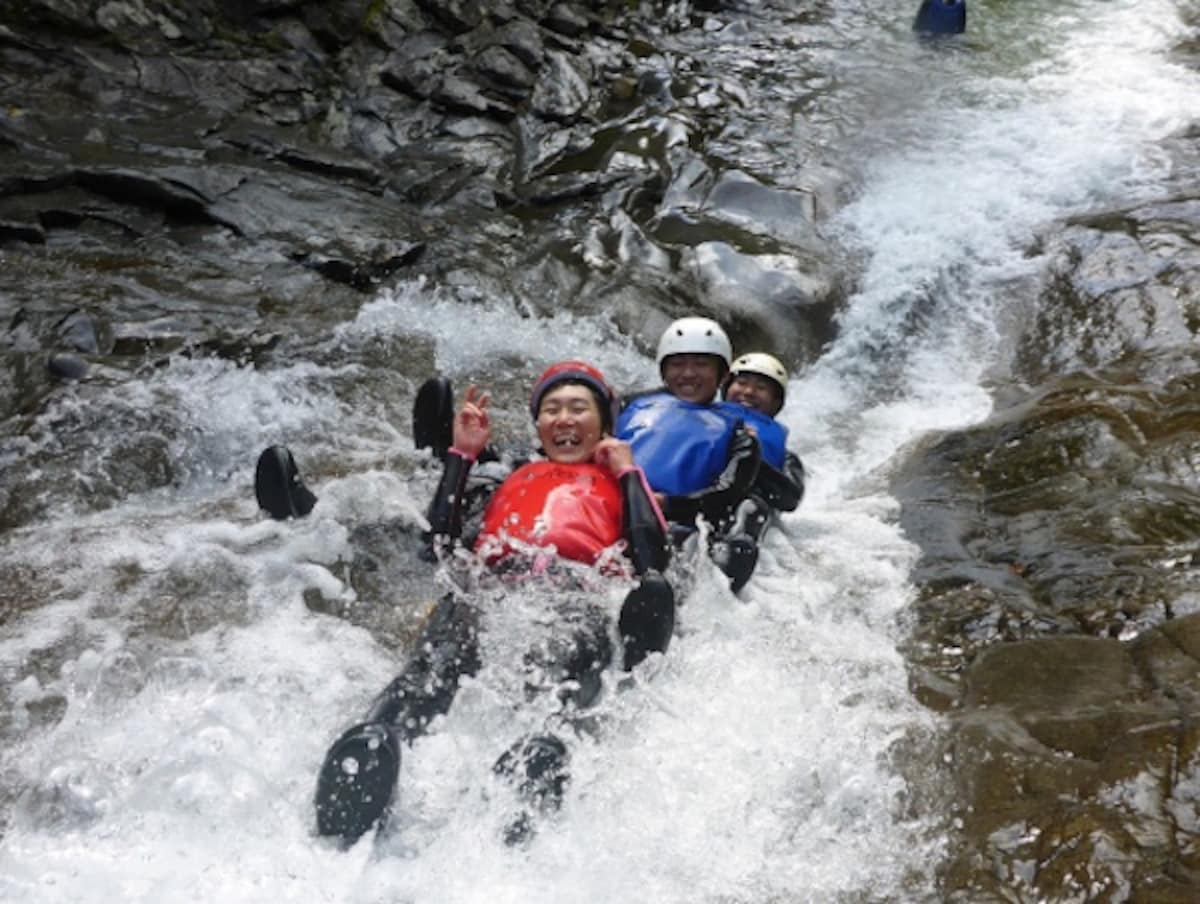 Located about an hour northeast of Tokyo, the town of Minakami is a hot destination for outdoor adventures and hot spring getaways. There are several different groups offering canyoning experiences in the area. Based just east of the Minakami Interchange, Kappa Club offers a fun canyoning course where you can jump into the basins of waterfalls, as well as a full-day rafting and shower climbing combo, which starts on the Tone River and follows up with natural waterslides (shower climbing focuses on going upstream, while canyoning is generally pointed down).
Meanwhile, waterfall slides, basin jumps and more await in Fox Canyon. The most popular course in Minakami, it's perfect for beginners, with the lack of long hikes making it easy for everyone to join. Tours start from Canyons Minakami Base, just across the river from Yubiso Station.
For another option, Nature Navigator offers a half-day "athletic canyoning" tour, with a chance to climb and slide down either the Higashi Kurosawa Hanage Falls or the Osawa Maple Falls.
Toyama
Toyama Prefecture is located on the sea of Japan, separated from Gunma by Nagano. Here you can join an experienced canyoning guide on an exciting adventure down the Kurobe River, accessed from the Unazuki Snow Park Nakajima Ski Center.
Gifu
The Jinzu River can be accessed from Michinoeki Skydome Kamioka, located in Hida City close to Gifu's border with Toyama. Both this tour and the Kurobe River course above are run by J-Wet Adventures.
You can head further south to Gujo City to take a shower-climbing experience as well. Here you can swim, dive and keep cool in the rivers with an English-speaking guide from Adventure Rafting.
Alternatively, you can head to central Gifu to get an English- or French-guided canyoning adventure with Mountain Life Hida, with different routes available for all ages. There are plenty of canyoning options in Gifu!
Shizuoka
Hamamatsu is located just 90 minutes from Tokyo and 30 minutes from Nagoya by bullet train. From there you can head into the northern reaches of this geographically expansive city to descend a mountain stream in a valley close to the river source. Natural water slides and diving into a waterfall basin are big parts of the fun!
If you head about 30 kilometers (19 mi) to the northeast, you can also challenge yourself to a day of jumping into waterfalls and shower climbing. Both this tour and the one above are operated by Creek Sound.
Shiga
Why not take a shower climbing adventure just 40 minutes north of Kyoto! Climb up waterfalls, jump off rocks and slide down into the river on the west side of Lake Biwa in Shiga Prefecture. The highest dive is 7 meters, and the longest slide is also 7 meters (subject to change according to the amount of accumulated water). This tour is operated by Zero Gravity, which has offices in both Shiga and Kyoto.
Alternatively, grab onto a rope and hop into the river for an exciting canyoning adventure on the Kanzaki River in Higashiomi City, eastern Shiga. More than just swimming and sliding, the half-day rope canyoning outdoor adventure features technical rope work and mid-air thrills too! You can also join a more family-friendly canyoning adventure with fun spots to dive into the water. Both courses are operated by Tao Adventure.
Tokushima
You'll find another Tao Adventure location in Tokushima Prefecture on the island of Shikoku. Head to the far western corner of the prefecture for a shower climbing adventure, climbing up waterfalls and playing in the cool streams. If you like, you can even combine the experience with rafting!
Okinawa (Iriomote Island)
Iriomote Island is Okinawa's second-largest island. Located about 200 kilometers (124 mi) east of Taiwan, once you're on this remote island you can make your way to a waterfall by canoeing through mangroves and trekking in the jungle, then feel the excitement of canyoning in the tropics! Tours are operated through Kazaguruma Shop in the town of Taketomi.