The 11 Best Things to See in Golden Week
Golden Week is the most anticipated holiday of the year, when holidays on April 29 and from May 3 to 5 combine to allow nearly a week off—a rare occurrence in Japan! Naturally, everyone wants to travel, but where do you go to get the best of the season? The following 11 options each offer something that can only be experienced around Golden Week!
11. Koinobori Carp Streamer Village Festival (Gunma)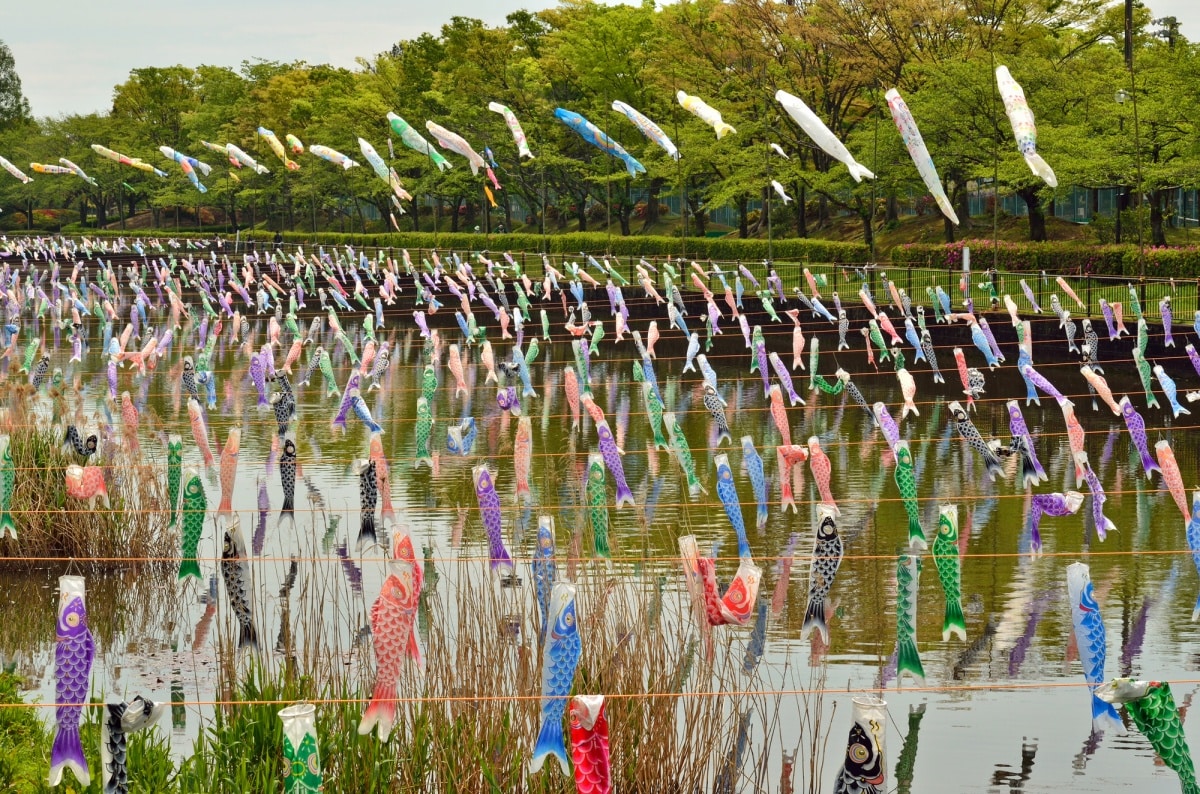 Carp streamers (koinobori) are traditionally hung outside homes and schools in anticipation of Children's Day on May 5, the last day of Golden Week. The carp represent the members of the family, with carp swimming up waterfalls being a symbol of healthy growth.

Every year from late March to early May, some 5,000 koinobori streamers are hung across rivers and parks in Tatebayashi City in Gunma for the Koinobori Carp Streamer Village Festival (さくらとこいのぼりの里まつり・Sakura to Koinobori no Sato Matsuri, lit. "Home of Cherry Blossoms and Carp Streamers Festival"). They can be found in five spots, including the Tsuruuda River, Kondonuma Park, Tsutsujigaoka Park, Tataranuma Park and the Morinji River. Some 650 cherry trees also bloom in these areas in early April, and while they'll be done by Golden Week, the local azaleas usually bloom from mid-April to mid-May, offering a sight of a different shade.
10. Kyokusui-no-En (Kyoto)
Kyokusui-no-En (曲水の宴, literally, "meandering stream party") was adopted from a traditional spring ceremony that took place in ancient China. The game involves people sitting along a stream. A sake cup is allowed to float downstream, and before it reaches the next person, he or she has to compose a 31-syllable poem.

On April 29 from 2 p.m., visitors to Kyoto's Jonan-gu Shrine can view a beautiful scene of people dressed as Heian-Period (794-1185) aristocrats practicing Kyokusui-no-En.
9. Kameido Tenjin Shrine Wisteria Festival (Tokyo)
Located southwest of Tokyo Skytree, Kameido Tenjin Shrine is the city's prime location for viewing wisterias. Planted during the Edo Period (1603-1868), these lovely lavender flowers, called fuji in Japanese, bloom all at once in late April, and look stunning reflected in the serene pond. You can also enjoy walking through a classic shitamachi (old downtown area) as you walk to the shrine from Kameido Station. The Wisteria Festival (藤まつり・Fuji Matsuri) lasts from mid-April to early May each year.
8. Hamamatsu Festival (Shizuoka)
The Hamamatsu Festival (浜松まつり・Hamamatsu Matsuri) is held from May 3 to 5 every year, featuring about 100 luxurious floats paraded through the city at night and giant, battling kites at the Nakatajima Dunes during the day.

The festival dates back to the 16th century, when large kites were flown to celebrate the birth of a baby boy to the lord of Hamamatsu Castle. Called hatsudako (初凧, "first kite"), the idea was picked up by the people of the city, who would place their first sons' names and family crests on kites before sending them aloft. The tradition has now extended beyond first sons to include all children of the family, all of whom are celebrated on Children's Day on May 5.

No mere toys, the kites measure some 3.5 meters by 3.5 meters across (11.5 x 11.5 ft). They're flown by teams, each striving to cut their competitors' 5-millimeter-thick (0.2-in) hemp cords as trumpets blare, all soaring on the strong winds off the Enshu Sea.
7. Hitaka Hibuse Festival (Iwate)
The Hitaka Hibuse Festival (日高火防祭・Hitaka Hibuse Matsuri) is a fire protection festival that takes place in the Mizusawa area of Oshu City in southern Iwate Prefecture. Much like a parade, beautiful gold, red and green hayashi-yatai (musical floats) tour the town, each carrying 20 to 25 predominantly female musicians playing shamisen, flutes and shime-daiko drums.

Each float plays a different song representing one of the six towns in the region. The event occurs from April 28 to 29, and on the second night, the musicians perform together, creating a brilliant composition of traditional music.
6. Meiji Shrine Spring Grand Festival (Tokyo)
This exciting annual event takes place in the central Tokyo metropolitan area at Meiji Shrine, showcasing a variety of traditional performing arts in honor of the shrine's deities. In addition to solemn Shinto rituals, performances include bugaku (ancient imperial court music); Noh and kyogen (classical Japanese theater); hogaku and hobu (classical Japanese dance); sankyoku (traditional Japanese chamber music); and Satsuma biwa (Japanese lute). With each type of performance occurring only once, be sure to check the performance times below! The festival runs on April 29, May 2 and May 3.
5. Kurayami Matsuri (Tokyo)
At the center of Fuchu City is one of Tokyo's oldest shrines, Okunitama Shrine—home to the annual Kurayami (darkness) Festival (くらやみ祭り・Kurayami Matsuri). The highlight of the week-long (April 30-May 6) event comes on the evening of May 5, when eight mikoshi (portable shrines) emerge from the main shrine to the beat of some of Japan's biggest taiko drums, starting with a burst of fireworks at 6 p.m.
4. Hitsujiyama Park (Saitama)
Located in Saitama's western Chichibu region, Hitsujiyama Park (羊山公園・Hitsujiyama Koen) is home to Shibazakura Hill (芝桜の丘・Shibazakura no Oka), a spot that's famous for its 400,000 gorgeous shibazakura, which bloom from mid-April to early May each year.

Shibazakura (literally "grass cherry blossoms," also known as moss phlox) are a type of ground-cover flower with petals resembling the blossoms of cherry trees. Since they typically bloom after the cherry blossoms are finished in the Kanto area, shibazakura offer a second chance to get a glimpse of Japan's beautiful, pinky-white springtime mantle.

Hitsujiyama Park is particularly stunning not only due to its number of shibazakura, but also due to the imposing presence of Mount Buko in the background. The park is also known for its tulips, plum blossoms and cherry blossom trees, and further features animal farms, tennis courts and playgrounds, offering plenty of options for a day out.

Other places to see shibazakura in the greater Tokyo area include Hachiojiyama Park and Misato Shibazakura Park in Gunma; Ichikai-machi Shibazakura Park in Tochigi; and Fuji Motosuko Resort at the base of Mount Fuji.
3. Yonezawa Uesugi Festival (Yamagata)
Yonezawa City's Uesugi Shrine is dedicated to the Japanese warlord Uesugi Kenshin, whose exploits during the Warring States Period (1467-1590) have still left their mark on popular culture today. The Yonezawa Uesugi Festival (米沢上杉まつり・Yonezawa Uesugi Matsuri) celebrates the famous samurai every year from April 29 to May 3. The main event on the final day features a parade of mikoshi floats and a march of roughly 1,000 samurai warriors through the city's main street, followed by a mock battle at the Matsukawa riverside.
2. Asahidake Ropeway (Hokkaido)
At a height of 2,290 meters (7,516 ft), Mount Asahidake is the tallest mountain in Hokkaido. Its peak stays white even as cherry blossoms bloom at the base in early May, presenting a remarkable opportunity for spring skiing. The season usually lasts until May 10!

The mountain presents a tiny but astounding ski resort served only by the Asahidake Ropeway. With just two rough courses linked by a horizontal connector, this is a particularly popular destination for indulging in backcountry adventures.

That said, if going all the way out to Asahidake isn't your thing, other resorts in Hokkaido offer skiing along with sakura (cherry blossoms), with parts of Niseko, Furano, Sapporo Teine, Sapporo Kokusai and Kiroro all offering skiing until the end of Golden Week.

Back on Honshu, while a number of resorts in Nagano and Niigata also offer Golden Week skiing, you might want to keep an eye on Gassan in Yamagata—it gets so much snow that it only opens in April, and stays open until July!
1. Yuki no Otani (Toyama)
You've never seen snow like this! Located 2,450 meters (8,038 ft) above sea level, Toyama Prefecture's Murodo Plain receives up to 20 meters (66 ft) of snow every year, placing it among the snowiest places on the planet. Every spring, GPS-equipped snow cutters hack through this mass of white to create a bus route bounded by two towering walls. Dubbed the Snow Wall, or Yuki-no-Otani, a 500-meter (550-yd) walking course course runs beneath the highest section of the walls, at the end of the bus route.

The Snow Wall lies around the midpoint of the Tateyama Kurobe Alpine Route, a winding road through the Northern Alps linking Toyama to Nagano. From the Snow Wall, you can continue on to scenic Kurobe Dam, the tallest dam in Japan (186m/610 ft), while Shomyo Falls, Japan's tallest waterfall (350m/1,148 ft), is just a short detour from the base of the route.

The route is traversed by bus, cable car and ropeway, and represents the most expensive cost-to-distance travel in Japan—over ¥10,000 one-way if you do the whole trip. As a hugely popular, temporary feature, it gets incredibly crowded when it opens in the latter half of April, and remains so during Golden Week. The cable car and ropeway in particular have limited capacity, so arrive early to reserve tickets, and consider a side-trip to Shomyo Falls if you find yourself with time on your hands. Significant snow walls will usually remain as late as the end of June, and you can typically still see snow even in August.

If you'd like something less crowded, smaller (and less accessible) snow walls can be seen along the Hachimantai Aspite Line in Iwate (up to 6m/19.7 ft) and the Bandai-Azuma Skyline in Fukushima (up to 4m/13.1 ft).

Now you know what to see during Golden Week! We just wish you good luck fighting the crowds!