Sink Your Teeth into a Decadent Sushi Cake
Japan has a custom of eating cake at Christmastime, with the most popular variety making use of strawberries and snowy white whipped cream. However, if you're craving sushi and are willing to fork over ¥10,000 (US$85), then the "sushi cake" from Kappa Sushi's perfect for you.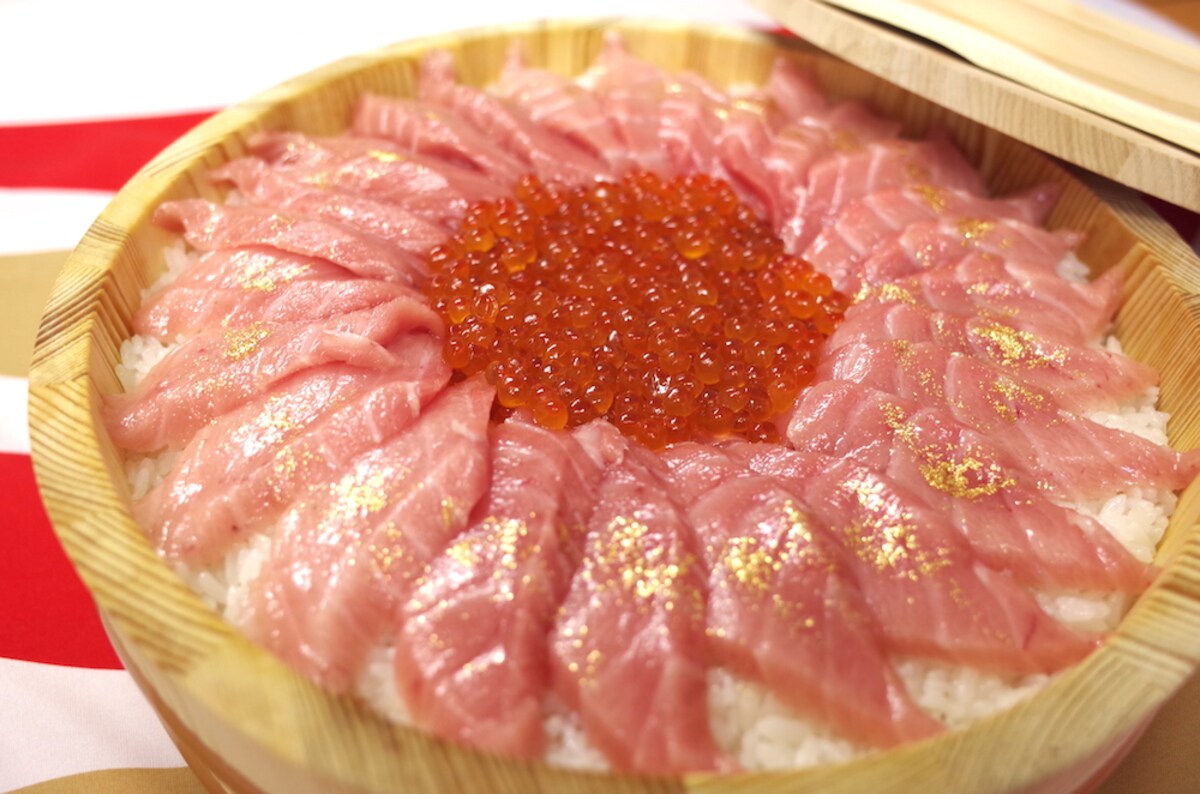 Given that Kappa Sushi is a kaitenzushi (revolving sushi) chain famous for charging just ¥100 per plate, it's quite surprising that they would have such a luxurious cake.

The sushi cake comes covered in a furoshiki (Japanese wrapping cloth) patterned with the Kappa Sushi logo. Unwrap the cloth, and you'll find a wooden sushi tub and shamoji (rice scoop), which, along with the furoshiki, are yours to keep after you've finished the meal.
At the center, and extending all the way down to the bottom of the seven-centimeter (2.8-inch) deep tub is a spire of ikura (salmon roe) so dense that its color looks almost ruby red, instead of the orange hue it appears as in smaller quantities. The amount of ikura used is the equivalent of what would go into 50 individual pieces of ikura sushi, and surrounding it in a ring are more than two dozen thick-cut slices of otoro (extra fatty tuna).
The otoro isn't just glistening with extra fat, though, but with gold! Sprinkled over the fish are flecks of gold powder, a decorative element Japan likes to employ in upscale cuisine and sake.
Despite the fact that Kappa Sushi is ordinarily a budget sushi provider, the ingredients used in the sushi cake are all delicious and high-quality. Ikura and otoro are traditionally two of the highest-priced types of sushi, so many diners usually have just a piece or two to cap their meal. With the sushi cake, though, you can eat as much as you want of the premium ingredients. And just why did the people over at Kappa Sushi name it a sushi cake? Apparently because the word cake sounded festive.

We can't argue with them there, since we're ready for another sushi cake party anytime. If you're looking to throw one of your own, the sushi cake is available, by prior reservation only, from Kappa Sushi branches nationwide between now and January 9, 2017.