Celebrate Halloween with Spooky Cute Gyoza
Gyoza Ghosts on Bloody Tomato Sauce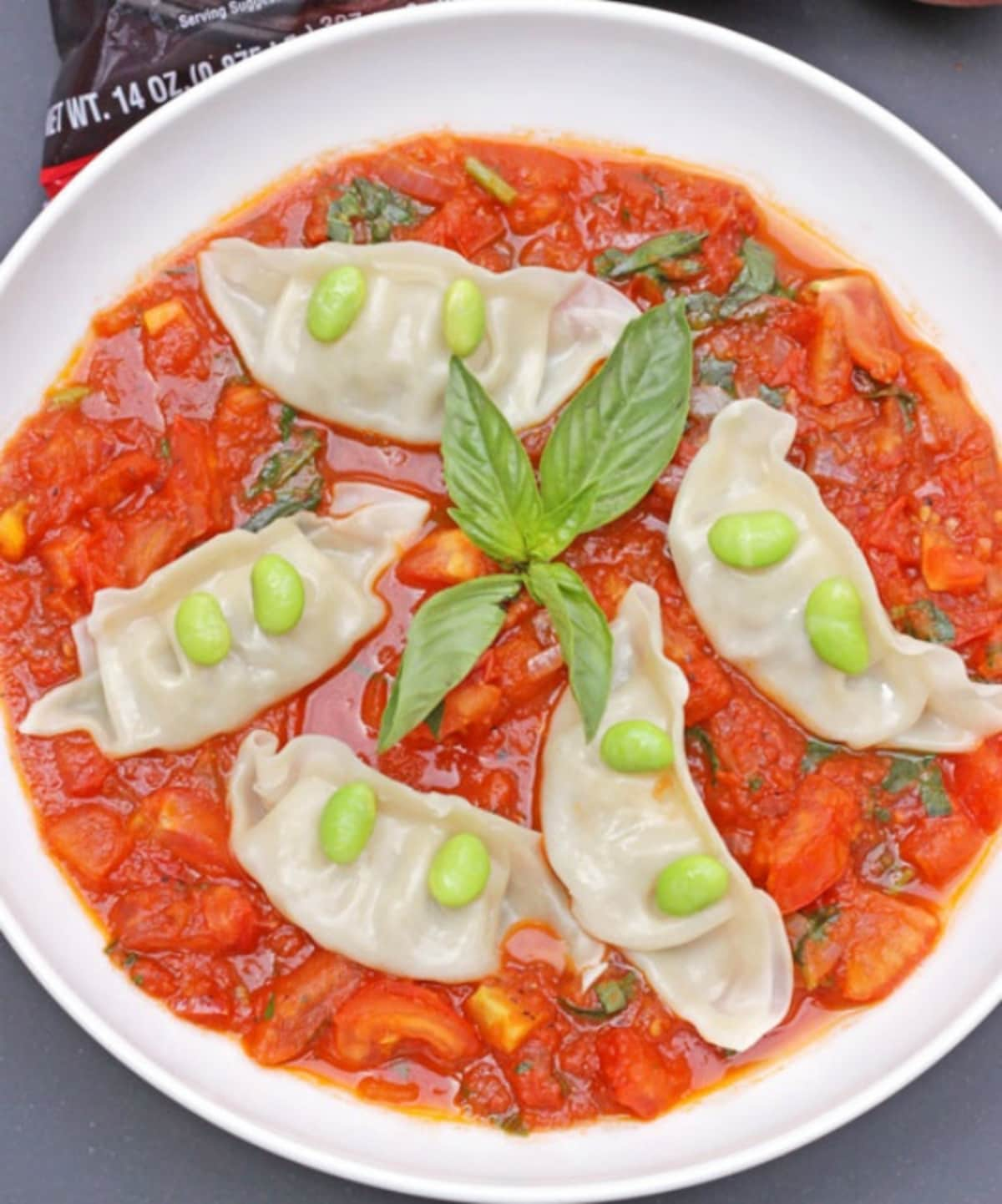 Ingredients (Serves 2)

• 10 Day-Lee Foods beef gyoza dumplings
• 2 large tomatoes
• ½ red onion
• 1 clove garlic
• 8 basil leaves plus some for the garnish
• 20 frozen edamame
• salt & pepper to season
• 1/3 cup red wine
• 2 tbsp extra virgin olive oil

Directions
1. Boil Day-Lee Foods frozen gyoza dumplings for 3 minutes and drain them well.
2. Dice tomato, chop onion, and mince garlic.
3. Put garlic and olive oil in the sauté pan and turn on the heat.
4. When garlic starts to sizzle, add chopped onion and sauté for 3 minutes.
5. Add diced tomatoes and sauté for another 5 minutes.
6. Add red wine and salt and pepper to taste.
7. Add julienned basil and simmer for another 3 minutes.
8. In a serving plate, put some tomato sauce and top it with boiled dumplings.
9. Place frozen edamame on top of the gyoza to make eyes. Garnish with some basil and serve.

Tips
Edamame sticks to the gyoza better when frozen. You can add some spicy sauce to the sauce for extra heat!
Halloween Witch Gyoza
Ingredients (Serves 3-4)
• 6 Day-Lee Foods dumplings (beef, shrimp, chicken or pork)
• 3 cups cooked rice
• 12 shiitake mushrooms
• 24 pumpkin seeds
• 2 radishes
• 1 tbsp soy sauce
• salt to season
• 6 dried spaghetti

Directions
1. Pan fry the dumplings according to the instructions on the package.
2. Cut them in half to make two triangles.
3. Mix soy sauce and a pinch of salt into rice.
4. Sauté shiitake mushrooms.
5. Divide rice into 12 parts and make small round rice balls by using plastic wrap.
6. Put pumpkin seeds on for eyes and sliced radish for mouth.
7. Skewer shiitake mushroom and halved dumpling on top of rice ball head using dried spaghetti.
8. Snip off any excess parts of spaghetti.

Tips
You can arrange these cute witches on top of mixed greens, carrot flower and mushrooms made out of radish for fun.