Surf & Cycle on Tokyo's Subtropical Islands
High-tech transportation systems, meandering modern buildings, small alleys with food stalls, cityscapes with futuristic neon lights—these are typical views of jam-packed Tokyo. But when you turn your head to the ocean, you'll find a different scene: quiet, subtropical nature that's easily accessible for outdoorsy types.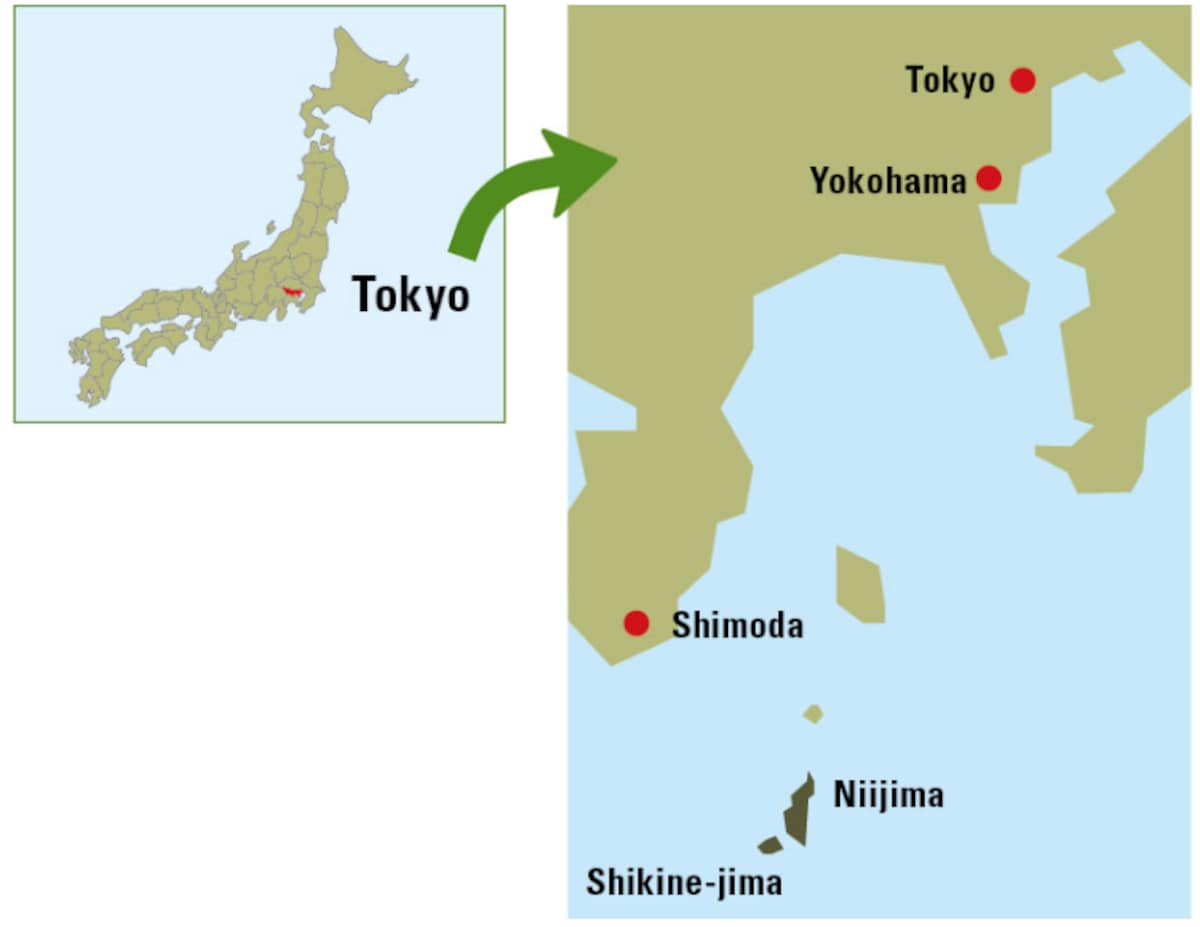 About 100 miles south of Tokyo are two small islands, Niijima and Shikine-jima, both of which are part of Tokyo and are getting a lot of attention as tourist destinations these days. Niijima is a long island just over 7 miles from north to south, while Shikine-jima is goldfish-shaped and about 7.5 miles in circumference. Both islands, which are only 10 minutes apart by boat, share a beautiful, clear ocean and blue sky (and, of course, a starry sky at night). Visitors can enjoy quite different experiences, however, on the two islands, Niijima has sandy beaches and excellent waves that attract surfers from all over the world, while Shikine-jima boasts rocky coastlines that are perfect for activities like diving and snorkeling.

Since these islands were formed by volcanic activity, they naturally have onsen (hot springs). Niijima, which is more commercially developed, offers onsen facilities at a high altitude with scenic ocean views—you can enjoy a breathtaking sunset and a starry sky from the onsen. In contrast, Shikine-jima has kaichu-onsen, literally meaning "hot springs under the sea," which are onsen that are under the sea at high tide but exposed at low tide. There are three kaichu-onsen in Shikine-jima: Jinata Onsen, Matsugashita Miyabi Onsen and Ashitsuki Onsen, all of which are accessible all day, free of charge. Unlike onsen in Niijima, they are at sea level, making you feel connected to the ocean.
Tourists can also enjoy the unique food culture of the islands. Needless to say, there is an abundance of seafood, but the most famous local food is kusaya, notoriously smelly, dried fish. Fish are dipped in a special sauce before drying and are terribly stinky yet full of umami—and quite popular with foodies. You cannot leave the islands without trying this distinctive delicacy. Other must-tries include ashitaba, a locally grown plant, as well as shochu (an alcohol similar to vodka) and fishcakes made from the local catch.

The best way to tour each island is to ride a bicycle or scooter, hopping around beaches and onsen and enjoying nature and local foods in this secret paradise.
There are four major beaches in Niijima, each of which has unique character. On the east side of the island, there is a four-mile, beautiful coastline of white sand and blue water. It's the most popular tourist spot on the island. Visitors coming by boat first arrive at Kurone Beach. It's well known as a fishing spot. Maehama Beach offers peaceful waves and is ideal for families with small children. In the southwest part of the island is Mamashita Beach, which is famous for its hot springs and a mountaintop with a nice view. Located on the north side of the island, Wagako Maehama Beach is lesser known because of being harder to reach. You will, however, be rewarded with beautiful views and peaceful waves.
In addition to beaches for locals and tourists, Niijima has various world-class surf beaches offering high quality waves. Notable surf spots include Habushiura, Secret, Mamashita Beach, B-tei, and Awaiura Beach (prime season, wave and sand quality vary). Niijima has been a mecca of surfing for decades and the Niijimamura Museum exhibits a collection of surfboards from the 60s, part of the island's culture and history.

The two islands are accessible from Tokyo and Shimoda by ship and plane. For full details of how to get to these islands, head over to CHOPSTiCKS NY below.