Ichinoyu Ryokan: The Hot Choice for Hakone
1. Tonosawa Ichinoyu Honkan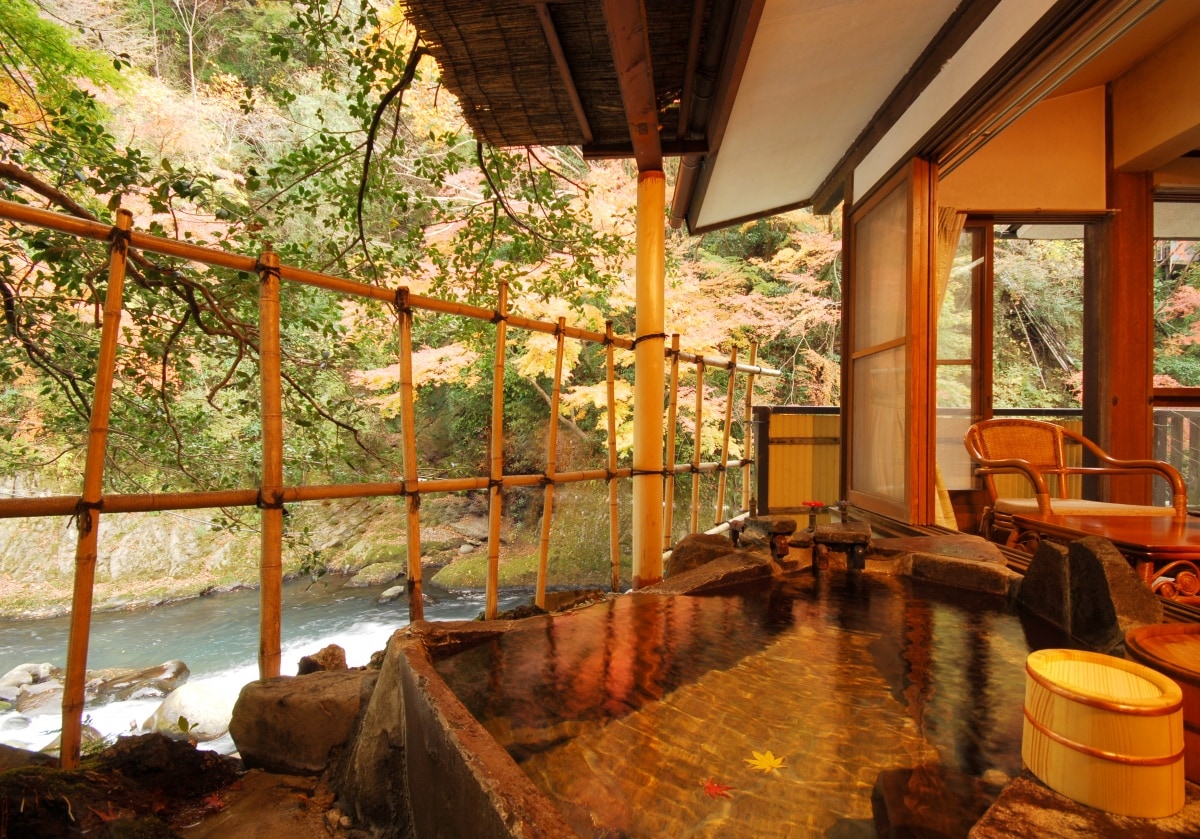 The building itself is a tasteful Hakone ryokan with many years of history. It's an example of sukiya-style architecture that has been recognized as a tangible cultural property of Japan. Each room faces the Hayakawa River, which flows through Hakone, and allows for beautiful views of nature regardless of the season. The ryokan's defining feature is its many activity plans that allow you to experience Japanese culture, such as geisha performances or making wooden mosaics, a traditional Hakone art form.
2. Sengokuhara Hatago Ichinoyu
This ryokan has rooms with sunken kotatsu (heated tables) that will make you feel like you've traveled back in time to the Edo Period (1603-1868). At night, the outdoor Nigori bath is available for private use at no extra charge. Sengokuhara is located in an area with many popular sightseeing spots, including several art museums, the Museum of the Little Prince, the Hakone Botanical Garden of Wetlands and Susuki no Hara ("Rolling Field of Pampas Grass").
3. Tonosawa Ichinoyu Shinkan
Ichinoyu Shinkan is a ryokan built on serene, high ground surrounded by greenery. It's located near Hakone-Yumoto Station, which is famous as a sightseeing spot, with many souvenir and anime shops to stroll by. Experience the gentle, alkaline water brought up from an exclusive spring to private baths attached to the guest rooms. The building has free Wi-Fi and is smoke-free.
4. Ashinoko Ichinoyu
Located close to the boarding dock for boats touring Lake Ashi, this is a lodge-style ryokan that also offers the relaxation of hot springs. In addition to delightful, relaxing twin tatami rooms and chic, fully equipped Western-style rooms, Japanese-style rooms for groups and families are also available. Whether you're looking to see Lake Ashi, do some bird watching, go on eco tours or simply drive around, we recommend this ryokan to anyone who wants to experience all the activities Hakone has to offer.
5. Sengokuhara Shinanoki Ichinoyu
Shinanoki Ichinoyu is located at the entrance to Hakone Sengokuhara, and has convenient access to Gotemba Premium Outlets, sightseeing spots on the Izu Peninsula and the city of Odawara. You can enjoy two kinds of hot springs here: a sulfur spring and a mildly alkaline simple spring. The indoor baths even have barley-rice stones in the tubs, which heighten relaxation. All rooms are non-smoking, and free Wi-Fi is available. There are various room types available, and some come with hot spring baths attached, so be sure to find the one you like best!
6. Tonosawa Quatre Saisons
Quatre Saisons is found at the perfect location for observing the four seasons of Hakone. The moment you pull back the curtain, you won't be able to resist gasping as you gaze upon the Hayakawa River ravine and the bridge that spans it. The line of mountains before you will be too beautiful not to take a picture. In addition to the in-building hot springs, patrons have free access to the hot springs found in Ichinoyu Honkan just one or two minutes' walk away. The rooms are compatible with rolling luggage—another little sign of the lengths they go to to accommodate the needs of their guests!