10 Delectable Sweets Stops in Tokyo!
10. Richest green tea matcha gelato in the world: Suzukien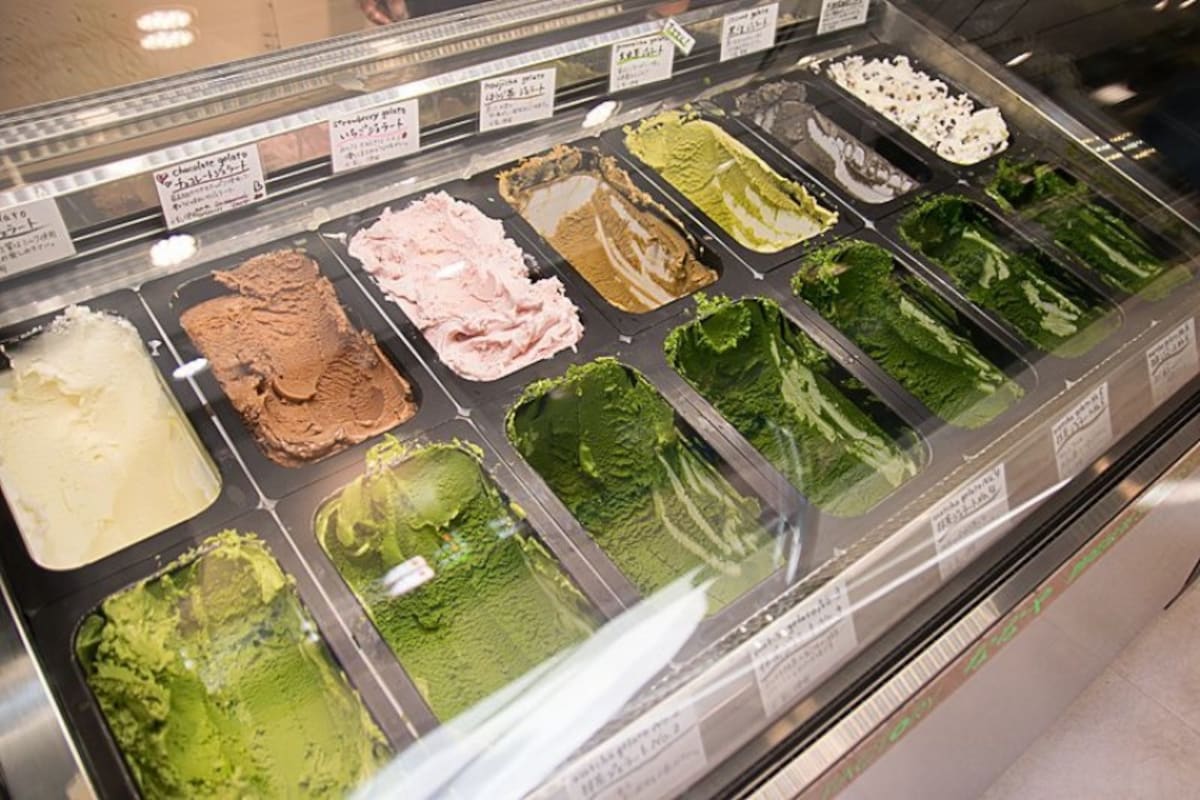 Suzukien is known for having the "richest matcha gelato in the world". The Suzukien Asakusa Main Branch was opened recently in January 2016. The shop sells various delicious gelatos. In addition to common flavours like chocolate, milk, and black sesame, there are also 7 different types of matcha available. The levels of matcha range from Number 1 to Number 7, with Number 7 having the richest flavour.

When you order the double scoop you can choose 2 different types of flavours. It is recommended that you order 2 different types of matcha to compare the flavours!
9. Tsuboichi - unique matcha sweets
Tsuboichi a Japanese sweet shop and it is located in the Marugoto Nippon building.

At Tsuboichi, you can have delicious matcha green tea together with an interesting sweet called puruboron, a matcha cookie. Additionally, traditional Japanese sweets like shiratama dango (Japanese rice dumpling) can also be enjoyed.

You can take home some great souvenirs too, including the unique puruboron and a variety of teas.
8. Say hi to Totoro! Shiro-Hige Cream Puff Factory
At Shiro-Hige Cream Puff Factory, you will get to try out a sweet that is only available there - the Totoro choux cream (cream puff). Totoro is a character from the acclaimed Ghibli film "My Neighbor Totoro" and the owner of Shiro-Hige Cream Puff Factory is actually a relative of Hayao Miyazaki, the director of the film.

Located near Setagaya-Daiya Station, Shiro-Hige Cream Puff Factory has a chic European design, much like a house that stars in Ghibli movies. The adorable Totoro cream puff comes in 8 different flavours, such as cream cheese and caramel banana. There are also other confectionary items, such as Totoro cookies, available. You can choose to delight in these sweets at the shop or have them to take out as souvenirs too!
7. The addictive sweets festivals of Hilton Tokyo Marble Lounge
Hilton Tokyo Marble Lounge is located at the first floor of the Hilton Tokyo, and it is famous for the bars and restaurants available. Various breakfast, lunch, and dinner menus, including buffets, can be enjoyed at Marble Lounge.

There are also seasonal events carried out at Hilton Tokyo Marble Lounge. One of them, which was held from December 2015 to May 2016, was the Strawberry Dessert Fair, where a whole bunch of different strawberry sweets including macarons, cakes, marshmallows, pies and more were available in a buffet style. From May to August 2016, another dessert fair, based on the concept of "Alice in Wonderland", will be held. Do check out their official website for the latest information on festivals held at Marble Lounge!
6. Traditional Japanese kibidango: Kibigoya
Kibidango is a type of dango (Japanese rice dumpling) that originated in Okayama Prefecture in the 19th century. Kibigoya is a retro shop that reminds one of the Showa era (1926 - 1989). It only sells two types of Japanese sweets: kibidango and warabimochi (rice cake made from bracken).

The freshly-made kibidango and warabimochi are coated with kinako (toasted soybean powder) and the soft, sweet Japanese sweets will get you addicted!