10 Amazing Photos of Japanese Trains
10. Kotoden Kotohira Line (Kagawa)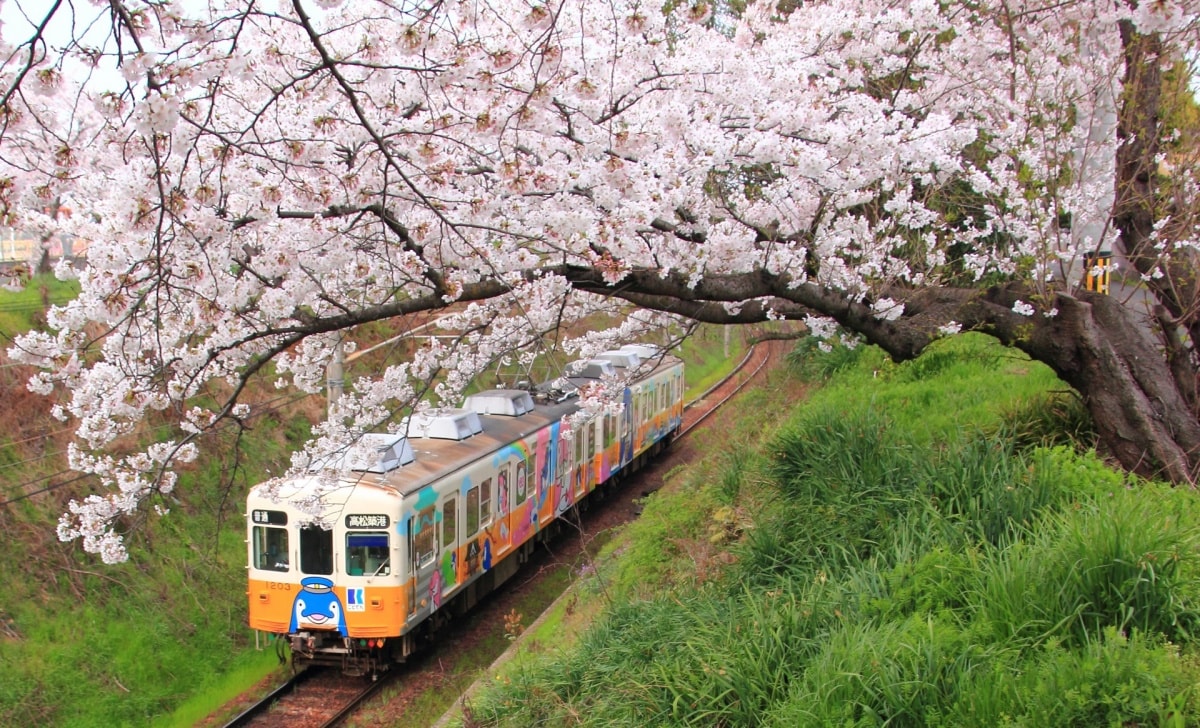 First opened in 1926, this line runs inland from Kagawa Prefecture's capital of Takamatsu City to the town of Kotohira, home of Shikoku's largest shrine complex, Kotohira Shrine, better known as Konpira-san.
9. Akita Nairiku Line (Akita)
Dating back to the 1930s, the Akita Nairiku Line runs between Takanosu Station in Kita-Akita City and Kakunodate Station in Semboku City. Pictured above is Ugo-Nakasato Station, about halfway along the line, waiting in solitude for the train to come.
8. Hakone Tozan Railway (Kanagawa)
The Hakone Tozan Railway will take you from Hakone-Yumoto Station up the steep slopes of this famous hot springs region. The front and rear of the car offer the best views as you take switchbacks up to Gora Station at 553 meters (1,814 ft) above sea level.
7. SL Yamaguchi (Yamaguchi)
Nicknamed "The Lady," the steam locomotive SL Yamaguchi runs for 62.9 kilometers (39 miles) between Shin-Yamaguchi and Tsuwano in Yamaguchi Prefecture.
6. Sanriku Railway (Iwate)
The Sanriku Railway runs in two segments along the Pacific coast of Iwate Prefecture (pictured above between Shiraikaigan Station and Horinai Station on the North Rias Line—which you may recognize as the main image for our Trains Week feature). The railway's return to service after the March 11, 2011 Great East Japan Earthquake became a symbol of hope for people in the region.
5. Yamanote Line (Tokyo)
The full circle of the Yamanote Line was completed in 1925. Looping around all of central Tokyo, it runs through the three busiest train stations in the world.
4. Tokaido Shinkansen (Shizuoka)
The Tokaido Shinkansen passes right in front of Mount Fuji as it courses through Fuji City in Shizuoka Prefecture.
3. Cruise Train Seven Stars (Kyushu)
Starting service in 2013, Seven Stars bills itself as the first luxury sleeper train in Japan. You can take a four-day journey through Fukuoka, Oita, Miyazaki and Kagoshima Prefectures, or a two-day journey through the northern prefectures of Fukuoka, Saga, Nagasaki, Kumamoto and Oita—for a premium price starting at ¥250,000 per person for a two-day tour.
2. Tadami Line (Fukushima)
The JR Tadami Line runs along the Tadami River in western Fukushima Prefecture. It's the primary means of accessing a secluded pocket of villages and towns known as Oku-Aizu, a region surrounded by mountains over 1,000 m (3,280 feet) high.
1. Kurobe Gorge Railway (Toyama)
While it was originally built to facilitate construction of nearby Kurobe Dam, Japan's tallest dam, the Kurobe Gorge Railway has been converted to a gorgeous sightseeing train line.