Akita Nairiku Line: Winter Wonderland by Rail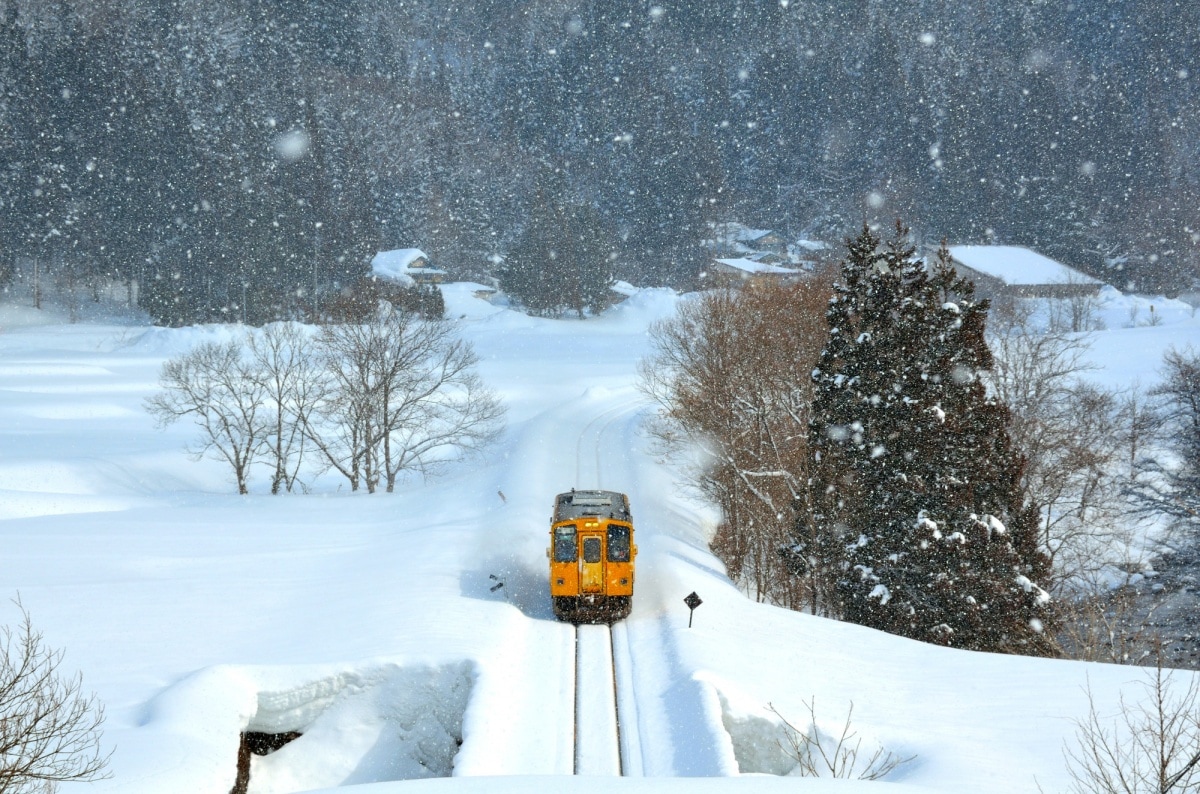 The Akita Nairiku Line runs between Takanosu in Kita-Akita City and Kakunodate in Senboku City and dates back to the 1930s, when it was used to transport workers and supplies to the Ani Mines, rich in gold, silver and copper. The initial lines have been extended over the decades, and the Nairiku now runs 94.2 kilometers (58.5 miles), sinuously winding its way through a course that includes 20 tunnels, 322 bridges and 29 stations.

Japan's Shinkansen network makes for speedy travel, but it's often hard to truly enjoy the scenery outside your window when you're moving at hundreds of kilometers an hour. The leisurely pace of the Akita Nairiku Line allows you to catch your breath, or have it taken away by an ever-changing landscape that harks back to a Japan of traditional stories and colorful mythologies. While stunning views can be seen throughout the four seasons, a winter journey through the snow country can be an unforgettable experience.
A Festival of Floating Lights
The eastern part of Akita Prefecture is a true land of winter, where snow falls for as many as 100 days each year. It is also the home of the Kamihinokinai Paper Balloon Festival, or Kamihinokinai no Kamifusen-age, a festival that's said to bring good fortune for the year to come.

In a tradition that has run for at least 100 years, the people of the Kamihinokinai district and seven other districts around the Nishiki area in Senboku City send their wishes to the sky in the form of illuminated paper balloons. The day of the festival is February 10, but preparation for these 3- to 8-meter-wide balloons starts in December. The participants begin by gluing paper together, then decorating them with colorful designs such as beautiful women or samurai, and finally placing bamboo rings into the balloons for structure. On the evening of the 10th, cloth balls soaked in oil are placed at the mouths of the balloons and ignited, lifting these ornate, delicate hot air balloons high into the night sky by the hundreds.
Access
To ride the Akita Nairiku Line, begin at Kakunodate Station, which is one of the stations on the Akita Shinkansen. It takes approximately three hours to reach Kakunodate from Tokyo. A one-way ticket from Kakunodate to Takanosu is ¥1,620, and takes roughly 2 hours and 45 minutes.

The Paper Balloon Festival is held on February 10 each year. To reach the event site, take the Akita Nairiku Line from Kakunodate Station and get off at Kami-Hinokinai Station (roughly 40 minutes; there will be more trains running to accommodate the festival). It is a seven-minute walk from the station to the event site. The venue opens at 3 p.m., and the balloon launching begins at 6 p.m.