5 Seriously Stylish Sake Cups
After buying quality sake, the next step is to ensure you have a special cup to enhance the taste. Many materials are used to create the perfect sake cup. Wood, for example, is common in Japan but unusual overseas, adding to its allure abroad. Take a look at these creative cups made from various materials and decide which one you'll toast to!
5. Traditional Hinoki Wood Masu Sake Cup with Cranes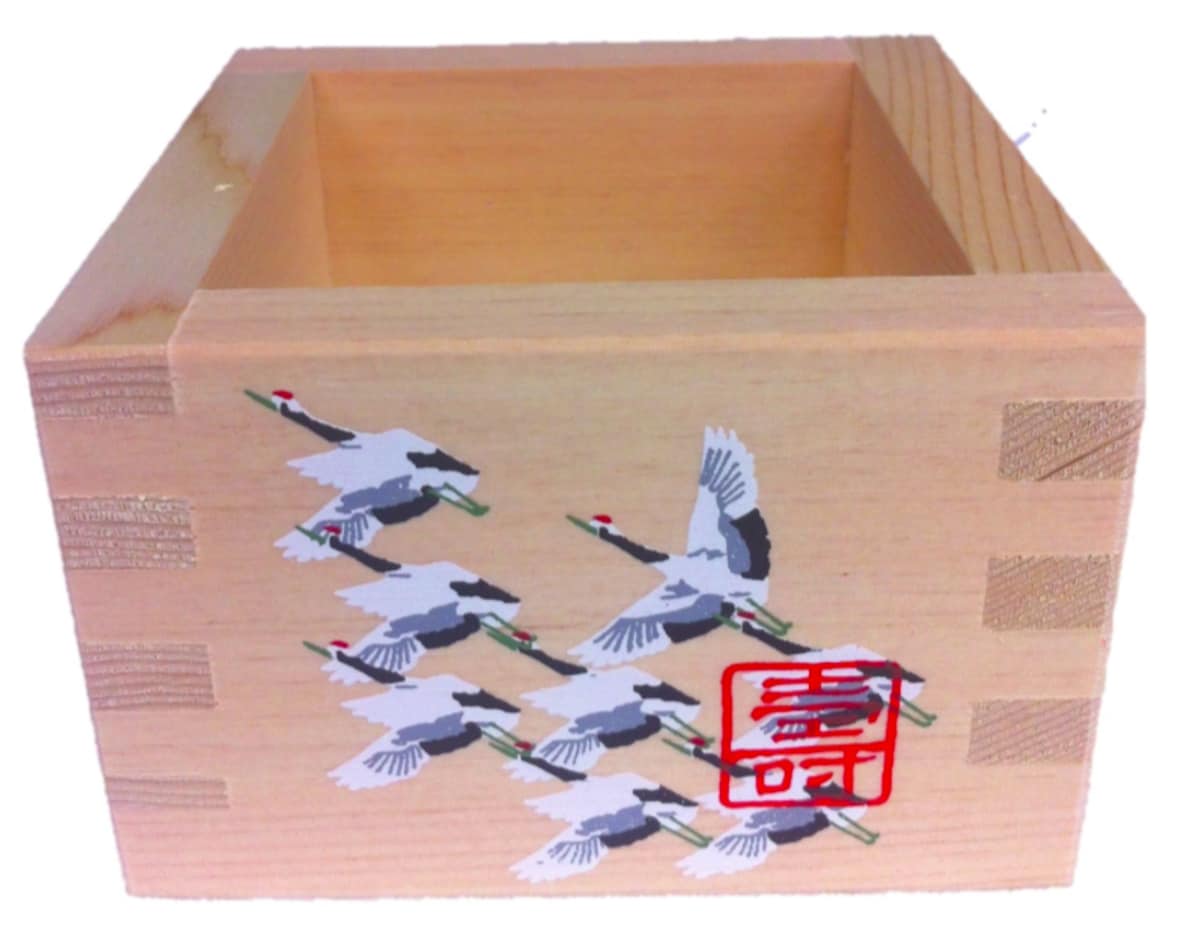 This classic masu sake cup, from Masuya, is made of hinoki cypress with migrating cranes on the front. In Japan, the crane, regarded as a symbol of good fortune and longevity, is considered a national treasure, appearing in art, literature and folklore. The Chinese character printed in red (壽, kotobuki ) means celebration.

Masuya is the leading producer of masu cups in Japan. And if you're looking for another amazing gift idea from Masuya, you can click here!
4. Nousaku Sake Cup: Kuzushi Yure Gold
Nousaku began manufacturing Buddhist altar fittings in 1916, and has more recently begun to add tableware and interior products to its lineup. It's run by fourth-generation family member Katsuji Nousaku, using casting techniques typical for the Takaoka region, which has been known for its tin and brass casting for over 400 years.

This piece, made of pure tin, is incredibly special for its gilded finishing, a collaborative manufacturing process in conjunction with gold leaf craftspeople in Kanazawa, Ishikawa Prefecture.
3. Award-Winning Bentwood Sake Cup Set
Winner of a coveted "Good Design Award," this Odate Bentwood set from Kurikyu, consisting of a uniquely shaped tokkuri flask and five sake cups (guinomi), is the perfect gift for any sake lover. The cups are a combination of traditional Japanese crafting techniques and contemporary design, while the tokkuri is both elegant and very comfortable to use.
2. Nousaku Celebration Sake Cup Set (Gold)
Resembling silver, tin doesn't rust as easily nor will air tarnish it as readily. Tin has antibacterial properties and is hypoallergenic, with a high thermal conductivity. While it's common to add other metallic materials to tin in order to provide durability, Nousaku makes this product unique by using 100 percent tin, without additives, and a brilliant gold leaf finish on the inside.
1. Nousaku Bamboo Sake Set
This wonderfully designed bamboo sake set utilizes the benefits of tin. It's believed that water in a tin container does not spoil, and tin removes excessive bitterness from sake, producing a better taste while purifying the water. Tinware allows you to safely store anything—liquor, meals, sweets or even flowers. Your sake will taste its freshest yet in these stylish and contemporary tin cups from Nousaku.

Which cup gets your juices flowing? With wood, tin and gold choices, there truly is something for everybody.