7 Cool Traditional Japanese-Style Gifts
7. Masuya Bottle & Cup Set (US$14)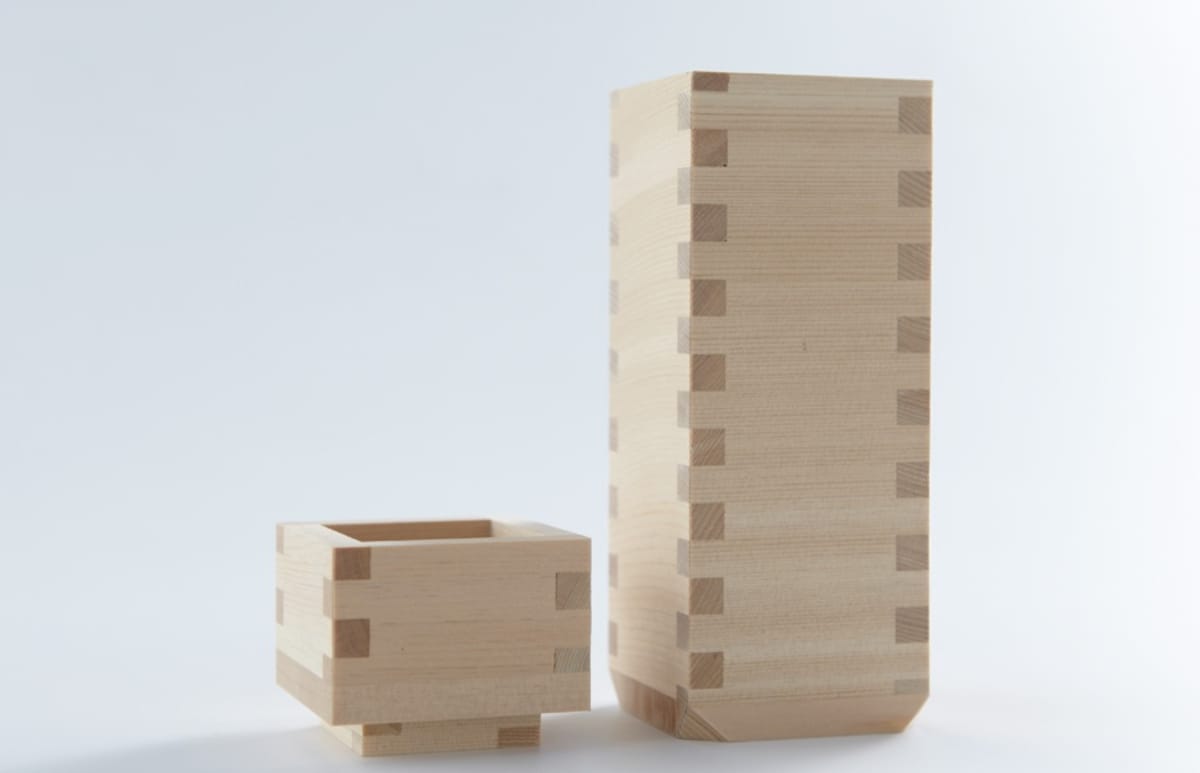 Masuya is a brand produced by Ohashi Ryoki, a company specializing in the manufacture of masu sake cups. The company is located in Ogaki City, Gifu Prefecture, which accounts for roughly 80 percent of the production of masu cups in Japan.

Made of hinoki cypress, this is a very modern application of traditional masu cup craft. The set consists of a bottle and one masu cup that also functions as the bottle's cap. It's a functional and beautiful accessory you can take with you to work, picnics, or wherever!
6. Fukura iPhone 5 Cover (US$65.61)
Still have a classic iPhone? Why not get a classic case! This design represents a joyful image of fukura sparrows flying around three symbolic trees of Japan: The pine tree symbolizes longevity, bamboo is a symbol of serenity, and the plum tree is a symbol of vitality. All three are trees resistant to winter's cold, giving a universal impression of strength.

The fukura is a Japanese type of sparrow whose name comes from the verb fukuramu, meaning to puff up. The fukura sparrow puffs up its feathers to protect itself from the cold. This species of sparrow is also symbol of good fortune.
5. Idenya Flat Evening Purse (US$94.48)
Koshu inden is a Japanese craft made of lacquered deerskin originating in Yamanashi Prefecture, close to Mount Fuji. The techniques and patterns for making inden were originally developed to produce certain parts of samurai armor, involving the application of Japanese lacquer to soft deerskin, making it very durable and resulting in objects well suited to everyday use. This combination of softness and durability is what has made inden products so popular for more than 400 years.

Nowadays the same techniques and patterns are used to create contemporary objects of timeless beauty and high durability. Market leader Indenya was established in 1582, and is even now run by the 13th generation of the Uehara family. Their high-quality wallets, purses and bags are sold in major Japanese department stores, marked by timeless designs that have appealed to both women and men all around the world.

The slim shape of this wallet makes it one of the most elegant Indenya products, the dark border line bringing out the traditional inden cherry blossom (sakura) patterns. Plus the numerous card slots make it easy to use as well!
4. Lacquer-Coated DEN Tumbler (US$96.23)
This DEN tumbler glass is coated with deep, dark Japanese lacquer. Each glass is decorated with mother-of-pearl, giving it a strong accent. It's a great example for the combination of Japanese traditional craft with modern design.

Designer Satoshi Umeno worked on urban design and furniture projects before starting his own design company, UmenoDesign, in 2003. Currently based in Tokyo, Umeno continues to release works in Japan and abroad, his interests covering fields such as interior, fashion, web, graphic design and more.
3. Men's Saijin Geta Sandals (US$118.10)
The company Mizutori started producing Japanese geta clogs in Shizuoka Prefecture in 1937. As Japanese fashions further adapted to Western style, the design of Mizutori clogs also evolved to suit modern life. Craftspeople now keep the tradition of geta alive by applying modern designs and manufacturing techniques, but respecting the spirit of the traditional craft.

The word saijin describes a person with eccentric tastes, and these men's geta have an avant-garde shape embracing the design of classic Japanese wooden shoes, but also taking them to the next level. Available in six sizes.
2. Six-Piece Bentwood Sake Cup Set (US$122.47)
This work of Odate bentwood, or magewappa, consists of a sake flask (tokkuri) and five sake cups—the perfect gift for any sake lover! The cups are a combination of Japanese traditional craft techniques and contemporary design. The beauty of the tokkuri comes from the simplicity of its design, bringing out the contrast between the natural grain of the cedar and the dark cherry bark used to fix the ends of the bentwood sheets to each other. The tokkuri is both elegant and comfortable to use when pouring sake into the cups. These sake cups and the tokkuri are both recipients of the Good Design Award from the Japan Institute for Design Promotion.
1. Gururi Bentwood LED Lamp (US$262.44)
This lamp has been designed by Yukio Hashimoto, one of the leading figures in contemporary Japanese design. The unique shape of the Gururi lamp is made possible through the traditional craft of Odate bentwood, or magewappa, which is constructed by bending thin slices of cedar, a technique for which Odate City in Akita Prefecture is particularly famous.

The LED of this lighting lamp creates a beautiful contrast of shadows. It includes a stainless steel pipe that also works as a vase for a single flower.

Yukio Hashimoto's works can be seen at Daidaiya Ginza restaurant, Ushiospax Tokyo branch office, Beams House boutique, Oto Oto restaurant and many more locations. He is also a part-time lecturer at Joshibi University of Art and Design and Aichi Prefectural University of Fine Arts and Music.