7 Premium Dashi Ingredients
Dashi soup stock is generally made from kombu (kelp), iriko (dried sardines), shiitake mushrooms or katsuobushi (bonito flakes)—or a combination thereof. And if you don't feel like making it from scratch, you can just use a powder. Check out our selection of dashi ingredients chosen from The Wonder 500™!
7. Natural Japanese Kelp (Osaka)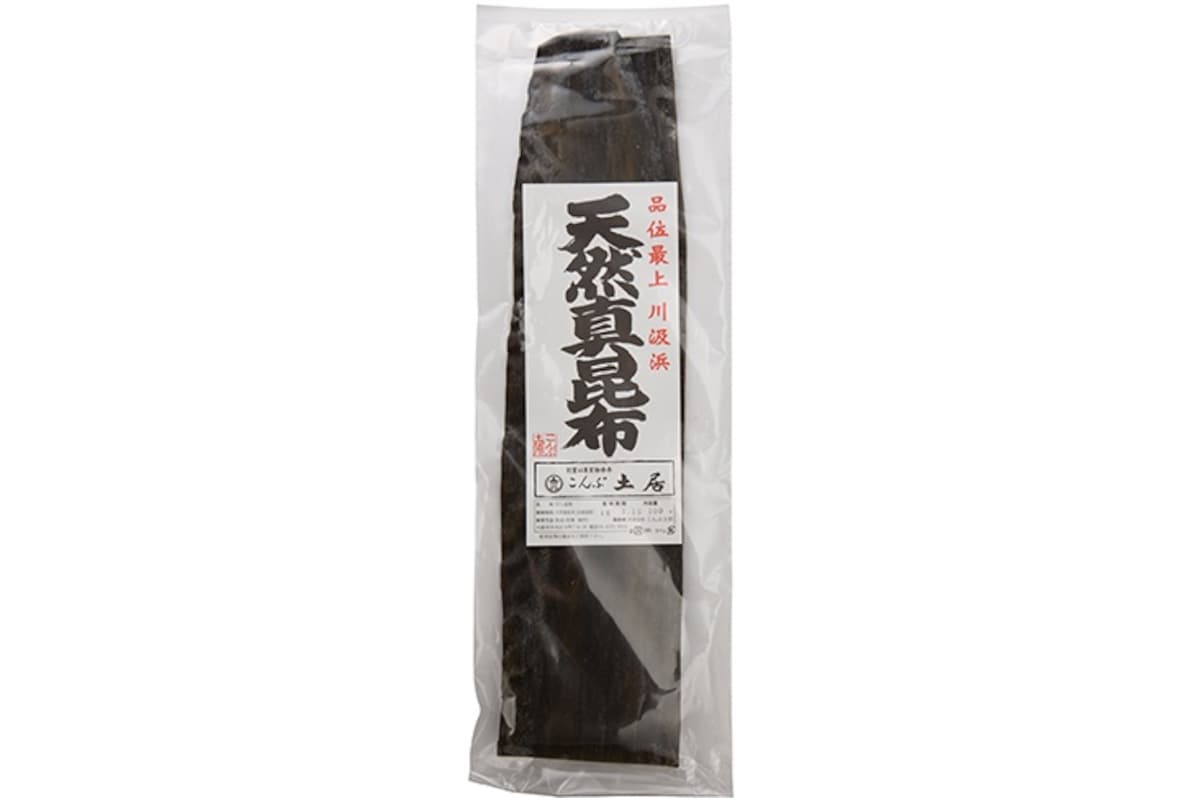 Soup stock culture has flourished in Osaka due to trade activities of the kitamae-bune cargo ships, which brought kombu from Hokkaido.

Approaching its 112th year as a purveyor of kelp, Konbu Doi's kelp is sought after by first-class chefs the world over. This natural Japanese kelp, or Tennen Makombu Ipponyori, is carefully selected from what is already the highest-quality kelp harvested at Kakkumihama in Hakodate, Hokkaido.
6. Crispy Roasted Dried Sardines (Kagawa)
Gintsuki are schools of Japanese sardines that join blooms of jellyfish and are caught in a net without being damaged. These top-grade sardines comprise only an extremely small part of overall fish hauls—approximately 0.5 percent.

Fished off of a small island in the Seto Inland Sea, freshly caught gintsuki are first boiled, then the head and intestines are carefully removed. They are subsequently roasted to produce the best, additive-free, dried sardines.

It goes without saying that these sardines produce a great broth, but try eating them straight from the package. Crispy and savory, they are completely free of a bitter flavor or smell. The more the sardines are chewed, the more flavor is released. They make an excellent snack or dish to have with a drink. Or, try them as a topping for pasta or salad.
5. Additive-Free Dashi Powder Mix Set (Shizuoka)
For some 70 years now, Odashi Cocktail has been providing consumers with an easy way to enjoy the uniquely subtle flavor of dashi. This product comes as a set of five types of carefully selected marine products (bonito, sardine, mackerel with Amberstripe scad, flying fish and kombu) that are gently shaved without crushing in order to extract their rich flavor. Users can freely combine and arrange the various ingredients to achieve the dashi taste of their liking, or add a pinch to any dish to enhance its savory quality.

Odashi Cocktail is free of artificial seasoning and additives. Its authentic flavor makes it the perfect first step into the exciting world of Japanese cuisine.
4. Dried Bonito Flakes & Mackerel Flakes (Chiba)
The quality of ingredients affects the deliciousness of any dish, but when it comes to delicate Japanese cuisine, high-quality soup stock is more important than anything else. Nagaishoten Co., Ltd. manufactures dried bonito, which is essential to soup stock. The company uses old-fashioned methods and is very particular about the freshness and quality of the raw ingredients.

Boshu-san Hana Katsuo (dried bonito flakes) are made from cured, boiled bonito caught in the nearby waters of Katsuura Fishing Port. The bonito are so fresh they can be eaten sliced raw, and have a beautiful, clear color like cherry blossoms. Not only do the dried bonito flakes produce high-quality, highly fragrant dashi, but they can also be enjoyed on pasta or pizza.

Saba Hanakezuri (dried mackerel flakes) are made from fresh blue mackerel caught when it tastes best, prior to spawning (March to May). The dried mackerel flakes produce a tasty, rich soup stock. Both products are certified by Chiba Prefecture, as a Chiba Brand Marine Products, a brand known all over Japan.
3. Soup Stock Pack (Kyoto)
Truly delicious things come from superior quality ingredients. In Kyoto cuisine, where great care is taken with the flavor of the ingredients in producing lightly seasoned offerings, soup stock is the quintessence of cooking. Uneno Co., Ltd., which has a long history of delivering ingredients for soup stock to distinguished restaurants and eateries, selects and processes ingredients such as dried bonito and kombu from all over Japan to match each restaurant's order. The Odashi no Pakku Jin soup stock pack blends those ingredients into authentic soup stock that can easily be produced at home. The name "Jin" comes from the color of the highest quality bonito flakes (jin-iro), a color more mysterious and beautiful than ruby.

About 20 years ago, to counteract a trend toward synthetic seasonings and extracts gaining popularity in Japanese homes, Uneno decided to create a product using only the best natural ingredients. With one sip, this authentic soup stock will spread happiness through your body.
2. Kombu (Fukui)
Okuikaiseido Co., Ltd. is a long-established kombu shop that was founded in 1871. The company's kombu is used in the finest Japanese-style restaurants and vegetarian dishes served at temples in Kyoto. The kombu is produced in the northernmost areas of Hokkaido, such as Kutsugata-hama on Rishiri Island, and Kafuka-hama and Funadomari-hama on Rebun Island. It produces a delicate, amber-colored dashi.

In addition to kombu for dashi, the company also offers kombu for a variety of uses, including shredded kombu and kombu for furikake seasoning. Okuikaiseido kombu is an excellent product that combines simplicity with authentic taste.
1. Japanese Soup in a Sea Bream-Shaped Wafer (Fukuoka)
At the top of our list is this wonderful creation in the shape of a fish that's packed full of exciting goodies.

In Japan, sea bream is associated with congratulatory wishes, and is an item of good luck essential to celebrations. Kyuemon Osuimono Omedetai, a clear soup contained in a sea bream-shaped wafer, is a product that is sure to please. Place the adorable wafer in a bowl, pierce it, and pour hot water over it. Amazingly, Japanese soup stock made from bonito, sea bream flakes, flower-shaped wheat gluten bread, dried green onion, yuzu (citrus fruit), and other ingredients will emerge before you. Inside the wafer are also hidden letters that spell out arigato (thank you), just for a little bit of fun.

The product is made by Hayashi-Kyuemon-Shoten, a long-established dried bonito shop founded 130 years ago. Inspired by a mission to keep the culture of dashi alive, the shop strives to produce umami, or savory flavor. Drinking a clear soup that fully brings out the flavor of natural, high-grade bonito flakes and sea bream is great way to experience the dashi culture of Japan.

Looking for ways to cook your dashi? Click here for more!