A Great Selection of Sake from Across Japan
The general concept of Japanese sake is its use of rice combined with koji-rice, a fermenting agent. All sake includes at least 15 percent koji-rice. Furthermore, the more the grain of the regular rice (or sake rice) is polished away, the more fat, mineral and protein impurities are removed, resulting in a more refined taste.
7. Tamagawa Time Machine Vintage Aged Sake (Kyoto)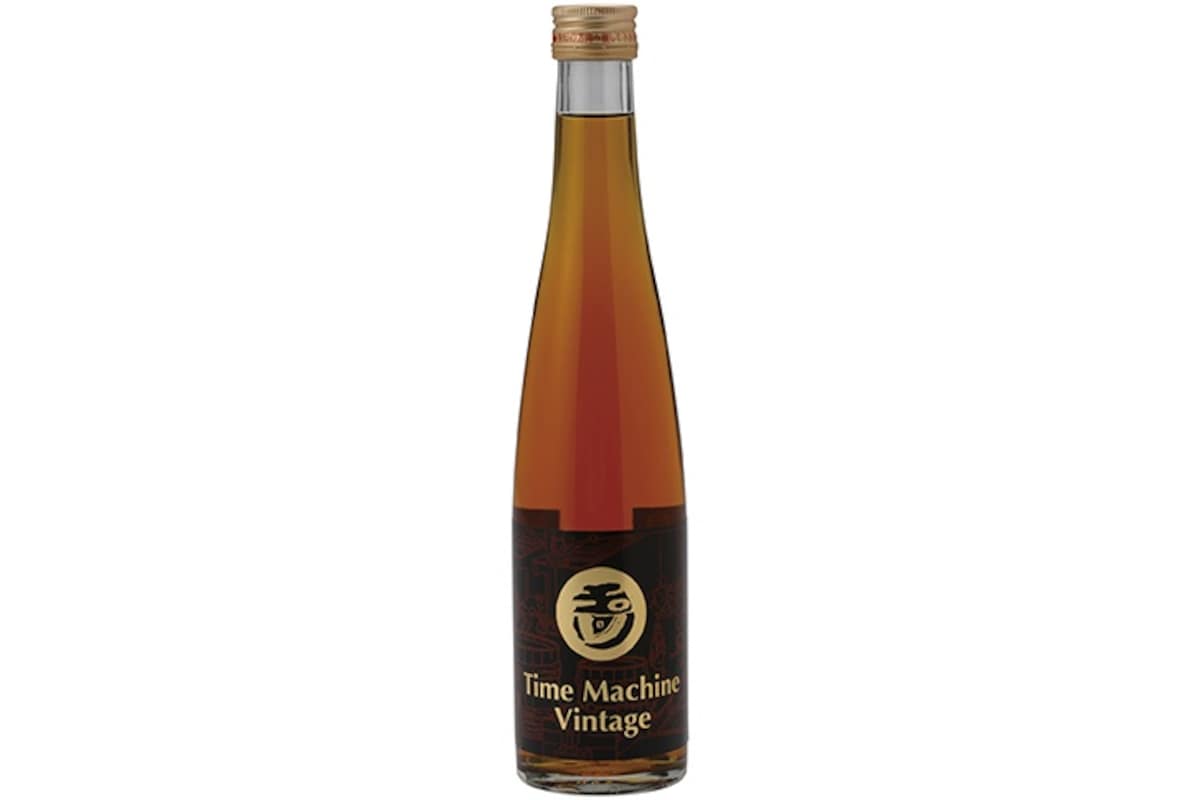 Brewed by Englishman Philip Harper, Tamagawa Time Machine Vintage looks nothing like Japanese sake—but in fact, it is produced by a method from the Edo Period (1603-1867) re-created from ancient documentary records. The rice used as raw material is polished only slightly, the malted rice used as yeast is cultivated slowly, and the sake is brewed with less water than in the regular method.

Compared with the standard contemporary Japanese sake, Tamagawa Time Machine Vintage has an amino acid content seven times higher, so even freshly brewed it boasts the subtle color and rich and sweet flavor of old sake. Bottled and further matured for three more years, it turns a beautiful deep amber color, and its flavor deepens and becomes more complex, embracing the added fragrance of dried grapes, figs and narazuke pickles. Tamagawa Time Machine Vintage is an aged sake (koshu) that can be enjoyed like dessert wine.
6. Yukiotoko Junmaishu (Niigata)
The Uonuma region is one of Japan's snowiest areas, and is also a producer of rice. Aokishuzo, a brewery with a 298-year history, is located in a district that is blessed with especially high-quality water from melted snow. Japanese sake made from that water is handcrafted using traditional sake brewing that takes place in winter. Yukiotoko Junmaishu is a dry sake that makes the most of the umami of rice and has a sharp aftertaste. It is an excellent sake to drink with a meal to bring out the flavors of food.
5. Mizubasho Pure Sparkling Sake (Gunma)
The longstanding Nagai Shuzo sake brewery, established in 1886, has taken its Japanese sake brewing skills, cultivated over many years, and married them with the traditional techniques of France's Champagne region to create its sparkling Japanese sake, Mizubasho Pure. It required an innovative method to perform the world's first in-bottle secondary fermentation with Japanese sake, as is done with champagne, and succeeding in this was a labor of love for the maker. The results, though, are impressive.

With pure water filtered through the terrain of the Oze Valley and Yamada Nishiki—a well-known as a premium brand of sake-making rice—acquired from contracted farmers, a flavorful fermentation was attained. Produced is a spicy and elegant sake and the ginjoka aroma of highly polished rice, followed by a crisp aftertaste. And just as with champagne, the urbanity of effervescent foam is a nice touch.

Considering how to properly match the sake to a dish is well suited to social settings, and with either Japanese or Western cuisine, this is a delightful bottle of sake that works well as an aperitif or during a meal.
4. Masu Iroiro Set (Kagawa)
Arising from the Seto Island Sea is the beautiful island of Shodo-shima. Located here is one of the three most beautiful gorges of Japan, Kankakei, known for the breathtaking panorama of the great gorge itself together with an ocean view. Overlooking such stunning scenery is Mount Hoshigajo, the source of mildly sweet spring water that pours forth from near the pinnacle. Here, Morikuni Shuzo uses this spring water to brew Japanese sake at Shodo-shima Island's only sake brewery.

In addition to this spring water, rice ideal for sake brewing harvested from the Seto Inland Sea's coastal regions is an ingredient that the master brewer uses to hand-make the Masu Iroiro Japanese sake set. This includes four different types of sake—junmai-ginjo, ginjo, junmai and hon-jozo—each differentiated by the degree of rice polishing or added alcohol iroiro means "various"). All come with a square wooden sake cup called a masu. The reason for this is that the Japanese sake made with spring water from such a nature-blessed island as Shodo-shima should not be served in a glass, but drunk from a masu to experience the authentic ambiance of Japan.
3. Hakurakusei Junmai-ginjo (Ibaraki)
Established in 1873, Niizawa Jozoten experienced catastrophic damage during the Great East Japan Earthquake in 2011. However, the all-out efforts of young brewers restored the brewery.

Japanese sake takes on the outstanding supporting role for complementing good food, leading brewers to pursue the ultimate dinner companion sake. Hakurakusei, Niizawa Jozoten's main brand, releases a calming fragrance, making it the select sake for first-class and business class on Japan Airlines. The name comes from the local Sanbongi region legend of Hakuraku's (the horse connoisseur) favorite horse riding up to heaven.

Hakurakusei Junmai-ginjo is made from Miyagi Prefecture's brand-name Kuranohana rice, polished until 55 percent of the original grain remains. It has a fresh, fruity fragrance with a clean, crisp flavor. After it has been thoroughly chilled, it can be enjoyed in a wine glass.
2. Dassai Junmai Daiginjo Migaki Niwari Sanbu (Yamaguchi)
Asahishuzo's Dassai Junmai Daiginjo Migaki Niwari Sanbu is a gem with a deep, penetrating flavor that will make you shout about how delicious it is. Its name comes from the use of 23 percent polished rice, earning it a place as the pinnacle of junmai daiginjo, the highest grade of sake.

In addition to the classic approach of junmai daiginjo using Yamada Nishiki rice since its inception, minor changes have been made to various areas in the hopes of creating something a bit more delicious and refined than before. Its beautiful transparency and sweet flavor are the result of the spirit of inquiry, enticing many sake enthusiasts to try it again. Its ever-fresh surprises and emotional appeal have captured the hearts of many.
1. Shichiken Kinuno Aji Junmai Daiginjo (Yamanashi)
This junmai daiginjo is produced by a brewery that has been brewing sake for more than 260 years, since its founding in 1750.

Along with steamed rice and rice malt, or rice-koji, this sake is also made with underground water from Mount Kai-Komagatake in Japan's Southern Alps, which has been recognized by UNESCO as a Biosphere Reserve. This water is characterized by an abundance of minerals acquired after many long years of filtering through granite. The delicious water, selected as one of the 100 exquisite waters of Japan, and Yumesansui, brewer's rice cultivated through collaboration with local farmers, are used together with traditional techniques continuously passed down through generations to produce this smooth-tasting, highly aromatic Japanese sake.