Iwate Ski & Snowboard Guide
Iwate Prefecture is located in the Tohoku region of northeastern Japan. The prefecture has the lowest population density of any prefecture in Japan outside of the northern island of Hokkaido. The east coast facing the Pacific Ocean is famous for its cliff-lined "saw-toothed" coastline, part of Sanriku Fukko National Park.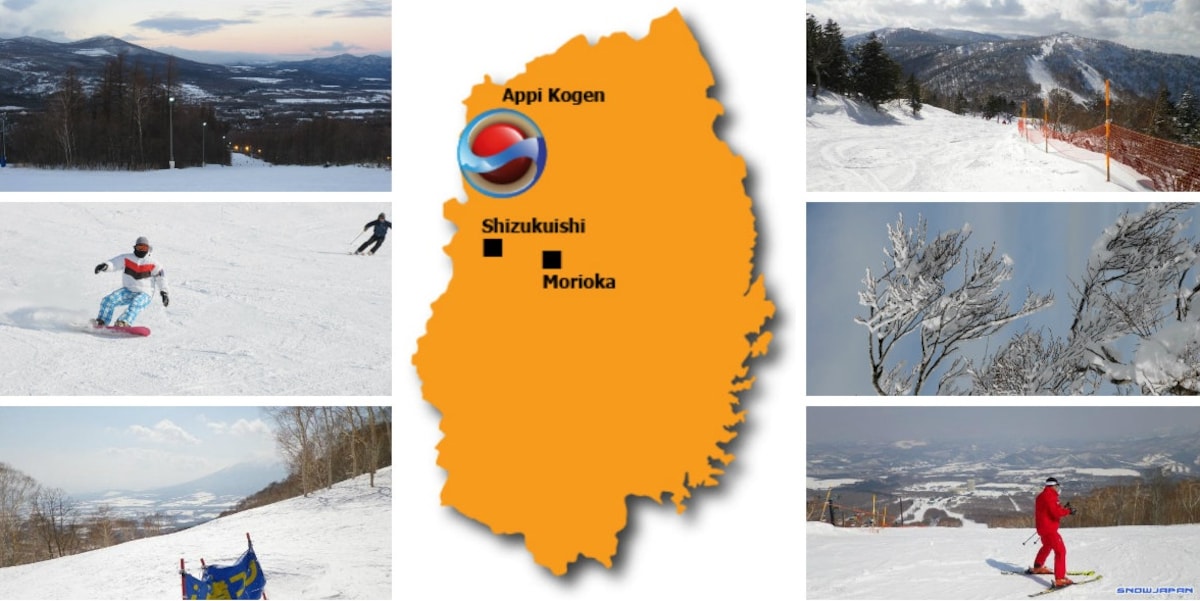 There are 16 ski and snowboard resorts in Iwate Prefecture. Most are located on the western mountainous region near the border with Akita Prefecture.
Appi Kogen
The highlands of Appi Kogen sit right next to the Towada-Hachimantai National Park in northeastern Honshu. The resort's 21 trails are comfortably accessible through two eight-person gondolas and three high-speed, detachable, hooded quad chairs, in addition to 11 pair lifts and two pomas. The big resort of Iwate, Appi offers everything from beginner bunny slopes to a 5.5-kilometer (3.4-mile) cruiser to steep and deep.

Appi is located 3 kilometers from Appi Kogen Station on the Hanawa Line, and shuttle bus services are also available from Morioka Station. Check SnowJapan's daily snow updates here!
Shizukuishi Town
Shizukuishi Town is home to three ski resorts, the most popular being the Shizukuishi resort. This town hosted the 1993 World Alpine Ski Championships, making it a mecca for ski and snowboard fans. While there are just 11 runs, they cater to all levels, with the 4.5-kilometer (2.8-mile) downhill course the typical top choice. Night skiing is available on the weekend, as well as ski and snowboard lessons approved by the Ski Association of Japan.
Geto Kogen
Geto Kogen Resort is a paradise for avid skiers and snowboarders because it gets an estimated 15 meters of snow per season, yet remains one of the least crowded ski resorts in Japan. It's relatively small, and you can probably get to all 16 slopes a few times in a single day, but it's still got options for all levels from beginner to advanced.
Regional Snow Guide
Want to learn more about skiing and snowboarding in Iwate Prefecture, or where to stay and what to do if you're planning a trip? Head over to SnowJapan for all the information you could possibly need!