My Bucket List of 5 Favorite Tokyo Restaurants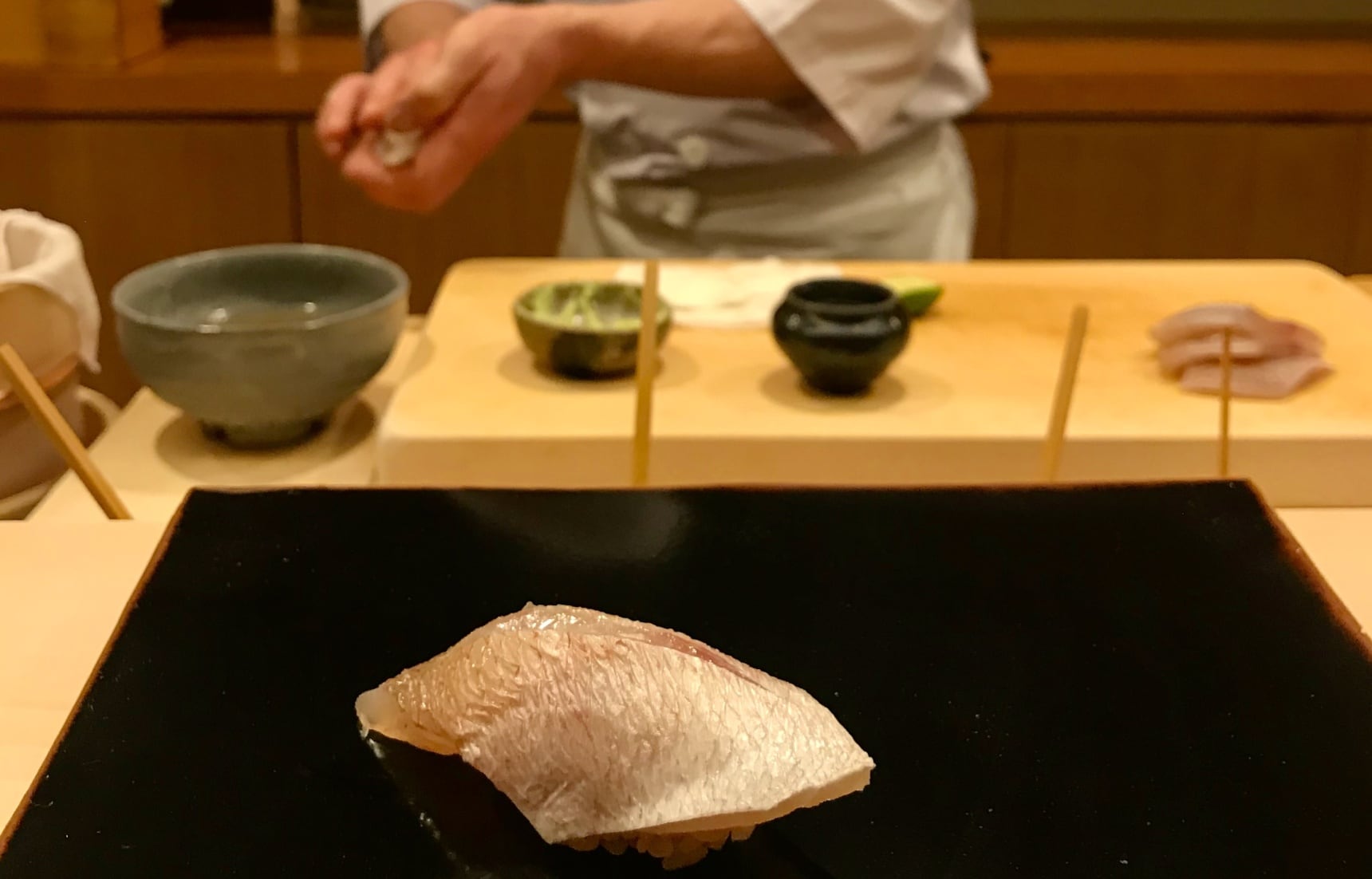 Nigiri sushi from the hands of Takeaki Sugita at his restaurant. (All photos by Robbie Swinnerton)

He has reviewed over 1,100 restaurants over his years as food writer for the Japan Times and other publications. Now we put Robbie Swinnerton on the hot seat by asking for his five favorite Tokyo restaurants. Here are his choices.
"What's your favorite [Tokyo] restaurant?" is a question I get asked a lot. And my answer is most often non-committal, something along the lines of "It depends."

It's not that I don't have deeply held opinions about which restaurants I like. After living, working and dining out in Tokyo for over 40 years—and writing about it for most of that time—I've certainly developed many, many cherished favorites.

Some of my top places are renowned, and justifiably so. Others are much less well-known—and I like to keep them that way, as they're just too small or too humble to need any extra hype.

But to name just one or two? That's tough. However, if I'm put on the spot, here are five places I feel should be on anybody's essential bucket list, whether resident in Tokyo or visiting for the very first time' and that will repay numerous repeat visits.
Classic soba noodles at Kanda Matsuya
I was smitten by Kanda Matsuya from the very first glimpse. Founded in the 19th century, its current premises date back almost 100 years. More than that, that handsome timber shopfront—and its buzzy dining room, where the customers sit elbow-to-elbow at the low-slung wooden tables—keeps alive the soba (buckwheat) noodle tradition which dates back to the days of the shoguns.

Whenever I'm nearby, I make a point of dropping in for a quick slurp—and sometimes you can watch the noodles being prepared and cut, all manually. But if I have a bit more time, I love to linger, ordering a flagon or two of warm sake and some side dishes to nibble on while feasting on the atmosphere.

A pilgrimage to Matsuya has become one of my New Year rituals, just as it is for many others. Be warned, though, the line outside before and after the holiday season is often an hour or more long.

Address: Kanda-Sudacho 1-13, Chiyoda-ku, Tokyo 101-0041
Phone: 03-3251-1556
Web page: http://www.kanda-matsuya.jp/
Jingumae Den: Japanese cuisine, innovative and accessible
Over the course of a dozen years, I've watched and marveled as Den has risen from its discreet beginnings as an under-the-radar insider secret to one of Tokyo's must-visit addresses. Even with all the international acclaim (and a move across town) it still retains a very special place in my affections.

Chef Zaiyu Hasegawa serves a creative take on Japanese cuisine that is unlike anywhere else. Almost every course on his menu is a signature dish: monaka wafers stuffed with foie gras; the modern-classic "Dentucky" Fried Chicken wings; and the gorgeous Den salad, with its emoji carrots (and even sometimes an occasional edible ant).

But what makes Den so special is the warmth of the welcome from the floor staff, led by Hasegawa's wife, Emi. No wonder they boast Michelin stars, top place on the Asia's 50 Best Restaurant list and a clutch of hospitality awards.

Address: 2-3-18 Jingumae, Shibuya-ku, Tokyo
Phone: 03-6455-5433
Web page: http://www.jimbochoden.com/en
Tonki: Tonkatsu (pork cutlets) for the people
Tokyo boasts over 1,000 restaurants specializing in tonkatsu (deep-fried pork cutlets). Some are superb. A few are plush and serve quality wine with their rare cuts of premium pork. So how come I rate such an unprepossessing place like Tonki so highly?

The dining room is spacious and as spotless (and odor-free) as an operating theater: quite remarkable for a place where the only form of cooking is deep-frying. The chefs—some of who have been there close to half a century—wear old-school white uniforms. It takes them 20 minutes to prepare and serve your order. Each cutlet comes with a mound of shredded cabbage, a dab of mustard, and rice and soup on the side. There are no side dishes, no dessert, no coffee. You just wait, eat and then leave. Simple, satisfying, classic. I love it.

Address: 1-1-2 Shimo-Meguro, Meguro-ku, Tokyo
Phone: 03-3491-9928
No web site
Narisawa: High-end French meets sustainable Japanese
Chef Yoshihiro Narisawa trained in Europe with some of the biggest names in the French culinary world, and his swish Aoyama restaurant has long been feted as one of the finest in Tokyo. But what sets Narisawa apart from so many other top-end Michelin-starred restaurants in the city is the way it has continued to evolve over the years—plus his constant emphasis on sustainability.

Working directly with his own network of small-scale organic farmers, foragers and fishermen, he has cut away many of the overtly French stylings. Instead, he has developed a hybrid approach he calls "Satoyama Cuisine," reflecting the traditional ecology of Japanese rural communities.

The results on the plate are gorgeous and unfailingly delicious. Now, as Narisawa closes in on his 20th anniversary, his cooking remains as classy and essential as ever. In fact it's never been better. Can you tell I'm a fan?

Address: Minami-Aoyama 2-6-15, Minato-ku, Tokyo
Phone: 03-5785-0799
Web page: http://www.narisawa-yoshihiro.com
Sugita: superlative sushi from the ultimate artisan
Sushi in Tokyo was originally (in the 18th century) a fast food, served by hawkers and eaten on the run. These days, though it's no longer street food, most sushi is still eaten at small, unpretentious restaurants, sometimes even counters that have no seats, served on kaiten conveyor-belts, or simply as takeout. And it's all generally good, tasty and reliable.

But every so often I do like to splash out at one of Tokyo's sublime high-end temples of sushi. There are many superb sushi chefs in the city but none are better than Takaaki Sugita. The consummate artisan, he is quiet-spoken and unassuming but with his own unmistakable charisma. His hands move like a dancer's, following their own rhythm as he fashions each piece and hands it to you.

How does he get his seafood to taste that much better? To form his shari (sushi rice) so that it seems that much lighter? To structure and pace each meal so that it leaves you feeling so elevated? That's his secret, and the reason why he's generally considered the best in the business. Just getting the reservation at his eight-seat counter takes a lot of planning, waiting and praying. Even if it only happens every couple of years, for me it is oh so worth it.

Address: Nihonbashi- Kakigaracho 1-33-6, Chuo-ku, Tokyo
Phone: 03-3669-3855
No website