The Shonan Coast's Best Brew Pubs and Taprooms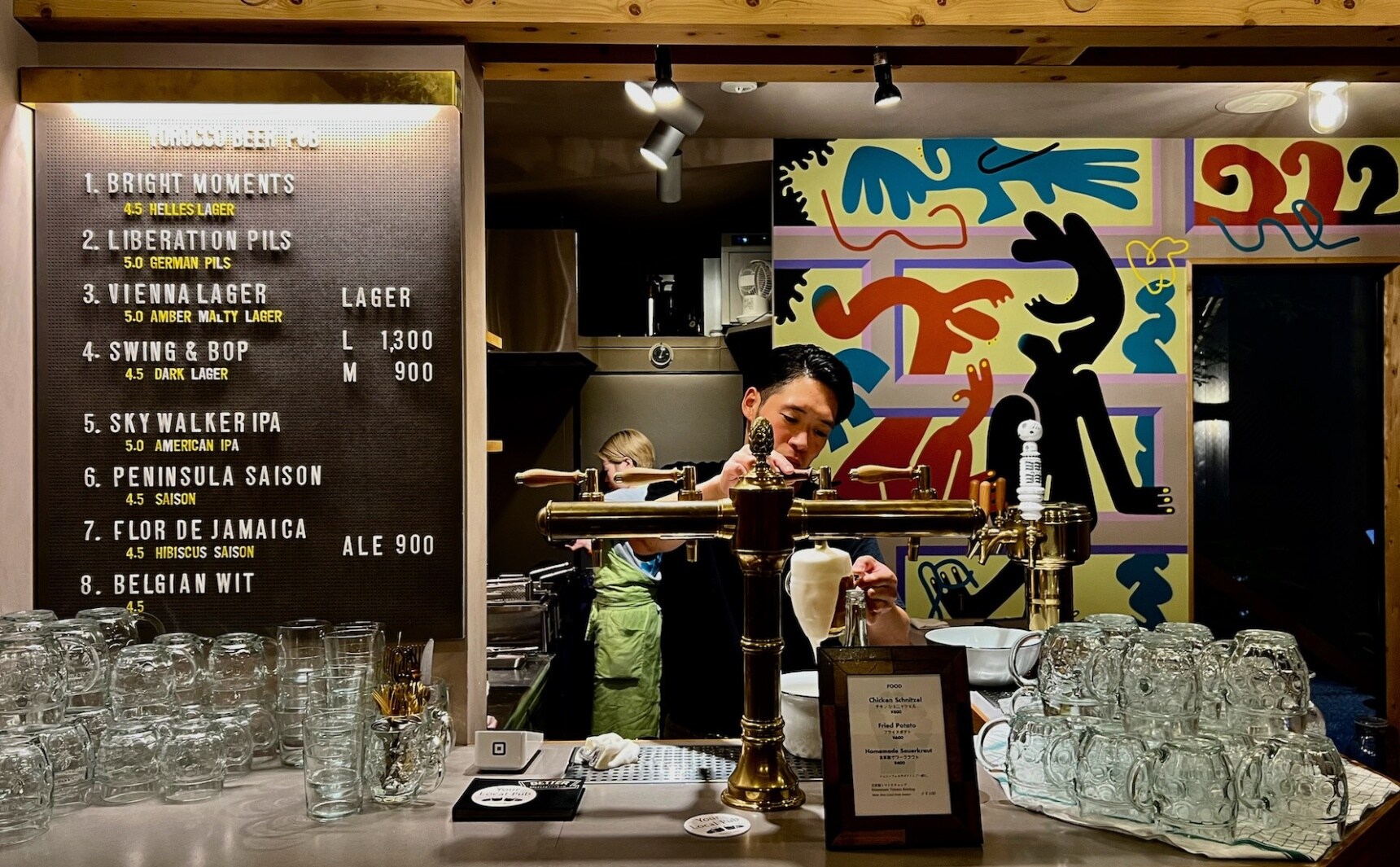 Yorocco Beer on tap in Kamakura. (Photo by Robbie Swinnerton)

The scenic stretch of the Shonan Coast, southwest of Tokyo, has become a significant center for craft beer. Food critic and coastal resident Robbie Swinnerton introduces some of the best brew pubs and taprooms that make the area a must visit for craft beer enthusiasts.
What's the best time of year for quaffing beer? Any time at all if you're drinking it at the source. And bonus points are added if you're anywhere near the sea—especially if it's in Shonan, the scenic stretch of shoreline in Kanagawa Prefecture that runs westward from Zushi and Kamakura.

Known for its pleasant micro-climate, picture-perfect views of Mt. Fuji and a thriving surf culture, Shonan has also in recent years become a significant center for craft beer. More than half a dozen independent producers have sprung up in the area in the last couple of decades since Japan liberalized its once-rigid licensing laws, which formerly kept beer production in the hands of the behemoth Big Four national brewers.

Better yet, many of these artisan independents have opened their own dedicated in-house taprooms, so you can drink their beverages pretty much straight from the brewhouse. In most cases, they are little more than a short walking distance from the nearest train station (and not much further from the beach).

So here forthwith, a brewer's half-dozen of places that should be on the radar of any craft beer aficionado with a yen to chug down the coast.
Shonan Beer, Kumazawa Brewing (Kagawa)
One of the earliest pioneers of craft beer brewing in Japan, Shonan Beer originated as a side operation for Kumazawa Jozo, a sake company located a few kilometers inland from Chigasaki. At the time, the sake business was in the doldrums and although the beer production was strictly local and small-scale, the new momentum helped turn around the fortunes of this century-old brewery.

These days the entire premises have been renovated into a tree-shaded courtyard. And the original brickwork warehouses have been converted into welcoming restaurants: one a bakery-bar-cafe; another a trattoria offering pizza and German-style beer snacks; and a third serves a Japanese menu that dovetails with the excellent Tensei sake.

This makes for a scenic drinking destination in any season for sampling the half-dozen regular brews—most of them German in influence—plus seasonal specials. But the tree-shaded courtyard really comes into its own during the annual Oktoberfest, when devotees from the local community pack out the precincts for three days of live music, food stalls and free-flowing brews.

Just getting there adds to adventure. It's a ten-minute ride on a local train from Chigasaki to Kagawa Station, plus a five-minute walk to the brewery. But those with a more urgent thirst can find a similar range of Shonan Beers and food at the brewery's own well-run Mokichi taprooms in Chigasaki, Fujisawa and Kamakura.

http://www.kumazawa.jp
Barbaric Works, Gold'n Bub (Chigasaki)
Ignore the idiosyncratic name: Gold'n Bub is the archetypal small-scale regional craft beer set-up. It's compact but well-lit and welcoming, with seats overlooking a central kitchen/serving area. The food menu is excellent and inventive. And the beer couldn't be fresher: the windows at the back of the pub look through at the tanks in which it's all made.

The Barbaric Works brewery has been operating for seven years, rapidly establishing a name for itself in the Shonan area for its adventurous range of North American-style beers. While not afraid to push the alcohol levels up (often as much as 7.5% BVA), flavors tend to be kept well balanced and never too extreme.

Just a five-minute stroll into the night-life back streets on the south side of Chigasaki Station, this is just the kind local pub that well repays the effort of tracking it down. Now if only it had an English menu (Google Translate is your friend) and was fully smoke free, it would be just about perfect.

https://www.facebook.com/Goldn-BuB-202350876603600/
Passific (Hiratsuka)
One of the more recent arrivals in Shonan's burgeoning craft beer scene, Passific launched in 2021 with an ambitious operation located on the outer reaches of Hiratsuka City, close to the banks of the wide (and sometimes wild) Sagami River. The brewmaster is a Shonan local who lived several years in Nagano Prefecture learning his metier at the consistently superb Shiga Kogen brewery.

Thankfully, you don't have to to head all the way out of town to sample his eclectic product line-up. In fact the onsite tasting area (too basic to be called a taproom) only seems to open sporadically. But Passific brews are available widely along the coast both on draft and in cans—look out for the manga-esque logo of a chuckling Mt. Fuji toting a surf board.

In particular, you should find an eclectic range of them on the list and in the fridge at the very excellent Hopman, probably the premier bottle shop and self-styled "beer cafe" close to Chigasaki station.

https://www.instagram.com/passificbrewing/

https://www.facebook.com/profile.php?id=100063693394582
Yggdrasil (Hiratsuka)
Yggdrasil describes itself as a brewer of "Heavy Metal-infused craft beer, cider and mead." Named after the sacred tree believed to stand at the center of the world in Norse cosmology, this cozy, wood-clad brewpub encapsulates the vision and life story of its founder, David Garahaut.

Known to one and all simply as Davido, he draws inspiration from his roots in Brittany; his love of metal music, which plays on video screens constantly (most of the time at low volume); and the local J-league soccer team, Shonan Belmare, drawing fans before each home fixture.

Besides the half-dozen beers he produces in the compact workshop behind the pub, Davido also serves excellent home-brewed Breton-style cidre (hard cider). And, if you time your visit right, do not fail to sample his seasonal mead, especially the one he infuses with cherries. To reach Yggdrasil, exit Hiratsuka Station on the quiet (beach) side: it's well worth the 10-minute walk.

https://www.facebook.com/yggdrasilbrewing/
Yorocco Taproom (Kamakura)
Yorocco was born in true microbrew style in a minuscule space it shared with Kamakura's alternative bakery Paradise Alley. In response to strong local demand, it has expanded steadily and now occupies much larger premises a considerable walk from Ofuna station.

Now, finally, owner-brewmaster Akio Kichise has taken his excellent brews to the next level by opening a taproom in his hometown, Kamakura. Although he favors Belgian-style saison yeast, the pub has a more Central European feel, with an emphasis on lagers—in particular look out for the amber, malty Vienna lager, which pairs beautifully with the schnitzel, fries and sauerkraut that currently comprise the only items on his food menu.

Over the years, Kichise has produced some great collaboration brews. Most recently, he produced a wakame seaweed-infused lager for the Kyoto pop-up of the Copenhagen restaurant Noma. And he will soon release a brew made from bread leavened during a session of Indian devotional singing led by American composer Terry Riley, which will simply be called Raga.

https://www.instagram.com/yorocco_beer/
Tsuji Brewing (Tsujido)
Opened in 2021, Tsuji Brewing has already gathered a hard corps of local devotees. Located midway between Tsujido and Chigasaki stations, the name derives not from the location but the name of the cheerful, Anglophile owner-brewer, Aki Tsuji.

His taproom is simple and modern, reflecting the contemporary feel of his beers, which range from easy-drinking English-style pale ale and New England hazy IPA to heavy stouts and appetizing fresh-hopped brews made with locally grown hops. Right now the list also includes a Belgian-style fruit beer made with organic ume plums from Odawara, further down the coast.

Two caveats: Tsuji has no food menu yet, but he's fine if you want to bring in takeout snacks or even deliveries from neighboring restaurants. It's also not the most convenient location, so it's worth checking the bus time table (#12 from Tsujido Station to Misumicho) ahead of time.

https://www.facebook.com/tsujibrewing/