Brit Amelia Hiorns is Working to Save Japan's Bear Population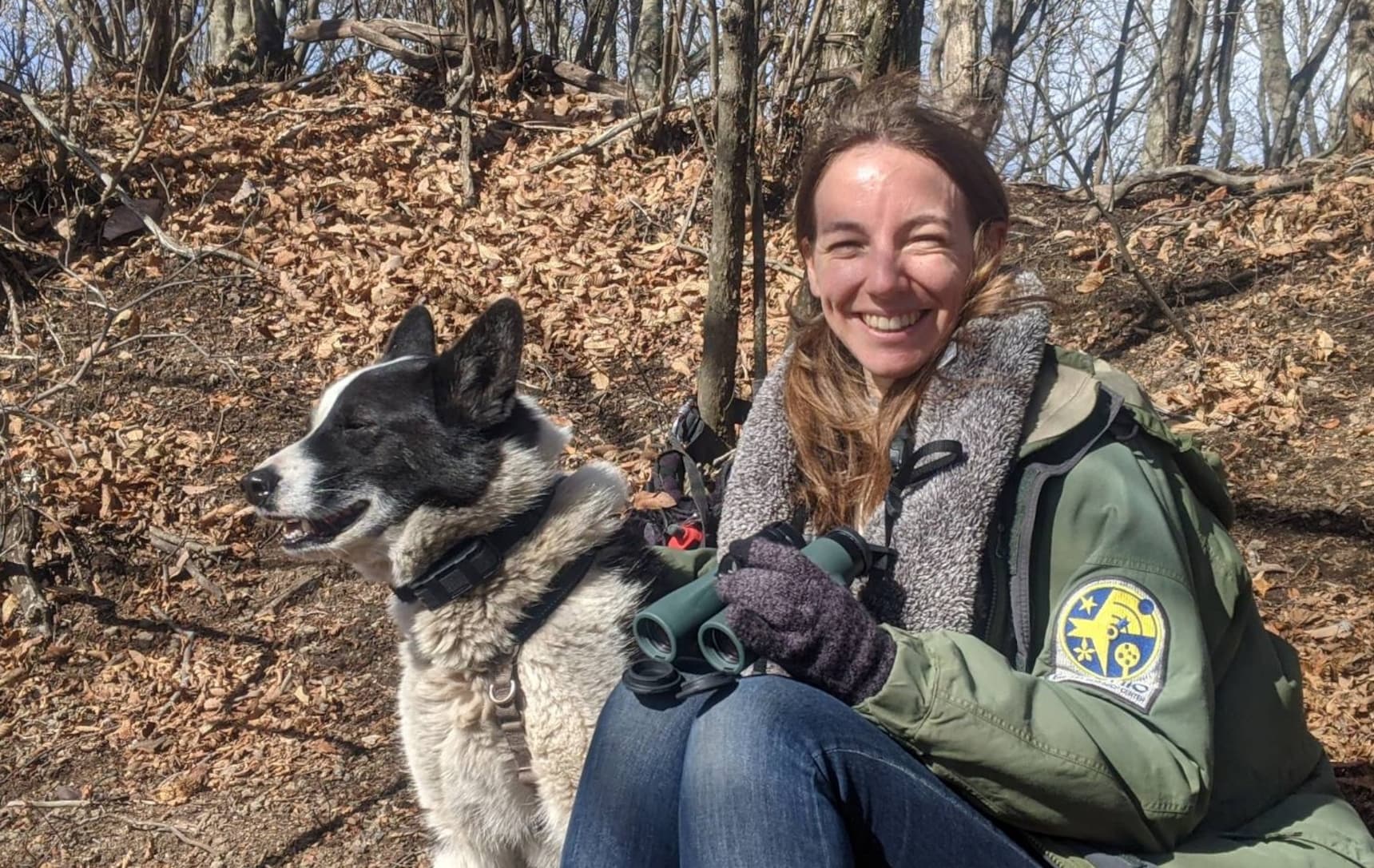 "After the bears have been tranquilized, interns photograph them and collect hair, scat, and tick samples for analysis. "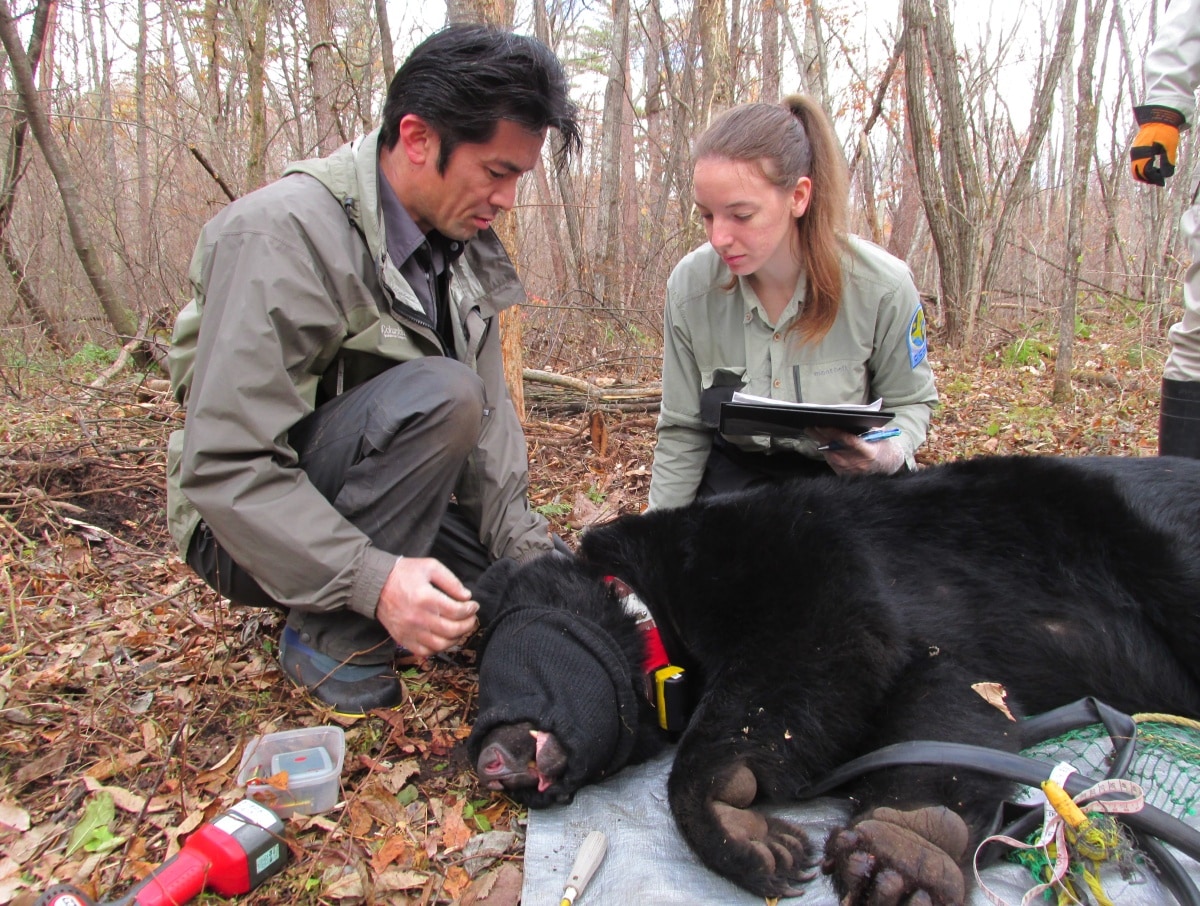 Amelia Hiorns' workspace encompasses Nagano prefecture's mountain town of Karuizawa and spreads out across farmlands into the surrounding forests. On any given day, one might find her measuring a bear's den, setting up wildlife cameras, examining bear scat, weighing tranquilized bears, or teaching interns how to do all of these activities as a member of the Picchio Wildlife Research Center's Bear Team. Her goal is to learn more about human-wildlife conflicts, and to use this knowledge to help benefit conservation in Japan.

What stimulated your interest in animals? Did you have pets as a child?

Ever since I can remember, I have loved animals. We had cats and rabbits at home and my parents were always encouraging interactions with other animals through visits to zoos and farms.

Where did your interest in bears begin?

At one time, I was keen to work with tigers. Then while I was getting my Bachelor of Science degree in Zoology at the University of Exeter, I went to Montana on a year abroad program. That's where I became interested in bears and now I have quite a soft spot for them.

How did you become a member of Picchio Wildlife Research Center's Bear Team?

While assisting with a project to collect bear DNA in Yellowstone National Park, I was introduced to someone who had worked at Picchio. It sounded like a place that matched many of my interests, so I applied, and in the summer of 2018, I started a six-week internship.

What did the internship consist of?

Interns support the bear experts who rescue bears that have been accidentally caught in traps meant for boar or deer. They also set traps around town if bears have been sighted in locations that are too close to homes and businesses. After the bears have been tranquilized, interns photograph them and collect hair, scat, and tick samples for analysis. Plus, they weigh, tag, and sometimes collar bears to radiotrack their movements. Depending on the capture location, we release them there or transport them to remote forests.
"As an intern, I used to puppy-sit the Karelian bear dogs. Now, they are my coworkers, and they keep me happy."
How did you advance from intern to full-time staff member?

When my internship ended, I spoke to the boss and told him that I wanted to work full-time. The timing was fortuitous since Picchio was looking for someone from overseas to help with marketing. It was a job that fit my interests in wildlife and Japan and matched my educational background.

Are you satisfied with how the job turned out?

This is a good job for me, as it fulfills my dreams. My childhood self would be happy, amazed, and pleased to see me now.

What are the really rewarding experiences that come from your work?

Helping to rescue and release mothers and cubs and reunite families is particularly rewarding. If it's a baby bear, we can see the baby close up and hold that precious little life in our hands before returning the cub safely to its mother, who is always waiting nearby. If it's the mother that is snared, you can hear the babies crying from where they have hidden, and you can see them peeking curiously through the bushes. It feels good to know that you're going to give their mummy back to them.

And the most enjoyable part of your work?

The Karelian bear dogs I work with. These highly trained dogs detect bears and guide them away from homes and towns. As an intern, I used to puppy-sit them. Now, they are my coworkers, and they keep me happy. I also love the proximity of nature. I can walk out of my apartment and almost immediately get a view of Mt. Asama's incredible volcanic peak.

What is the worst part of your job?

Dealing with snare traps. I don't enjoy watching the bears struggle in the snare traps, and it can be hard to see them like that. But I'm glad that we're there and able to help them. We are making a difference.

I imagine weather conditions can make things difficult.

Processing bears in the rainy season is pretty tough. Everything gets absolutely soaking wet, including the poor bears. Karuizawa also gets very cold in winter, so there have been times when I've had to help bears using very numb fingers and toes! A couple of times we've even had to work in the snow!

How have you changed since coming to Japan?

I have gained an appreciation of my home from being away. And I've learned different ways of thinking and doing, especially with language and expression. Sometimes I have to think how a Japanese person would approach something, rather than my British self. Or how I would say or write something in Japanese rather than thinking of it in English first and then translating it. I still maintain my British sense of humor, but there are times when my first reaction to something is Japanese.
"I always encourage people to see the incredible wildlife in and around the town of Karuizawa."
What do you do in your free time?

I love bird watching and hiking, exploring new areas. Japan's natural landscapes are fantastic. I also enjoy visiting friends and exploring with them too. I do miss access to shops. Living in the countryside means many places, including restaurants and even convenience stores, close early. If you want to go out in the evening, you have to think in advance or go to a bigger town nearby.

What would you recommend visitors do in Karuizawa?

I always encourage people to see the incredible wildlife in and around the town. The tour to see flying squirrels is fascinating, as it is almost impossible to see them by yourself. The autumn foliage is beautiful and in winter, you can go ice skating at the Keraike Skate Rink. . Karuizawa has little artificial light so on clear nights the stars are quite stunning.

What about the local culture?

Missionaries played a big part in Karuizawa's history, so there are lots of old-style European buildings and more churches than shrines. I take visitors who are interested in Japanese culture to Kumano Kotai Shrine, which is right on the border of Nagano and Gunma. From here you also get an amazing view of the mountains. Karuizawa is part of the old Nakasendo route so there are several old mountain passes and popular hiking spots here too! The famous hot spring town of Kusatsu Onsen is easy to get to from Karuizawa and in the town itself we have the hot spring complex, Tombonoyu Onsen, which is great.

What do you think about the Japanese relationship with nature?

Historically, I think Japan was very close to nature, with cultures like the Ainu in Hokkaido and the Matagi hunters of the Tohoku region. But now with more people living in cities like Tokyo, that don't have an abundance of green spaces, the connection with nature has been lost a little and a lot of nature feels controlled. But there are great expanses of forests and mountains in Japan that are accessible and beautiful and there is definitely a growing movement to appreciate the wilderness.

Can people learn to appreciate uncontrolled nature?

I think education is important. The more people know about something, the more they can appreciate it. For example, Picchio's Karelian bear dogs act as ambassadors for our work. People like the dogs, and through them, they learn about bears and learn to like nature. Ecotourism is also helpful. I think people need to become proud of their local wildlife.

How long will you be at Picchio?

For now, there are various projects that I'm working on and looking forward to witnessing the results. I have seen the Youtube channel I work on grow over the time that I have been here. I want to make even more fun, informative videos that introduce people to Japanese nature and the work we do here. I am also keen to help publish more scientific papers and utilize Picchio's ongoing bear monitoring data to contribute to the future of Japanese bear conservation.

Picchio website
https://www.wildlife-picchio.com/

Picchio youtube channel
https://www.youtube.com/c/PicchioJapansWildlifeConservation