Why I Switched My Family's Diet to Washoku
What does a typical Japanese meal (washoku) look like? The most common formula is to have a bowl of white rice (gohan), a bowl of clear or miso soup, pickles (tsukemono) and three dishes of vegetables, fish, plant protein, and/or meat (okazu) to accompany the rice. In Japanese, this is called ichijyu sansai 一汁三菜.
Making the Decision & Convincing the Family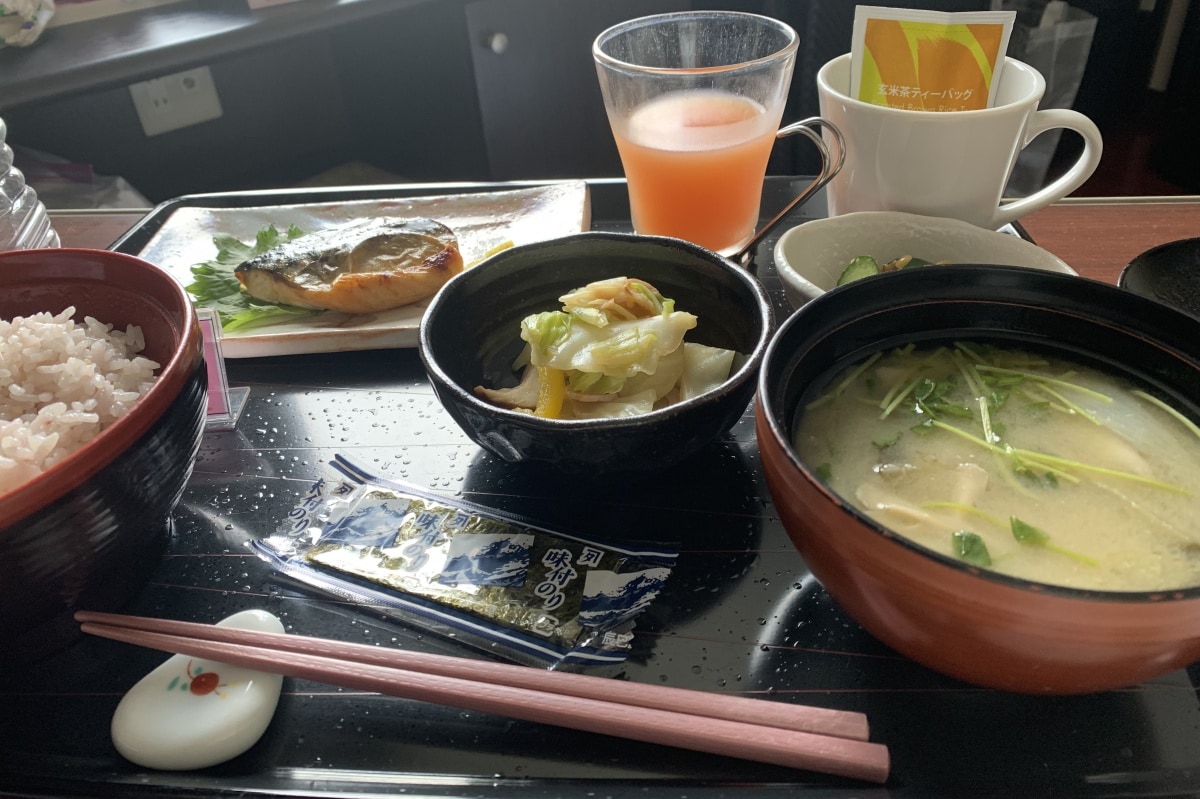 Right before my second daughter was born, I had several worries: How would I cope with having to speak a second language while in labor? Would my husband be allowed inside the delivery room? And, in hindsight, amusingly: How would I handle five days in the clinic eating Japanese food, with none of my "comfort foods" from home?

But after eating my very first meal postpartum, I had a revelation. Not only was Japanese hospital food worlds above what I was served in Canada (stale bread and butter, anyone?), but in the hazy first days with my baby, I actually felt better not eating a huge bowl of pasta topped with cheese! Instead, the rotation of soups, varied vegetable sides, fish, tofu and meats, always with a bowl of rice and/or an onigiri rice ball, made me feel warm and whole as I got to know my new baby.

By the time I got back home, I knew I wanted to change the way my family had been eating. Since I had to care for the new baby, the first person I had to convince was my husband, who had gamely offered to cook over the three weeks he would be home on leave. Since all cooking was new to him, he would have to start from scratch. I did the meal-planning, mostly using Japanese apps and websites, like Delish Kitchen and Kyo no Ryori, and initially it involved much trial and error. We also had to test out different ingredients from different sources to discover what worked for us. For example, we didn't yet have the palates to distinguish the difference between local soy sauce and mass produced, but one try of locally made dashi stock convinced us to ditch the supermarket powdered version for good.

Luckily, since our elder daughter is at a Japanese preschool, her school lunches prepared her for the switch (although her allegiance to noodles did lead to protest over the increased amount of rice). We were able to overcome this by making cute onigiri rice balls of varying shapes and sizes, which took more time, but got her on board with our new diet. A few months in, the constant gentle exposure to different foods--especially different vegetables served alongside the rice and protein--has paid off. She is far more adventurous, even happily eating raw spinach, an old nemesis, at lunch recently.
Varied Veggies: Creating a Mixed Menu on a Daily Basis
Trying to follow the pattern of rice, soup, pickles, and three dishes led to a rebalancing of our plates. While previously our dinners consisted of things like a big bowl of pasta with a vegetable side of a green salad or some grilled vegetables (or both if I was especially adventurous!), the new menu plan was quite different. The carbohydrates were a given thanks to the bowl of rice, while the new stars of the show became the vegetables and protein. In the process, I have become acquainted with the kinds of Japanese vegetables from my local supermarket that I had only previously encountered in restaurants, like hijiki (dark brown wild seaweed). I also learned to experiment with cooking techniques for other ingredients like daikon, whose flavor profile alters so much depending on how it's prepared (spicy when raw; mellow when simmered).

Looking back at my last week of menu items, I've made sides like smashed garlicky sesame cucumbers, stir-fried broccoli, okra dressed with soy sauce and cheese, steamed green beans flavored with mentsuyu (dashi, mirin, soy sauce) and gingery lotus root, to name a few. By reducing the amount of carbs and upping the number of vegetables we consumed with each meal, I've been able fill us up with a mix of healthy vegetables--with all of the antioxidant benefits.
Surfs Up! Increasing our Diet of Seafood
Of course, a washoku menu is dominated by fish and seafood. Ironically, I grew up disliking all of it— perhaps the unfortunate result of living far away from the ocean. That changed the first time I tried seafood in Japan, a country that enjoys the rich bounty of the nearby seas all year round. Now I eat fish and seafood several times a week. This integral part of a healthy Japanese diet is a wonderful source of omega-3 fatty acids, vitamins (such as D and B2), calcium, and minerals (like iron, zinc, and iodine), fish is an integral part of Japan's healthy diet. So, whether it is grilled conger eel (anago) served on a bed of rice, a whole Pacific herring (nishin) resting in a bowl of hot soba soup, or mackerel (saba) marinated in miso, we reap the health benefits in a variety of delicious ways!
Plant and Poultry Power
Hiyayako cold tofu: usually a summer dish but tasty year-round


Another reason a washoku diet is healthier is the sparing use of red meat. Eating less red meat is now accepted to be a more environmentally-friendly and healthy choice. Beef, in particular, has been singled out for its impact on climate change, with cows and their manure producing methane gas while forests are cleared to make way for cattle. Since historically, Japanese food has not included red meats (apologies to the deliciousness that is yakiniku!), cooking washoku style can help with a transition away from beef. Living in Fukuoka means that I am fortunate to have access to great chicken, and ground chicken has now replaced our intake of ground beef--until now a family favorite.

A typical washoku meal also includes plant-based proteins, especially soy-based ones like tofu and natto--that sometimes replace or accompany them. Despite its reputation among Westerners as an unappetizing exception in Japanese cuisine, natto (fermented soybeans) pairs perfectly with white rice, green onions, soy sauce, and spicy mustard for a light and complete breakfast. Tofu, which was introduced to Japan via China in the eighth century, comes in two main types: kinugoshi (silken, best used in salads and smoothies), and momen (firm, best cooked in stir-fries, stews, etc.). Using the former, which doesn't require cooking, is a quick protein-rich side for rice. Try it chilled and topped with soy sauce, katsuobushi (dried bonito flakes), green onions, and grated ginger —a tasty traditional dish for the summer months! (See photo above)
Starting with Small Steps
If these tips seem daunting, why not take some small steps towards changing your family's eating habits? Try adding one healthy ingredient to your week, such as fish, tofu, or natto, Or add a small, extra plate of vegetables next to your main dish. There are some other easy fixes that you can try as well. If you're already serving rice, try switching it out for brown rice, or genmai, now and then. While hakumai (white, polished rice) is a staple of washoku, many nutritionists recommend limiting the amount of white rice you consume in favor of its healthier unpolished companion. Meanwhile, try buying local if you can. Some larger supermarket chains have a produce section featuring local farmers' fruits and vegetables. These are often cheaper and tastier than varieties brought in from more distant areas. Also, since eating foods that are in season is an important characteristic of washoku, eating local ensures that only the freshest and most seasonally appropriate foods make it onto your plates.

I can say that, for my family, following a washoku-style diet has been well worth it. Sure, we've been minimizing our environmental impact and staying more in harmony with the country and seasons around us by consuming more fresh and local veggies. But we have also just been feeling better. For me, with a newborn in tow, walking away from meals without the heaviness of red meat or the bloat induced by too many refined carbs left me with more energy. And the fact that the baby weight came off before the half year mark was appreciated as well! But, maybe the best thing about it for us was that we feel that much more in sync with the place we have chosen to live. Good luck and happy eating!