Enduring Beauty: Japan's Sustainable Cosmetics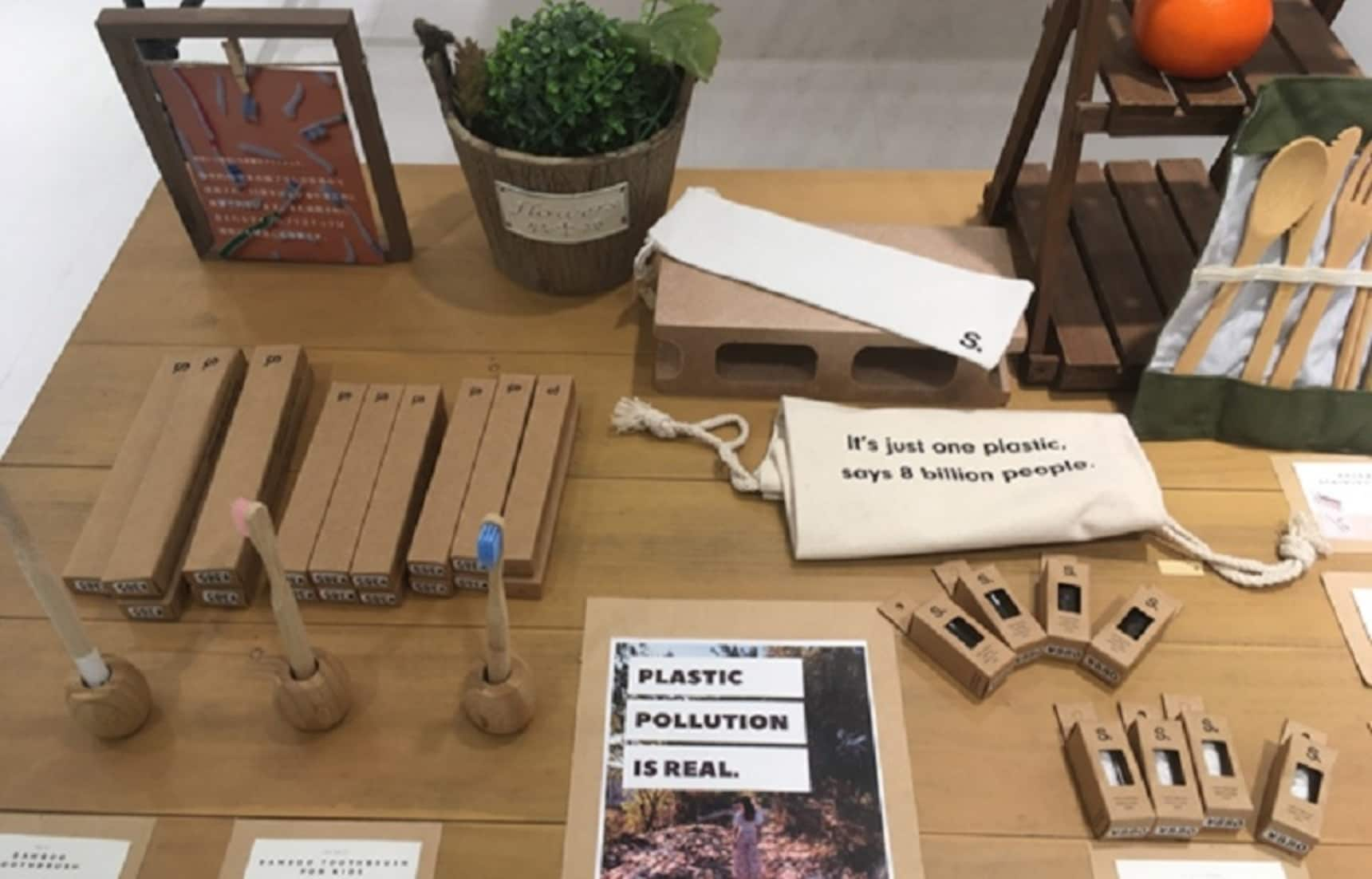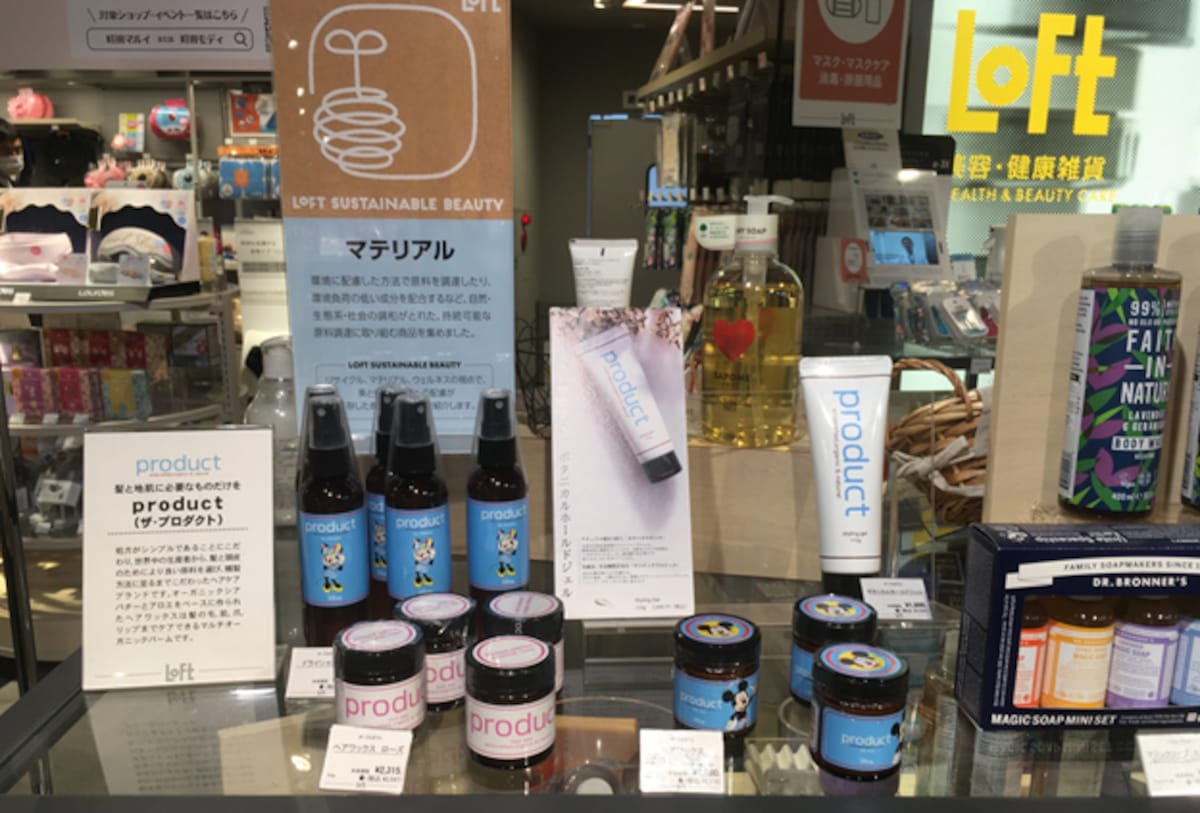 Sustainably produced products sit front and center at household goods specialty store Loft.
When you think of beauty, you might conjure an untrammeled forest, a pristine beach, a mountain path, or a clear running brook. But when it comes to the cosmetics industry, many products that help us to feel presentable and beautiful also have a hand in wrecking that natural landscape. Whether through the litter of too much packaging that ends up clogging our landfills and waterways, or using ingredients or processes that contribute to deforestation or pollution, beauty products can make our world ugly. While we can all make personal choices to reduce our impact on the environment, exhorting companies to create products that are lighter on the land will do even more to further a sustainable future.

In recent years, efforts to develop "green beauty" products have been on the rise. For some companies, that means products that are vegan and eschew animal testing. For others, it includes organic ingredients. For still others, it may mean products that are manufactured with human rights and workers' rights in mind. And the United Nations Sustainable Development Goals, or SDGs, released in 2015, lay out a sprawling map of ways that we can do better, with 17 goals that range from clean water and sanitation to affordable and clean energy to responsible consumption and production to many more.

We looked for products that are doing their part in offering consumers a more sustainable lifestyle.
Some shops selling sustainably produced products also offer eco-friendly meals at affiliated cafes, as at beauty brand Three's restaurant Revive Kitchen in Omotesando.
Shiseido has made a commitment to sustainable packaging, with efforts toward more refillable and recyclable packaging. They say that 57 percent of the plastic packaging developed in 2020 was sustainable, with a goal of 100 percent by 2025.

In June of 2021, Shu Uemura released a line called "Mindfully Crafted in Japan" that purports to be sustainable, with its signature ingredients such as yuzu, matcha, and camellia oil raised by Japanese farmers, and packaged in bottles made of 100-percent postconsumer recycled plastic.

Chifure, whose cosmetics can be found in any well-stocked Japanese drugstore, claims to have released Japan's first refillable cosmetics line back in 1974. They're also phasing out petroleum-based plastics in favor of plant-based polymers.
Cosme Kitchen stocks environmentally friendly products from its own line as well as from domestic and international brands like Japan's do organic.
About a decade ago, the cosmetic retailer Cosme Kitchen took off. Their tagline is "Natural Organic Beauty Select," and the shops sell a variety of natural and organic products, many domestic and vegan. The brand now has an array of shops and spin-off businesses, including cafes and a dedicated organic line called F Organics. Starting in April 2020, they launched a recycling program at more than 90 stores nationwide that allows customers to bring an empty container back to the shop for recycling, and receive a point card for their effort.

Beauty brand Three takes care to use as many certified organic ingredients as possible in their products. They also refrain from using GMOs, artificial fragrances and colors, do not use parabens, and do not perform animal testing. Many of their products are vegan, and their flagship store in Omotesando has an on-site vegan cafe called Revive Kitchen, where diners can eat avocado toast after shopping for skin care and eye shadow.

Popular brand Botanist is probably most known for their botanical hair products, such as shampoos, conditioners, and treatments, and includes a vegan line. They also have skin care and body care products. Many of the brand's minimalistic offerings come in refillable pouches, and in addition to creating products that are mostly plant-based, their efforts seem to be mainly focused on the packaging materials they use, such as recycled and biomass PET plastic and FSC-certified paper. Botanist's flagship store between Omotesando and Harajuku has a pretty, vegan-friendly cafe.
Chant a Charm products claim to be kind to both bodies and the environment.
Organic skin care brand Chant a Charm has its own farm in Yamanashi Prefecture where they grow pesticide-free certified organic herbs that are then combined with local hot spring water to formulate their cleansing washes, oils, and moisturizers. The products are preservative- and petroleum-free, non-animal tested, and are safe for use during pregnancy.
The award-winning Minnade Miraio brand can be found at LOFT.
Natural skin care line Minnade Miraio has won a number of SDG cosmetic-related awards for their simple, plant-based products. One standout in rice culture Japan is the facial cleanser made from rice bran and clay, with a bottle made from 97 percent sugarcane biomass.

Speaking of cosmetics made from rice leavings, Rice Power uses fermented rice extracts for skin and hair products. The company began as a sake brewery in Shikoku more than 150 years ago, but its fifth-generation owner realized that fermented rice was good for more than just the popular liquor in the 1970s, and began R&D into rice extracts.

Are these efforts enough? The sustainability trend certainly doesn't seem to be slowing down. On a recent shopping trip, we came across a "Sustainability Fair" with many of these products prominently displayed. But they were still a small island in a sea of plastic-swathed products that made no such "green" claims. Overtures from the beauty landscape, though noble, are the tip of a swiftly melting iceberg. Other brands will have to join the movement and step up their games significantly, and we consumers need to push them to keep moving forward.