Tokyo's Best Afternoon Tea Spots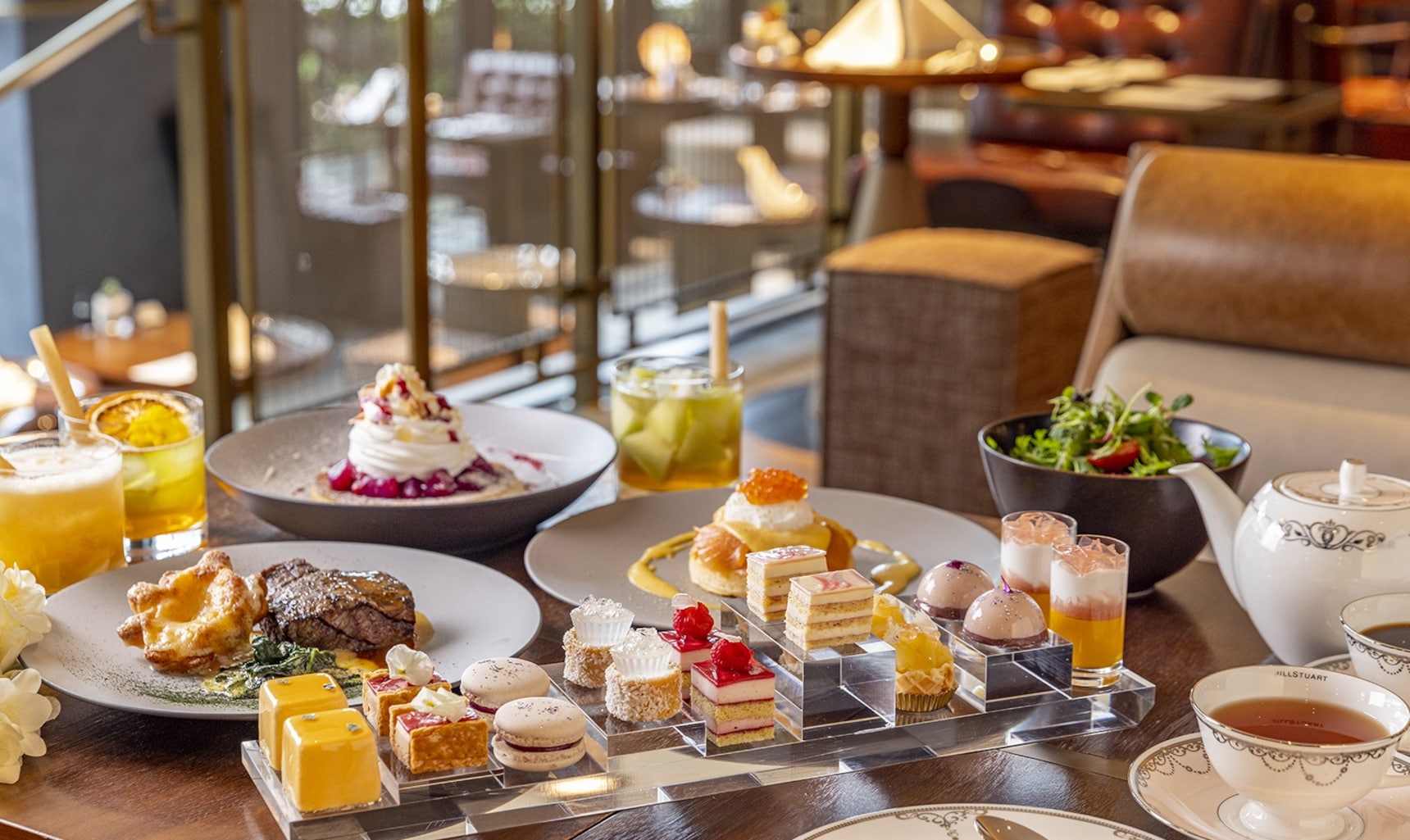 Kimpton Shinjuku: Relaxed, Contemporary, Stylish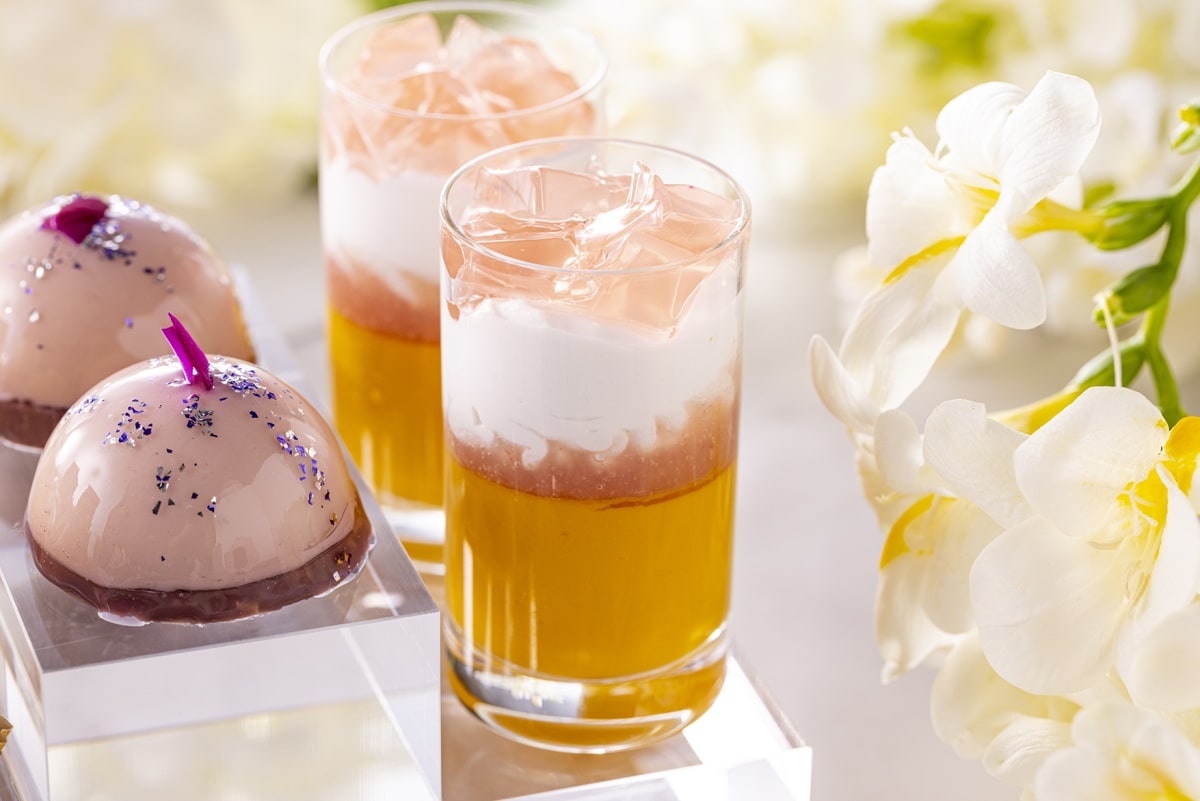 The Kimpton Shinjuku opened its doors in 2022 and brings a contemporary, stylish offering to Tokyo's hotel scene. District, where afternoon tea is served, has a relaxed vibe, including a breezy balcony with rattan furniture.. Rather than including savories in the presentation, guests are given a salad starter and invited to choose a main dish from a brunch/lunch menu as an alternative to the usual mini quiches and cucumber sandwiches, before the sweets course, offered on perspex blocks.
The dessert course glistens with jewel-like creations fashioned by Pastry Chef Kiyotaka Moroto. Vegetarian choices (available if booked three days in advance) are indistinguishable from their non-vegetarian (gelatin-containing) counterparts. The current offering is a collaboration with the Jill Stuart fashion brand, and has the delicate, pastel and curlicue sensibility of the designer. There are more than a dozen bottomless coffee and tea options including a Japanese sencha from Gifu "Mino Shirakawa-cha" and an organic rooibos.

2F District, 3-4-7 Nishi Shinjuku, Shinjuku-ku, Tokyo (nearest station Tochomae exit A4);
From ¥5500. Seatings at 11:30 a.m. and 2:30 p.m.
Afternoon Tea Tearoom: Multiple Locations with Reasonable Options
You may be familiar with the Afternoon Tea stores, which sell a selection of pretty tea and kitchen accoutrement. Some shops also have an accompanying tearoom, which sells a pared-down version of afternoon tea. While it's not the elaborate multi-course meal that many of the high-end hotels offer, it's still a good choice for those who want a tray full of sweets at a lower price point.

The tea and sweets selection is available from 2 o'clock in the afternoon, and guests can choose three from a lineup of sweets (when we went, there were nine options, though this may change seasonally), including cakes, sorbets, ice creams, and scones. Options are well-executed, light and sweet without being cloying. On our visit, the lemon Earl Grey scones and mini parfaits were a delight.

Location varies including Marunouchi Maru Biru., Omotesando, Shinjuku Lumine, and others; ¥1800. Available from 2:00 p.m
Four Seasons Otemachi: Tea with a View
If you're looking for a place for a celebration, consider afternoon tea at The Four Seasons Otemachi. The luxury hotel offers a sumptuous yet understated experience, with sky-high Tokyo views and a comfortable, classy setting. The two-hour afternoon tea often revolves around a seasonal fruit such as melon, mango, or strawberry, and both the sweets and savories showcase more than a dozen takes on the ingredient. Sample bites include a "grilled corn bavarois with caramel pop corn tartlets and soy sauce powder," and coconut mousse with mango ginger jelly. Some dietary accommodations can be arranged; advance reservations required.

39F, 1-2-1 Ōtemachi, Chiyoda City, Tokyo 100-0004 (nearest station Otemachi); From ¥8800. Seatings at 11:30 a.m., 1:30 and 4 p.m.
The Strings Omotesando: An Instagramable Experience
Right on the corner of Omotesando and Aoyama-dori is The Strings Omotesando, a hotel and wedding venue with a number of dining options, including the fun and fashionable Zelkova, with its spacious and leafy terrace under the avenue's famous zelkova trees. The afternoon tea here tends toward whimsical and Instagramable, with cute themes and fanciful presentations. At the time of writing, the afternoon tea has a Pikachu theme; during our visit, it was strawberry, including pink whipped cream and strawberry sandwiches, strawberry-avocado toast, and white chocolate dipped strawberries. Vegetarian accommodations possible with advance reservations.

3-6-8 Kita-aoyama, Minato-ku, Tokyo-to, 107-0061 (nearest station Omotesando); From ¥5800. Seatings at 11:30 a.m., 2:00 and 5 p.m.
Andaz Tokyo Toranomon Hills: Delectable Savories
Warm service and spectacular views characterize afternoon tea at the Andaz Tokyo. While the whole spread is delectable, with savories served on a platter while sweets and scones are presented on the traditional tiered tea stands, the savories stand out here, with offerings such as the peach, mozzarella, and lemon confit salad, or the melon espuma cheese blancmange with croutons. If you go to the second seating in the fall or winter, you'll get to see the view during sunset and watch Tokyo's night lights begin to blink on. Special diets can be accommodated with prior reservations.

Toranomon Hills Mori Tower 51F, 1-23-4, Toranomon, Minato-ku, Tokyo, 105-0001 (nearest station Toranomon Hills); From ¥6380. Seatings at 1:00 or 3:30 p.m.
Happo-en Thrush Cafe: Casual Sophistication
Happo-en's magical Japanese garden is a major draw for this venue, a wedding and event space with several dining options dotted around the graceful grounds. Thrush Cafe, where afternoon tea is served, is upscale casual, with a sophisticated vibe that allows for both pearls and jeans. Though the garden is a highlight, the food is beyond reproach, with freshly baked scones and pastries, delicate tea sandwiches with various moreish fillings, mini tarts, little cakes, and chocolate truffles. The best seats are on the terrace overlooking the garden; there's an upcharge for terrace seating but it's worth it. Regardless of whether you sit inside or out, be sure to leave time to wander through the garden before or after your meal (you'll likely dodge a few couples decked out in wedding kimonos getting their photos taken). They can handle some dietary restrictions with advance notice.

1-1-1 Shirokanedai, Minato City, Tokyo 108-8631 (nearest station Shirokanedai); ¥4500. Seating is at 2:30 p.m., reservations required three days in advance.
The Tokyo Edition, Toranomon: Quirky Themes for the Jet-Setter
The Tokyo Edition Toranomon takes its "boutique" hotel designation seriously, adding a dose of fun and quirk to its afternoon tea offerings. Past themes have included a surrealist tea party based on the artist René Magritte; a Halloween set featuring bat cookies and chocolate hatchets buried in sticky cherry mousse; and a drag-queen and rainbow Pride-centered teatime celebration. The summer peach-themed afternoon starts on July 4th.
Held in the gorgeous Lobby Bar with its 500 plants and superlative Tokyo Tower views, this is a great choice for the fashionable jet-set. Special diets can be accommodated with advance notice.

4 Chome-1-1 Toranomon, Minato City, Tokyo 105-0001 (nearest station Kamiyacho); starting at ¥6750. Seating from 12:00 to 5 p.m., reservations recommended.