From Rubbish to Resource: Recycling Food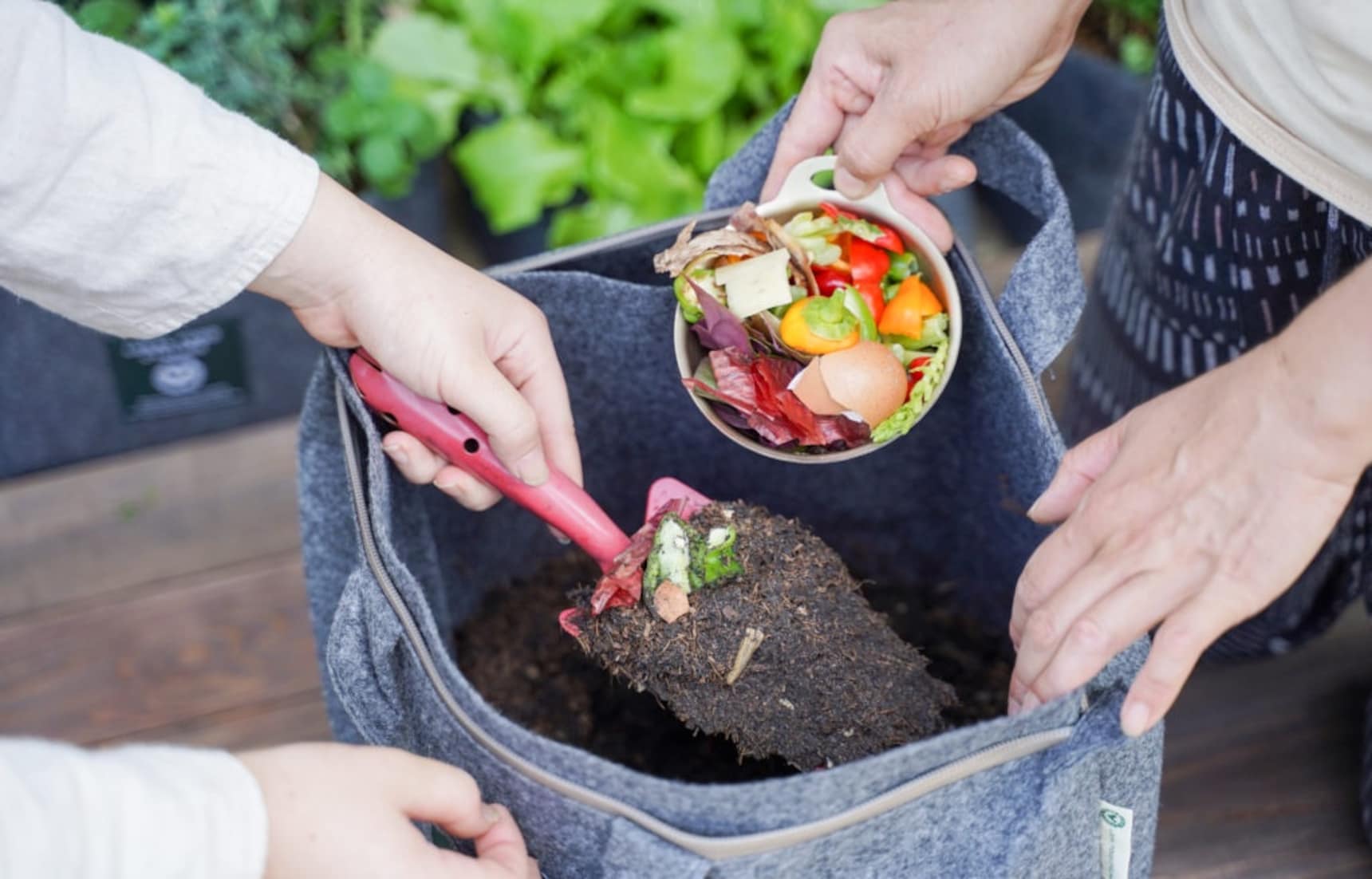 The project, a joint effort by members of the public, local governments, businesses, and social action organizations, is supporting targets set by the UN in the Sustainable Development Goals (SDGs) and Japan's Environment Ministry. Both call for halving food waste by the year 2030.
Easy Composting at Home
Composting, the practice of returning food scraps to the soil and using the decomposed results to produce nutritious food, is certainly not a new concept. However, in Japan, where about 6.12 million tons (1) of food waste are generated annually with 46 percent of that waste coming from households, the idea is receiving attention due to increasing environmental awareness.

Making composting convenient and user-friendly is key to the widespread adoption of composting among households in Japan. Houses and plots in Japan are smaller than in some Western countries, so large, outdoor compost bins are often impractical, and indoor composting leads to concerns over unpleasant odors.

One Japanese company has devised an innovative approach to household composting. Founded in 2020, LFC Compost offers consumers an easy-to-use composting set that can hold food scraps and materials. The goal of LFC (Local Food Cycling) is to reduce household food waste through a cycle of composting to create soil with high nutritional value, then using that soil to grow vegetables for home consumption.

The company's LFC Compost Set consists of a special, resealable outer bag, an inner liner, and some starter soil. The starter soil features a special mix of ingredients which speeds up the decomposition of food scraps and reduces odors, while the inner liner holding the soil can be either reused or used as a planter. The resealable outer bag has custom-made fasteners that prevent water and insects from entering.

LFC Compost sells this set either on a subscription basis or as a standalone item. Customers who opt for the subscription can receive their compost materials on a monthly, bimonthly or trimonthly basis depending on the amount of food waste to be composted. The subscription service is priced at ¥3,278 for the initial complete set, and ¥1,848 for subsequent deliveries of just the base starter soil. The standalone complete set sells for ¥4,268.
LFC Compost's simple and stylish design combined with its ease of use for those new to composting led to it receiving a 2021 Social Products Award. In the year since the product's launch, Taira notes that 12,000 people have started composting activities with the product. "Some have realized that food waste is not garbage but a resource, and they've used the soil that was produced to start their own vegetable gardens," she says.

Beyond recycling food waste and creating nutritious soil, composting offers another key benefit to the environment: reduction of carbon dioxide (CO2). Reducing the amount of food waste produced by 12,000 households is equivalent to the reduction in CO2 emissions achieved by about 100,000 people ceasing to use their air conditioners for about 13 hours a day. "One minute of ecology a day will not only help solve the problem of food loss, but also lead to improved public health," says Taira. "This is the kind of society we are aiming for."
Soil with Soul
A community in central Japan has been running an innovative composting program that is helping in a variety of ways. The "Food U-Turn Project" was launched in 2002 in the town of Ikeda, Fukui Prefecture, to collect food resources (food waste) from households and combine it with other organic waste to create compost for agricultural use.

According to deputy mayor Jun Mizoguchi, who setup the project, food waste is collected from households three times a week, then mixed with cow manure and rice husks to produce about 350 tons of compost a year. "The compost is sold as a product called 'Dokonjo,'" he says. "Farmers in Ikeda use it to grow rice and vegetables." Dokonjo can roughly be translated as "soil with soul" and indeed, the project has taken on a life of its own.

A composting center was built in the town to improve the quality of compost production. This was taking place at a time when vegetables grown by local women in their home gardens were becoming popular at the local Coppoi-ya shop, and the town was promoting organic farming to meet the expectations of consumers. The town was then able to develop recycling-oriented agriculture by making compost using the local food waste and using the compost to improve the soil for organic farming.
Expanding Involvement
A non-profit organization of local residents called Environment U-Friends is in charge of collecting the food resources from local households. "Currently, Environment U Friends is made up of about 80 volunteers, or 3 percent of the town's residents," says Mizoguchi. "Three times a week, they form pairs and drive about 80 kilometers to 60 collection points to collect food resources."

In the beginning, the volunteers were mainly town hall employees, housewives and some farmers. However, by promoting the collection of food scraps as an enjoyable activity, the circle has expanded to include middle-aged and older men, young employees of a local tourism company, and other townspeople.

In addition to reducing food waste and producing high quality compost, the Food U-Turn Project has also resulted in other benefits, including a change in the environmental awareness of the local residents. "We started this project not for the purpose of reducing garbage, but rather for agricultural purposes such as making good compost," says Mizoguchi. "However, after the media picked up on the project, people started to feel proud and began paying attention to the town and the natural landscape."
Enhancing Environmental Awareness
Activities such as composting at household or community-wide levels is an effective way to reduce the environmental burden and the cost of food waste disposal. More recognition and awareness is needed if programs like this are to spread, both nationally and globally.

At present, about 90 percent of food waste disposal in Japan is done by community accumulation and incineration. It's common for food waste to be burned along with other garbage, which is a rather unconventional practice. Misuzu Asari, an associate professor at Kyoto University's Graduate School of Global Environmental Studies, says that now is the right time to change this.

Asari believes that there will be a renewal of waste management policies because of the aging incineration facilities all over the country—and facilities which can compost food waste will be an option. She says, "If we are aiming for a decarbonized society by 2050 (2), it is inevitable that waste treatment that does not rely on incineration will be given a higher priority. "

Considering Japan's widespread current practice of burning food waste, it may be difficult to imagine a society in which composting becomes mainstream. But turning food scraps into compost is not only the most natural method of waste disposal, producing healthier soil and healthier produce—it can also change the public's awareness of food.

1 Estimate for fiscal year 2009 (Ministry of the Environment, Japan)
2 In October 2020, Japan's Prime Minister Suga declared a goal of realizing a carbon-neutral, decarbonized society by 2050. In addition to reducing greenhouse gas emissions, he announced that efforts will be made to reduce emissions to practically zero through activities such as the purchase of emission reduction and absorption.

Check out the following articles for more information on SDGs in Japan

Collective Impact: STOP! Food Loss & Waste
A 10-Year Challenge to Achieve Sustainability
Home Appliances Can Help Prevent Food Loss
Innovative Businesses are Battling Food Loss