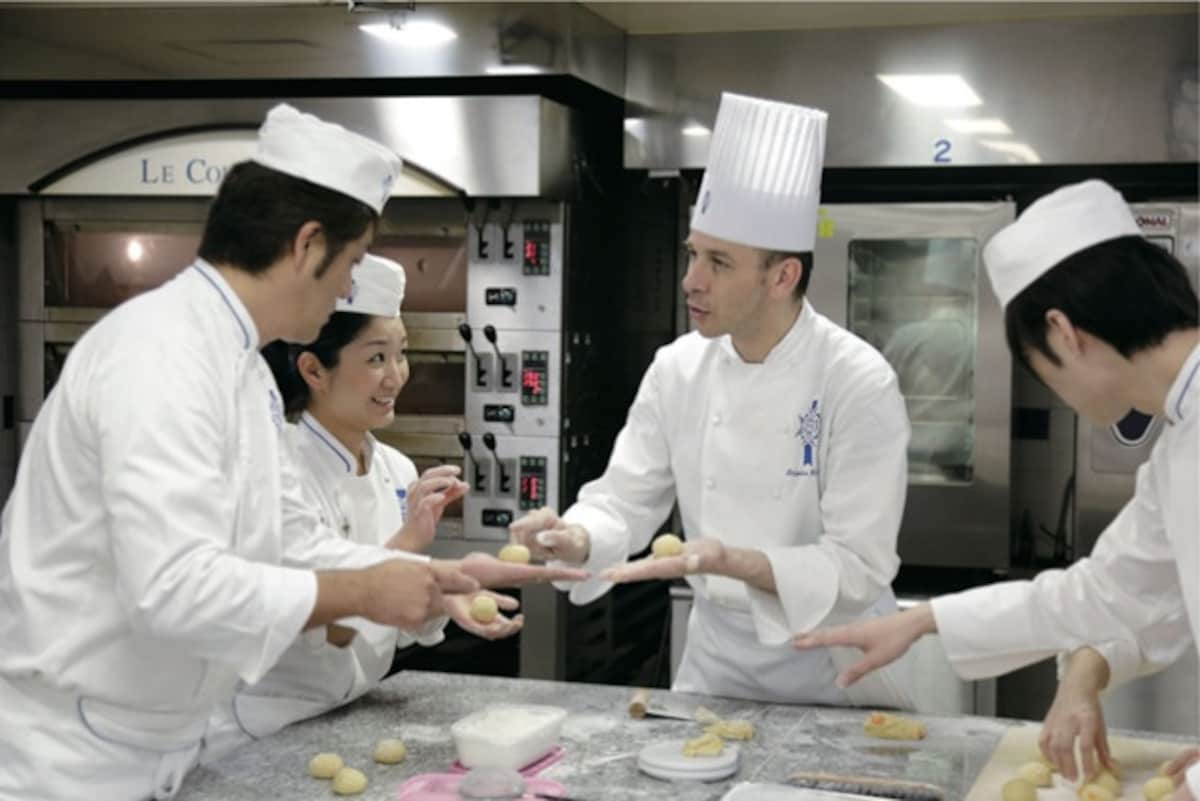 Starting off as a small culinary school in Paris in 1895, the company has now expanded to 27 different countries worldwide, with an international alumni network of some 300,000 people.

Le Cordon Bleu has produced many world-renowned chefs and creators of Michelin-star restaurants, and has even made its way into mainstream media, featuring in many books and Hollywood films. Famous chef and Food Network star Mario Batali is just one example; another can be found in the 2009 film Julie & Julia, which featured Academy-award winner Meryl Streep as Cordon Bleu-trained celebrity chef Julia Child.
In Japan, there are two Le Cordon Bleu schools located in Tokyo and Kobe. Founded in Daikanyama in 1991, the Tokyo school offers cuisine, pastry and bakery programs in Japanese, English and Chinese, welcoming international and Japanese students together. The courses range in level from Initiation to Superior or Advanced, and the number of lessons in each class varies from 20 to 23 sessions, allowing for an intense study in the culinary modules.

The Grand Diplome is the most comprehensive training, as students learn French culinary techniques and how to apply them to any cuisine, in addition to developing the full range of skills in French pastry. Throughout the training, demonstrations, tastings and individual, practical, hands-on classes are set up to develop students' palates and skills. But even if you're not the next Julia Child, or don't plan on spending nights whipping up gourmet food in the kitchen, you can still experience Le Cordon Bleu in Tokyo.
Located just a few steps away from Daikanyama Station, La Boutique Café is a delicious opportunity for customers to taste the hard work of Le Cordon Bleu's chefs, pâtissiers and bakers. The café offers an assortment of cakes, deli items, arguably the best French bread in Tokyo, a small range of wines and beers and a charming terrace area where you can just sit and watch the world go by.
Le Cordon Bleu Tokyo is an Approved Program Provider for the internationally recognized Wine and Spirit Education Trust. Given the popularity of the programs, the Daikanyama school expanded its offering to include English programs from July 2014.

Further, the WSET® Level 1 Award in Wines is a one-day program in which students can learn about the different types of grapes and wines, and get an introduction to wine-making and food and wine matching.

As the only International Culinary Arts School in Japan, Le Cordon Bleu Japan has 6,000 students participating in its culinary classes each year, as well as 850 students in the diploma program, 60 percent of whom are international students. Lessons are assisted by interpreters, and students can choose the language in which they prefer to study to benefit from an international experience while being in Japan.

From beginners interested in all culinary arts to professionals looking to improve their skills and master the art of fine cuisine, Le Cordon Bleu Japan offers a full spectrum of programs to get involved in.