Ichibangai: Retail Therapy in Tokyo Station
What is Ichibangai?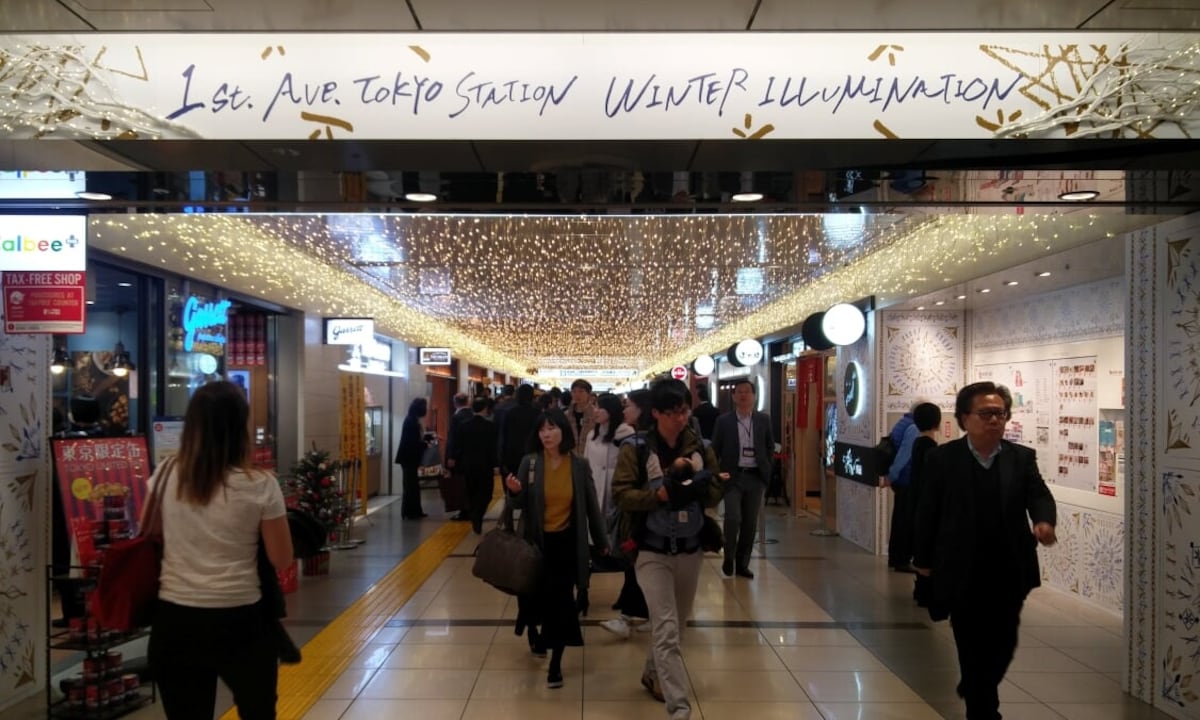 Tokyo Station's Ichibangai (東京駅一番街・literally "Tokyo Station's First Avenue") is a souvenir mecca and veritable food-lover's paradise hidden within the sprawling hallways of the heavily-trafficked Tokyo Station. In spite of an eclectic assortment of shops and restaurants—and a location that is smack-bang in the middle of Tokyo—Ichibangai is surprisingly unknown among both tourists and expats living in Tokyo. Yet given its close proximity to the Tokyo shinkansen lines and connecting airport trains, it's an ideal spot to nab yourself a few Japan-themed gifts (Christmas presents) before leaving the capital. What's more, as the festive season approaches and the Christmas lights illuminate Ichibangai's hallways, it can provide some much-needed holiday cheer.

Ichibangai takes up the basement, first and second floors of Tokyo Station on the Yaesu side. The first and second floors focus primarily on cuisine, with a mouth-watering selection of restaurants from Japan and beyond. The basement carries some serious culinary credentials too as the home of Tokyo's resident Ramen Street, while fantastic souvenir shops that celebrate all things Japan line the underground hallways. From Studio Ghibli, Nintendo and Hello Kitty to ukiyo-e, kabuki and local crafts and trinkets, the souvenirs shop go above and beyond the traditional stalwarts of postcards, fridge magnets and novelty t-shirts. As such, the basement floor has enough options to keep you indulged in hours upon hours of retail therapy.

Most of the shops here are also tax-free for tourists. So if you're only visiting, make sure to bring your passport to ensure you get some great discounts. You can check the tax refund guide here.
Character Street
Character Street is a subsection of the main hallway on Ichibangai's basement floor. The focus? You guessed it—characters! Japanese pop-culture has achieved global fame over the last 30 or so years. Franchises like Pokémon, Super Mario and Dragon Ball Z have more or less become household names across the world. It's these kinds of globally recognized names that feature most heavily in Ichibangai's character street. Sound good? Then there's plenty here for you. Looking for a Pikachu dressed in a Christmas suit? How about a trash can that looks like Frieza? A Mario-themed golf club cover? Or maybe a bib shaped like Totoro? For all of these unique gifts and more, Character Street has got you covered.
If you're looking for goods that are a bit less ubiquitous, don't worry! In between the aforementioned pop-culture stores, there's a pretty-in-pink Hello Kitty Shop, a gift store inspired by Ultraman (one of Japan's favorite kaiju-fighting superheroes), kawaii, anime-style fashion brands and even an NHK Character Shop—featuring famous animated characters from one of Japan's major broadcasting networks.
Okashi Land
Slightly further down the hall from Character Street is Okashi Land (literally "Sweets Land"). Like other areas, Okashi Land is exactly the type of place the name would suggest, with shops offering a variety of decadent Japanese sweets, treats and desserts. This colorful assortment includes Morinaga's, which sells sweets and souvenirs that are exclusive to Japan, Glico and Kitchen, where you can sample some freshly-made almond chocolate ice cream, a shop from potato chip giant Calbee, and an area dedicated to one of Tokyo's more luxurious chocolate brands, Tokyo Alfort. There are also an array of confectionary pop-up stalls that operate for a limited time only.
Ramen Street
Just past Okashi Land is Ichibangai's Ramen Street, which is the largest of its kind in Tokyo—containing eight top-drawer ramen shops from different regions of the country. With different regions comes different styles, so if you're in the hunt for niboshi, tonkotsu, tsukemen, miso, chicken or even veggie ramen, then you're in the right place. When you first see the vast smorgasbord of umami-rich bowls on offer, it can be difficult to make a choice. Thankfully, there are posters located around the area indicating the different types of ramen, where they are from and their ingredients, to help you narrow it down a bit.
With so much ramen on offer (and the potential for more shops to join the party in the near future), I recommend just going with your instinct on the day. However, the current favorite seems to be Rokurinsha, a restaurant specializing in tokusei tsukemen—dipping noodles, served with a thick broth made from pork bones, sababushi (smoked mackerel flakes), katsuobushi (smoked bonito flakes) and vegetables. In saying that, my shoyu chashu with soba noodles from Soranoiro Nippon (pictured above) was no slouch either.

In the last couple years a new development opened up next to Ramen Street, the Nippon Gourmet Highway. It's a collection of slightly pricier restaurants celebrating Japanese cuisine from Hokkaido in the north to Kyushu in the south, allowing you to take a culinary tour of Japan in the basement of a Tokyo train station!
Miscellaneous Stores
The rest of Ichibangai's basement floor is comprised of several stores peddling a grab bag of different things, from jewellery and watches to shirts, ties and suitcases. One of the highlights (and probably the most traditional of all Ichibangai's shops) is Kabuki Shop. Here you can buy a variety of souvenirs that are inspired by Japan's most famous form of traditional theater. Apart from classic trinkets like chopsticks, fans and paper lanterns, there are also emakimoto (pictorial scroll-style wall hangings) that depict scenes from classic kabuki shows, and intricate handmade wood carvings.
First Floor Shopping
The first floor of Ichibangai contains less in the way of retail outlets, but there are a couple of larger chain stores, like Uniqlo and Tokyo Me+. Tokyo Me+ is perfect for Japanese gift shopping as the focus is on local omiyage (Japanese souvenirs). It's a real haven for sweet-tooths, with anko, confectionery chocolates, custard sandwiches, matcha-based desserts and, of course, Tokyo's own legendary omiyage—the Tokyo Banana. They also offer a free gift-wrapping service for your purchases!
Kitchen Street
The rest of the first floor is made up of a little network of hallways known as Kitchen Street. Kitchen street is chock-full of restaurants offering all kinds of cuisine. There's Japanese regulars like sushi, ramen (again), udon, tempura, yakiniku and tonkatsu, along with a few unique eateries, including a restaurant that specializes in uni (sea urchin) cuisine and a shark-fin noodle soup store. If you're feeling international, there are restaurants selling Thai food, Italian, pizza, burgers and Chinese food as well. Given that the prices are reasonable in a lot of these restaurants, it has become a popular dining destination not only for fancy dinners, but also for local salarymen out on their lunch breaks.
Second Floor Gourmet Zone
If you're somehow still on the hunt for food, then you can take a quick jaunt up to the second floor. The second floor is considerably smaller than the other two, with only seven restaurants comprising the Gourmet Zone. As its name suggests, the restaurants here are targeted at evening diners and alcoholic imbibers, serving more upscale food and classy drinks. The options include teppanyaki, a sushi and sake bar, a bistro grill with a fantastic selection of wine, a beer house and a highball bar. If you find yourself in Ichibangai around evening time, this could be the perfect place to finish off your night. After all you don't have to go too far to catch the train home!