All About's Guide to Nara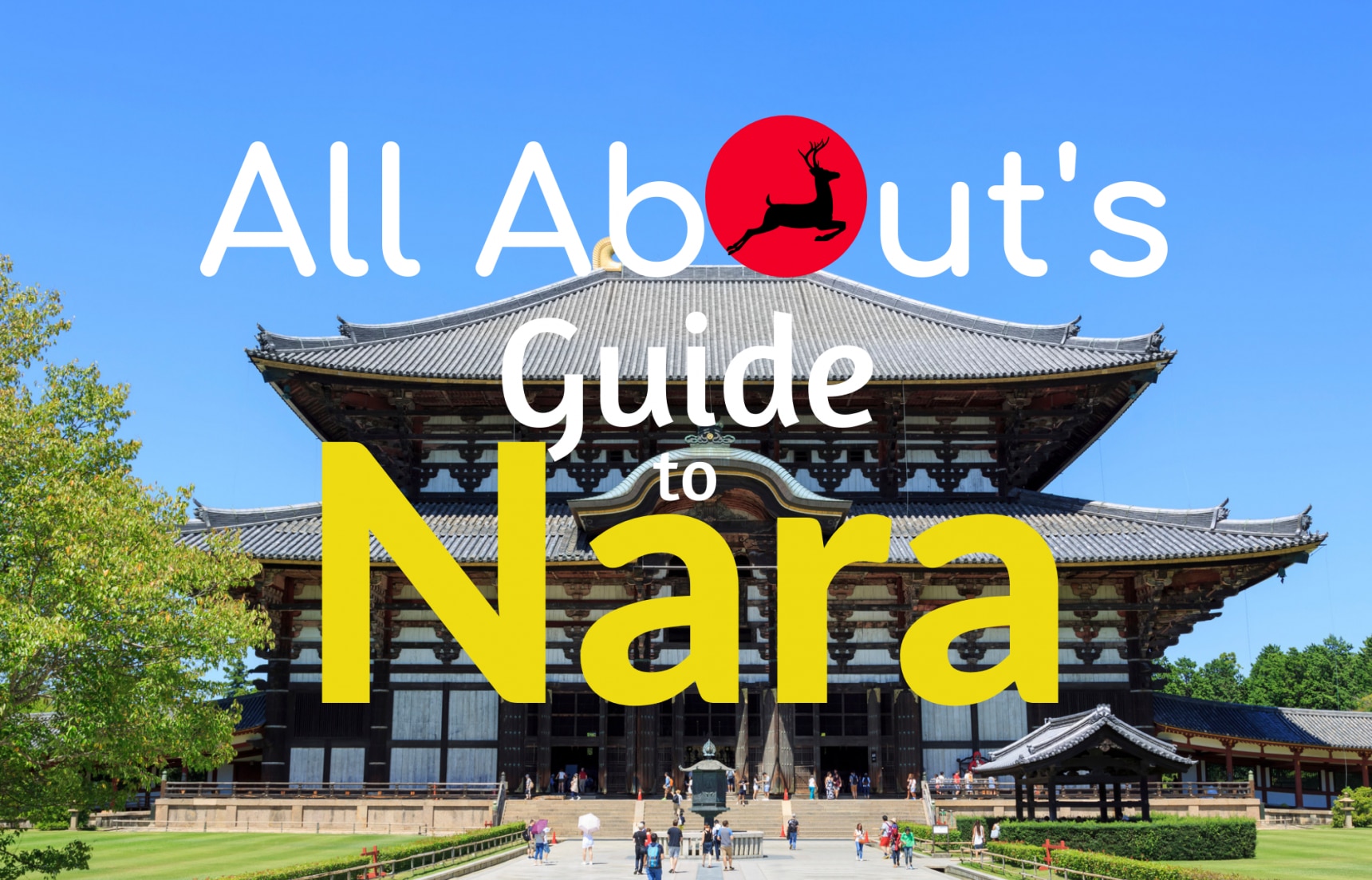 Nara, Japan's ancient capital, is a wonderfully picturesque city full to the brim with historical and cultural treasures. From awe-inspiring temples and stunning shrines to peaceful gardens and a scenic mountain, it's one of Kansai's gems. Oh, and did we mention that the entire city is watched over by 1,200 sacred deer? Read on to find out more!
Key Nara Facts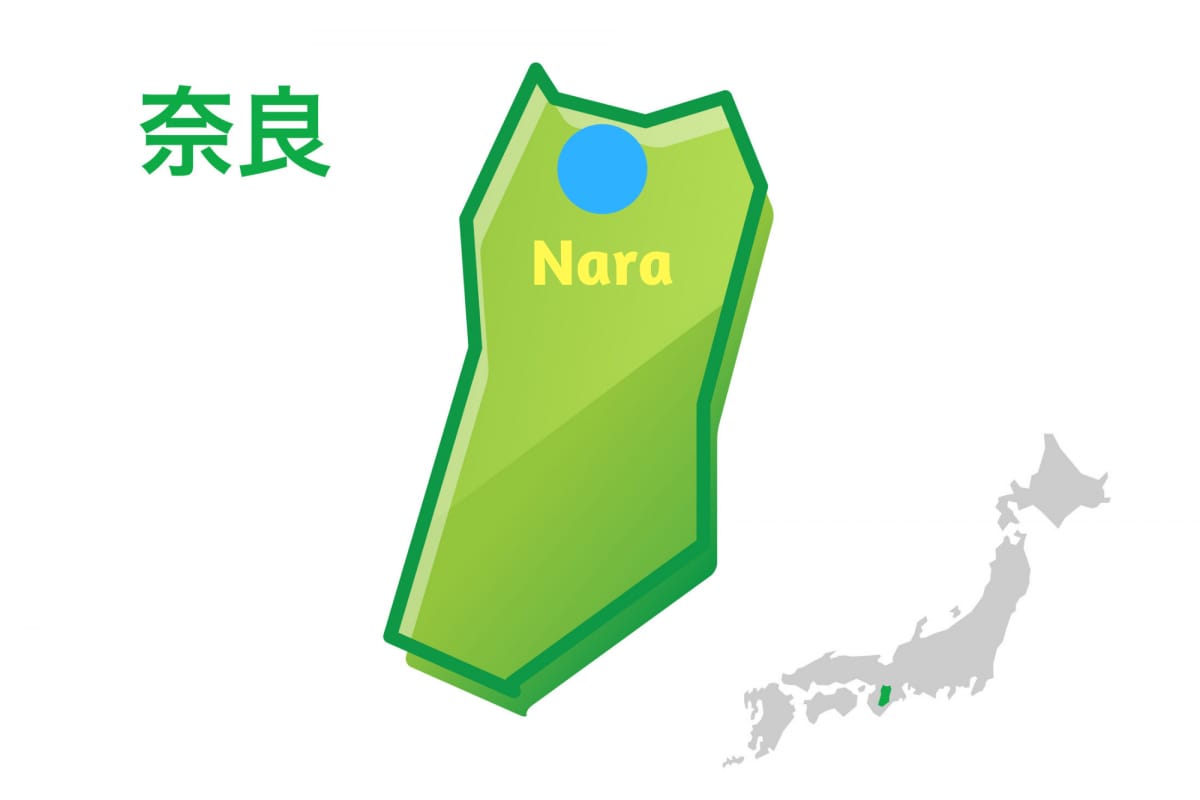 The city of Nara (奈良市) is the capital of Nara Prefecture (奈良県), which is located in the Kansai region of Japan's main island of Honshu. With a population of around 360,000, it's much smaller than its neighboring cities of Kyoto and Osaka, yet Nara easily holds its own in terms of historical importance and cultural influence.

Nara was established as the first permanent capital city of Japan in 710, when it was still known as Heijo. It only served as the capital until 784, however, when the status passed temporarily to Nagaoka before being transferred to Kyoto, and then finally Edo in 1868. Despite this, Nara remains the spiritual heart of Japan, and its cultural legacy is undeniable. The city is home to no less than eight UNESCO World Heritage Sites, including some of the country's oldest and most influential temples, and has the country's largest concentration of structures designated National Treasures.
Nara is also well known for its 1,200 friendly resident deer, which live in Nara Park and freely wander the grounds of the nearby temples and shrines. According to Shinto mythology, deer are the sacred messengers of the gods, and legend has it that the god enshrined at the local Kasuga Taisha shrine arrived in Nara riding a white deer. As such, these animals have become a symbol of the city and have even been designated a National Treasure!
Due to its close proximity to Kyoto and Osaka, Nara is an incredibly popular location for day trips. If you really want to get to know the city—and the prefecture as a whole—you'll find that one day isn't enough! The city's temperate climate makes it a great year-round destination, but it is especially stunning during cherry blossom season in spring, and when the leaves change colors in autumn.
Top 5 Nara Sights
Nara is an incredibly rewarding place to visit thanks to the richness of its culture and history. There are an abundance of sights worth seeing, many of which are easily accessible while walking, but the following are five you simply can't miss when visiting.
5. Mount Wakakusa
Wakakusayama (若草山) is a picturesque, grassy mountain situated just behind Nara Park. Despite being officially labeled a mountain, its moderate 342-meter peak (about 1,122 feet) isn't particularly challenging to climb, and the two trails that snake to the top are well looked after. Besides, the of the surrounding city that awaits you at the top is more than worth the effort! The nominal entrance fee keeps it blissfully crowd-free, although if you don't fancy paying it's still possible to reach the summit for free if you take the long way around (which we'll explain a little later on). Every January, Wakakusayama plays host to a spectacular festival known as Wakakusa Yamayaki (若草山焼き), in which fireworks are set off and the grassy slopes are lit up in flames—while the original origins of the festival are unclear, it's an incredible event that isn't to be missed! Deer also roam the hills, but are less acclimated to humans than those found in town.

Hours of Operation: Closed mid-December to late March. Nearby parking is open from 8 a.m. to 11 p.m.

Price: Entry to Mount Wakakusa costs ¥150 for adults, or ¥80 for children.

Access: Mount Wakakusa is about 35 minutes from Kintetsu Nara Station on foot. Alternatively, take a bus to Kasuga Taisha and walk from there.
4. Kasuga Taisha Shrine
As the shrine dedicated to the deity responsible for the protection of Nara, Kasuga Taisha (春日大社) is perhaps the city's most important shrine. Tucked away in the depths of Nara Park, Kasuga Taisha was established in 768, in the latter half of the Nara Period (710-794). Up until the Edo period, the shrine was periodically rebuilt, much like Ise Jingu. The shrine is most famous for its thousands of stone and bronze lanterns, which were donated by worshippers and are lit twice a year in February and August. There's also a museum and a botanical garden to explore as well. Kasuga Taisha is wonderfully atmospheric, with quiet forest pathways that lead to numerous smaller shrines.

Hours of Operation: Kasuga Taisha is open from 6 a.m. to 6 p.m. from April to September, and 6:30 a.m. to 5 p.m. from October to March. The museum is open from 10 a.m. to 5 p.m., while the botanical garden is open from 9 a.m. to 5 p.m. from March to November.

Price: The outer areas of Kasuga Taisha are free to explore. The inner shrine, museum and botanical garden cost ¥500 each for adults.

Access: Kasuga Taisha is about 30 minutes from Kintetsu Nara Station on foot. Alternately, there is a bus from both the JR and Kintetsu Nara Stations that take about 15 minutes.
3. Kofuku-ji Temple
Kofuku-ji Temple (興福寺) is easily to recognize by its towering five-storied pagoda, which is the second tallest in the country and stands an impressive 50 meters (about 160 feet). Another National Treasure, Kofuku-ji is as much an icon of Nara as its deer! The temple was founded in 710 by the Fujiwara—one of the most powerful clans during the Nara Period—and at the height of their power consisted of over 150 buildings. Although only 11 remain, the temple complex has been incredibly preserved, and is definitely still worth visiting. As well as the pagoda, you can see the recently-reconstructed Central Golden Hall, the National Treasure Museum with its stunning collection of Buddhist art, a smaller pagoda and a number of other halls.

Hours of Operation: While the grounds of Kofuku-ji Temple don't close, the facilities like the National Treasure Museum are open from 9 a.m. to 5 p.m.

Price: The grounds are free to roam at your leisure. The National Treasure Museum costs ¥700, the Central Golden Hall costs ¥500 and the Eastern Golden Hall costs ¥300. There is a combination ticket for the National Treasure Museum and Eastern Golden Hall that costs ¥900.

Access: Kofuku-ji is about a five minute walk from Kintetsu Nara Station.
2. Todai-ji Temple
If you only visit one temple in Nara, make it Todai-ji (東大寺). Constructed in 752, it is one of Japan's oldest and most significant temples—as well as one of the most powerful institutions in the country during the Nara Period. As you approach the temple you'll first pass through the imposing Nandaimon Gate (南大門), which is watched over by two fierce-looking Nio guardian statues. From here make your way to the temple itself. The main hall, known as the Daibutsuden (大仏殿), is one of the world's largest wooden structures (it was the largest until 1998) and a truly awe-inspiring sight. Inside you'll find a 15-meter-high (nearly 50 feet) bronze Buddha statue (the Daibutsu・大仏), also one of the largest in Japan. Along with several small Buddhist statues and models of the complex from days past, you can also try passing through a wooden pillar with a hole in it said to be as large as the nostril of the Daibutsu. Finally, there's the Todai-ji Museum, which has a large collection of religious art and cultural relics. Take some time to soak up beauty and serenity of Todai-ji, and you'll soon see why it's the jewel in Nara's crown.

Hours of Operation: The Daibutsuden is open from 7:30 a.m. to 5:30 p.m. from April to October, and from 8 a.m. to 5 p.m. from November to March. The Todai-ji Museum is open from 9:30 a.m. to 5:30 p.m. from April to October, and 9:30 a.m. to 5 p.m. from November to March. Last entry is 30 minutes before close.

Price: Entry into both the Daibutsuden and Museum costs ¥600 each. Visitors can by a joint ticket for ¥1,000.

Access: Buses run from both the JR and Kintenetsu stations to the Todai-ji Daibutsuden bus stop, which is about a five minute walk from the main temple building. Alternatively, you can walk from Kintetsu Nara in about 20 minutes, or from the JR Nara Station in about 40.
1. Nara Park
Nara Koen (奈良公園), or Nara Park, is a quintessential part of any trip to Nara, and the place to go to get your fill of all the adorable deer! Covering an area of approximately eight square kilometers (about three square miles), it's surprisingly expansive for a park located in the center of a city, and many of Nara's top attractions can be found within its grounds. The deer freely roam the area, and although technically wild, these photogenic animals are actually pretty tame. Many will let visitors pet them, and you might even see some bowing at people as a way of asking to be fed. If you want to get in on the action and make some new friends, purchase some ¥150 shika senbei (鹿せんべい, literally "deer crackers") from any of the nearby shops or stalls and watch them come running!

Hours of Operation: Nara Park is open 24 hours, though many of the sights have set hours of operation.

Price: Free!

Access: Nara Park is about a 10 minute walk from Kintetsu Nara Station, and is basically impossible to miss.
Off the Beaten Track in Nara
Nara's density of historic and cultural sightseeing spots means that its most famous locations usually attract the most visitors. However, there are a number of places off the beaten track that are quieter, but just as worthy of your time. Read on for some suggestions.
Mount Kasuga Primeval Forest
We mentioned above that there's a way to make it to the top of Wakakusa without paying the entrance fee. Well, it's not just a sneaky way to avoid the cost—it's actually a beautiful hike in its own right. It sees relatively few visitors, which makes it a great choice for avoiding the crowds.

The route runs through the Kasugayama Primeval Forest, which is half a kilometer or so stretched out up the slopes of the mountains behind Kasuga Taisha Shrine. This protected, ancient woodland is home to a startling variety of trees and wildlife (over 175 types!), and as you hike through it you can really feel its age and serenity. Besides the fact that it takes you to Wakakusa, there are a number of other trails you can follow past waterfalls and other interesting features. Just be sure to stick to the designated paths!

Hours of Operation: There's technically no closing time for the forest, but we highly encourage safe, daytime exploration.

Price: Free!

Access: The trail entrance is about a 30 minute walk from the Kintetsu Nara Station. Alternatively, you can take a bus from the station bound for Kasuga Taisha Honden, and get off at the last stop.
Isui-en & Yoshiki-en Garden
These traditional Japanese gardens are a pair of tranquil oases in the heart of the city. Both are divided into different sections to showcase a variety of horticultural styles, such as a moss garden, a pond garden and gardens that use the concept of shakkei, or "borrowed scenery." Here, surrounding landmarks—such as Mount Wakakusa and the nearby temples—are incorporated into the overall design of the garden for extra effect. Both gardens offer a peaceful respite from the crowds, and are ideal locations for a contemplative stroll. The leaves in fall are especially gorgeous.

Hours of Operation: Isu-en is open from 9:30 p.m. to 4:30 p.m., and last entry is 30 minutes before close. It is closed on Tuesdays (except April, May, October and November), and at the end of the year for New Years.

Yoshiki-en is open from 9 a.m. to 5 p.m., and last entry is also 30 minutes before close. It is closed from February 15 to February 28.

Price: It costs ¥900 for Isui-en Garden. It costs ¥250 for Yoshiki-en, although entry is free for foreign tourists (with presentation of your passport).

Access: Both gardens are about 15 minutes from Kintetsu Nara Station on foot.
Top Five Must-Eats in Nara
Nara is home to countless eateries tucked away down its narrow streets. Part of the fun is finding a hidden gem for yourself, but here are some recommendations to help you along the way.
5. LBK Craft
In a city as traditional as Nara, you could be forgiven for thinking you might not find any modern eateries to dine in. However, that's far from the truth. LBK Craft is one such establishment. An izakaya-style restaurant and bar, it offers a wide variety of Japanese and western food in a bright, welcoming setting. It has both English and Japanese menus, and also iPads where you can look at pictures of the dishes before you order. Vegetarian, vegan and gluten-free options are all available and clearly marked, making it ideal for those with dietary requirements. One of LBK's biggest draws is its regularly updated craft beer selection, featuring local and international IPAs, pilsners and porters among others.
4. Narazuke
Narazuke (奈良漬け) is more of an edible souvenir than something to eat during your trip. These local pickles are a Nara speciality, and are thought to have a history of more than 1,000 years. They are made by pickling vegetables such as cucumbers, eggplant and bitter melon in sake lees (also known as sake kasu, residual yeast from the brewing process). This unique method gives the pickles a distinctly dark color and rich flavor. You'll find several stores selling different types of narazuke along the city's shopping streets and arcades—usually with plenty of free samples to help you figure out which varieties you like!
3. Harushika Sake Brewery
This one is more of a must-drink than a must-eat! Harushika is a sake brewery situated in the traditional district of Naramachi. Established in 1884, they have been making top quality sake ever since. Today, it's possible to visit the small brewery and sample five varieties of their sake (sometimes six!) for just ¥500. These range from company classics to seasonal specialties, and the tasting is a great way to find out which types of Japanese rice wine you prefer. If you find one you like, you can purchase a bottle to take home with you then and there, and you also get to keep your tasting glass as a souvenir. In February, you can also tour the brewery on weekends for an extra ¥500 (reservations required).
2. Nakatanidou Mochi Shop
Nakatanidou is a Japanese mochi (sticky rice cake) shop that has achieved internet fame thanks to the breakneck speeds at which they pound their mochi. Located on one of Nara's main shopping streets, you can watch the spectacle live in the storefront approximately every half hour. They specialize in yomogi mochi, which is made using Japanese mugwort—which gives the treats their green color—and filled with sweet bean paste. A final dusting of kinako (roasted soybean flour) and they're ready to serve! Don't miss this chance to try some of the freshest mochi around—still warm, soft and deliciously chewy.
1. Mizutani Chaya
This small, traditional restaurant is conveniently located in Nara Park, not far from Kasuga Taisha Shrine. With its thatched roof and riverside location, it's the picture-perfect image of a Japanese tea house, and a perfect place to rest while sightseeing. Mizutani Chaya (sometimes called Mizuya Chaya) serves a range of tea and Japanese sweets such as dango (sweet dumplings served on a skewer), zenzai (a sweet red bean soup served with sticky rice cakes) and warabimochi (a jelly-like confection made from bracken starch). It also offers simple savory options such as udon noodles if you fancy something a bit more substantial.
How to Get Around Nara
Even with such a variety of sightseeing spots, Nara is actually a fairly compact city. Combined with the convenient public transport and walkable streets, this makes getting around a breeze!

On foot
Often the easiest and most convenient way to travel around Nara is on foot. The majority of the city's major attractions are within walking distance of both each other and the two main train stations. As such, you might find there's no need to use any public transport aside from actually getting here!

Buses
If you have a lot to fit into one day, or want to visit some of the city's more distant locations, the bus network is a great option. They link all the major attractions and train stations, and offer both One-Day and Two-Day passes (from ¥500 to ¥1,500). These also give you discounts at selected shops and restaurants in the local area.

Trains
There are two main train stations in Nara city: JR Nara and Kintetsu Nara (be careful not to mix them up!). If you wish to explore Nara Prefecture as a whole, by train is the most convenient option. If you have a JR Pass, the JR Station will naturally be the preferable option for you, although the Kintetsu Station is slightly closer to most of the city's major sightseeing spots.

Taxis
Taxis are another option, however they are likely to be more expensive than other transportation so we recommend you don't use them unless necessary.
How to Get to Nara
Despite not having an airport or shinkansen station of its own, getting to Nara is pretty straightforward, whether it's for a day trip or a longer stay.

By Plane
Nara's nearest airports are Kansai International Airport (also known as KIX) and Itami Airport (domestic flights only), both of which are in Osaka Prefecture. From KIX you have two options for getting to Nara. You can get a direct bus, which takes approximately 80 minutes and costs ¥2,050 one-way (or ¥3,900 for a round ticket that must be used with 14 days). Alternatively, you can go via train and transfer in central Osaka. The trains are more frequent, and if you have a JR Pass, that will also be the cheaper option. From Itami Airport, the bus is the more convenient option. The journey takes around an hour and costs ¥1,480.

By Bullet Train
If you're already in Japan, an alternative to flying is to take the shinkansen (bullet train) to Osaka or Kyoto and then transfer to a local train for the remainder of the journey (see below). This is an especially good option if you have the JR Pass.

By Local Train
There are two main stations in central Nara: JR Nara and Kintetsu Nara. Direct trains run from Kyoto Station to both, and each trip takes around 30 to 55 minutes, one-way, and costs between ¥710 to ¥1,200. From Osaka-Namba Station you can get directly to Kintetsu Nara in about 40 minutes. A one-way trip costs ¥560.

By Bus
A cheap, but more time consuming, option is to take a highway bus. It generally costs between ¥6,000 to ¥11,000, and takes about seven hours or so. If you take the overnight bus, you can catch some Z's and wake up ready to explore!
Nara Local Tips
Here are even more tips to help you make the most of your time in Nara.

1. If you're after the perfect deer selfie, or would rather not compete with a host of other visitors for the animals' attention, don't stop at the first section of the park. Nara Park is huge, but most tourists don't explore it fully. If you head further in, you'll eventually find the crowd thins out and you'll have the deers' undivided attention (as long as you bring crackers!).

2. Following on from tip one, there are a few important things to bear in mind when you interact with the deer. Firstly, if you want their attention, just buy deer crackers. Secondly, be aware that when they realize you have crackers, they will quickly surround you! Don't worry, however, as they're usually not aggressive. Thirdly, don't feed them anything other than the deer crackers as it can be harmful to them. If you buy souvenirs, keep them in safely in hand, since a curious deer might snatch them!

3. For the chance to see baby deer, drop into the Rokuen Deer Center in June. Here, the newborn fawns are housed with their mothers until they are older and strong enough to be released into the park. Talk about a cuteness overload!

4. Try and plan your visit to coincide with one of Nara's spectacular annual festivals. These include January's Yamayaki Festival on Mount Wakakusa, the equally fiery Omizutori in March, and Kasuga Taisha's Lantern Festivals in February and August. September brings the stunning Uneme Festival which culminates at Sarusawa Pond in the heart of the city.

5. And finally, use Nara city as a springboard to explore the rest of the prefecture. From Yoshino's exquisite cherry blossoms (pictured at the top of the article) to the imposing Takatori Castle Ruins, there is so much to discover here! Happy travels!