Four Fantastic Things to Do in Kagoshima
Explore the Mighty Sakurajima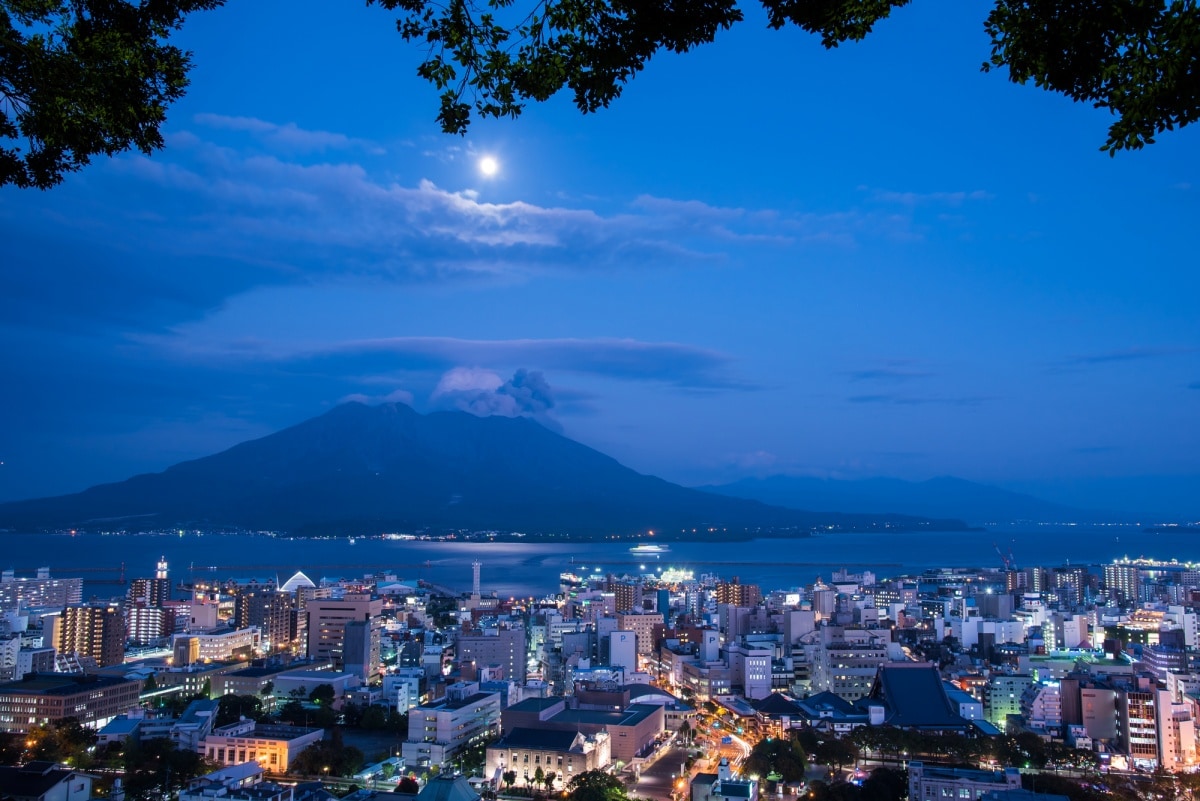 A constant fixture in Kagoshima's skyline, Sakurajima might be the prefecture's most iconic landmark—and it's easy to see why! The volcano is almost constantly active, with minor eruptions often taking place several times a day. Plumes of billowing white smoke frequently rise from its jagged crater, coating the city with characteristic, fine black ash.

To get a closer look at this three-peaked wonder, take a ferry across Kagoshima Bay to its rocky shores. Although you can't approach the very top, there are numerous observation points offering great views. While you're there, take a stroll along the atmospheric Nagisa Lava Trail before soaking your feet in the free outdoor foot baths fed by volcanically-heated water.
Take a Sand Bath
As you might expect from such a volcanic region, Kagoshima has plenty of onsen (hot springs) to relax in. If you fancy trying something a little different, however, hop on a train to nearby Ibusuki. This quaint town is famous for a practice known as "sand bathing," during which you're buried in charcoal-colored sand that is naturally heated by hot spring water beneath the beach.

It might sound strange, but it's an extremely relaxing and unique experience. It's also supposed to bring a wealth of health benefits—plus, it makes a great photo opportunity! Afterwards, head inside to the regular onsen to wash off the sand and relax even more.
Stroll Around Senganen Garden
This picturesque Japanese garden sits to the north of Kagoshima's city center. It combines the garden's own landscape with the backdrop of Sakurajima and the surrounding ocean to create a striking panorama. The grounds are filled with shrines and koi-filled ponds, a bamboo grove and delicately-sculpted foliage for which Japanese gardens are known. There are also restaurants and gift shops, plus a gallery exhibiting traditional cut glass.

A slightly more unusual—but very popular—feature of the garden is the small shrine dedicated to cats! Towards the rear of the grounds you'll find a hiking trail that leads up to a couple of observation points that offer fantastic views out over the garden, Kagoshima Bay and (of course) Sakurajima.
Hike Mount Kaimon
Those after something a little more active during their trip should head south to Mount Kaimon (Kaimondake), Kyushu's answer to Mount Fuji. At 924 meters tall (about 3,031 feet), it offers an interesting and reasonably challenging hike up to the perfectly conical peak. The trail wraps around the mountain, avoiding switchbacks, and is well signposted with no branching paths—so you don't need to worry about getting lost!

Hiking to the top and back takes approximately 4-5 hours, and will have you navigating over exposed tree roots, and climbing up stairs and rocks. There are ropes and ladders to help on steeper parts of the trail. The view from the top is beautiful, and on a clear day you can see all the way to Yakushima Island.