Pop the Question with a Pokémon Ring!
If you're preparing to propose, Japanese jewelry shop U-Treasure has released a brand-new engagement ring featuring Mew that's perfect for your Pokémon-loving soul mate. It isn't their first piece of Pokémon merchandise, but this beautiful ring might be the loveliest.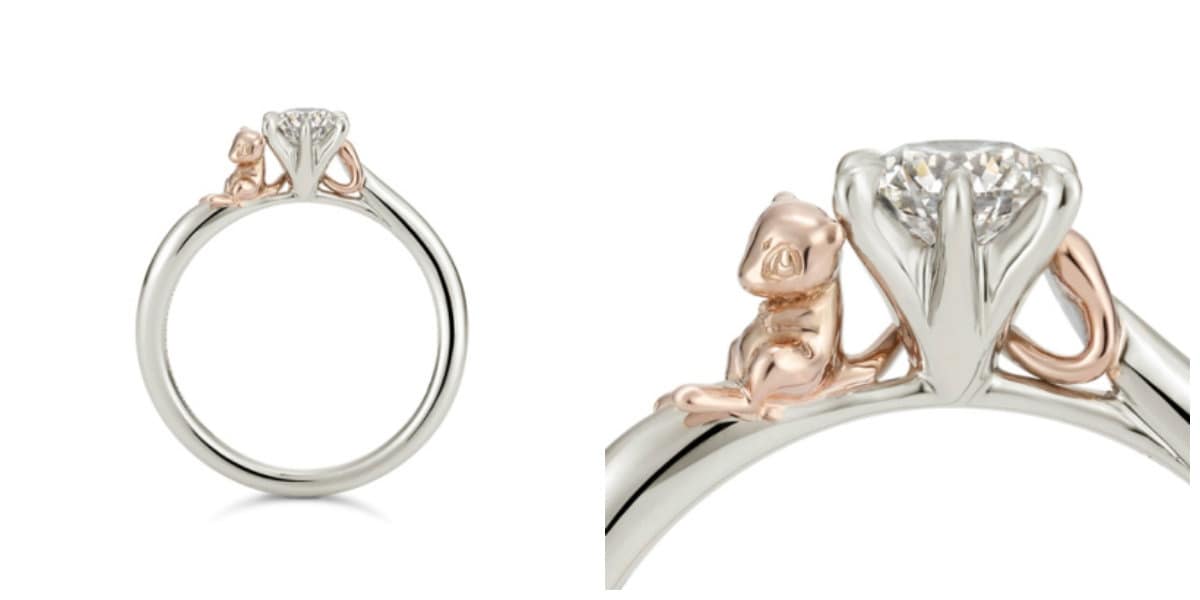 Featuring a tiny Mew sitting next to the jewel—while its long tail loops to the other side—this ring presents a motif that is both cute and elegant. The website says the theme of the ring is "to remember the miracle of meeting your special someone, and to have your pure heart and strong feelings continue into eternity."
The top view of the ring features a beautiful shape, with elegant lines that make the Pokémon design a little more subtle. From the front you can see the exquisite detail of the solid gold carving of the cute Pokémon.
The Mew is made of 18 karat pink gold, while the ring itself can be made of platinum or 18 karat white gold. The price differs depending on the material—¥120,000 (about US$1,096.50) for the platinum or ¥110,000 (about US$1,012) for the white gold. The diamond is not included in that price, but you can purchase a diamond of your preference starting at ¥175,200 (about US$1,600).
You can also get matching Mew tail wedding bands, made of 18 karat pink gold and either 18 karat white gold or platinum. They start at ¥90,000 (about US$828) depending on the material, decoration and whether they are for men or women.
You can purchase these rings at U-Treasure's Shinjuku Branch or at U-Treasure's online shop. Until June 26, 2018, they'll be hosting a Pokémon Jewelry Fair. If you buy one piece of Pokémon jewelry, you'll get a free "Eevee and Friends" jewelry cloth!

The online shop also has gorgeous jewelry for fans of all kinds of anime, manga, video games and movies. Much of their merchandise is can be customized to add that extra personal touch to it. While shipping to international locations is quite limited, there are still a lot of lovely products that overseas customers can purchase.

But if you aren't quite ready to pop the question there are also plenty of other Pokémon jewelry styles that your special someone might like, so don't despair! They'll love the elegant beauty and understated fandom in each of U-Treasure's pieces.

Read the original story from SoraNews24 via the link below.