Top 9 Photogenic Heart-Shaped Spots In Japan
6. Traditional Japanese style house - The Ishitani Residence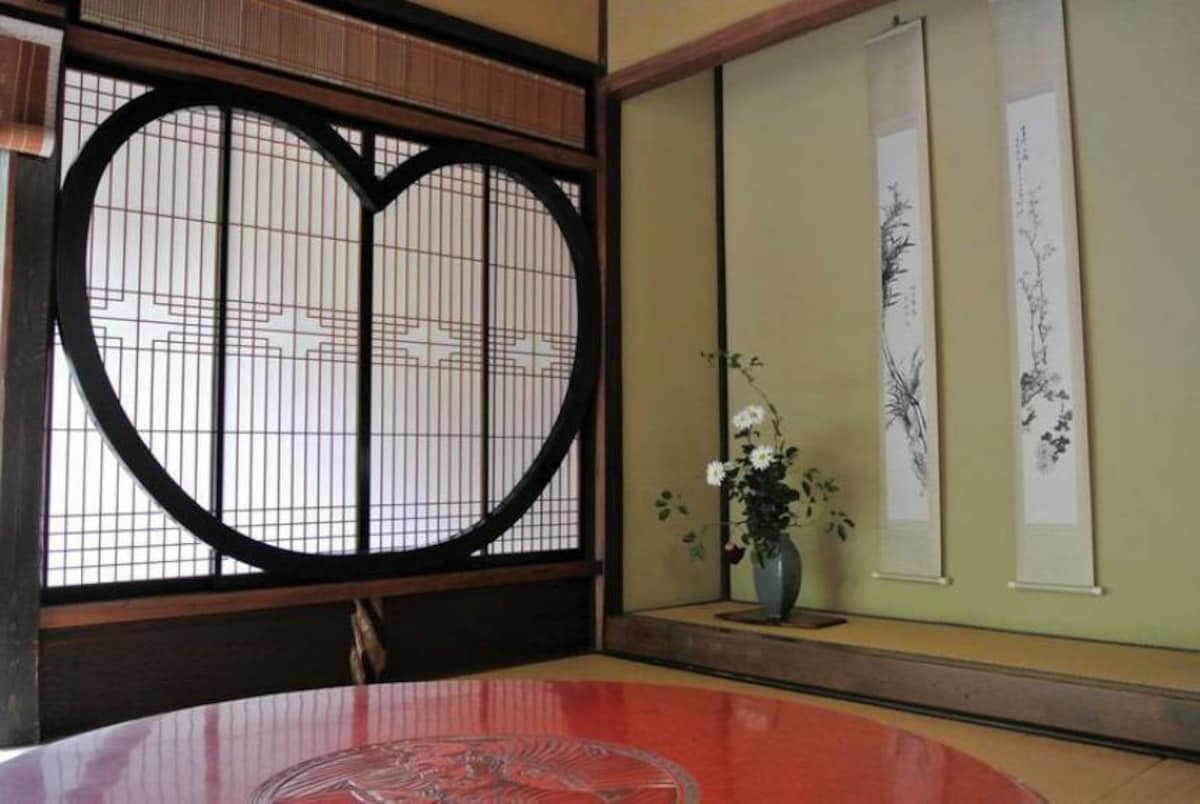 Chizushuku, located between Tottori prefecture and Okayama prefecture, is a town that has been and continues to be an important gateway between the two prefectures. Surrounded by mountains, Chizu has a serene atmosphere and is a great place to appreciate the nature and seasons of Japan.

Located in Chizu is the Ishitani Residence, an olden Japanese style architecture that has been standing since the Edo era (1603 to 1867). With a history of over 300 years, this building used to be a villa of the Ishitani family. There are more than 40 rooms in the house. It is today open to public and one can view the various historical artifacts and beautiful Japanese style architecture in the compound, (do note that there is an entrance fee of 500 JPY (4.40 USD) for adults).

The famous heart-spot in The Ishitani Residence is located in the "Edo Zashiki" room. Although the original house was built over 300 years ago, many portions of the house have undergone renovations. The Edo Zashiki room, however, has not experienced major changes. The heart-shaped window – the charm point of this room – has been around since the beginning and is a fantastic photo spot that everyone will definitely love!
5. The heart-shape by the sea: Hakusan Domon
Hakusan Domon is located by the coastal lines of Kochi prefecture. It is the largest littoral cave (or sea cave) that can be seen in Japan, and this unique geological feature was created by tens of thousands of years of erosion by oceanic action.

Hakusan Domon has a height of 16 meters (17.5 yards), width of 17 meters (18.6 yards) and depth of 15 meters (16.4 yards). Apart from being a location where one can marvel the power of nature, Hakusan Domon also has a heart-shape and is hence also famous for being a power spot for love.

Apart from viewing the cave from the top, you can also walk down the paths to the edge of Hakusan Domon to admire its beauty from inside! Do be careful when walking down though, as the stairs can be quite slippery at times.

Perfect as a date spot and nature watching, Hakusan Domon is definitely worth a visit!
4. The Inome Window of Shoujuin
Shoujuin is a temple located in Kyoto, and is most famous for having the Festival of Wind Chimes in summer. It is hence also called the Furin no Tera, or Temple of Wind Chimes. In the past few years, however, Shoujuin has been gaining popularity especially on social networking sites like Instagram for a particular window said to bring good fortune.

This window is the Inome Window. The Inome pattern, shaped like a heart, is said to have been used since ancient times in temples and shrines to ward off bad spirits as well as fire. This Inome window is extremely photogenic and is today known as one of the popular heart-spots in Japan.

Of course, being a temple, you should not visit Shoujuin merely to take photographs and sightsee, and it is also important for you to pay respect to Shoujuin.