Autumn Journey to Oku-Aizu on the Tadami Line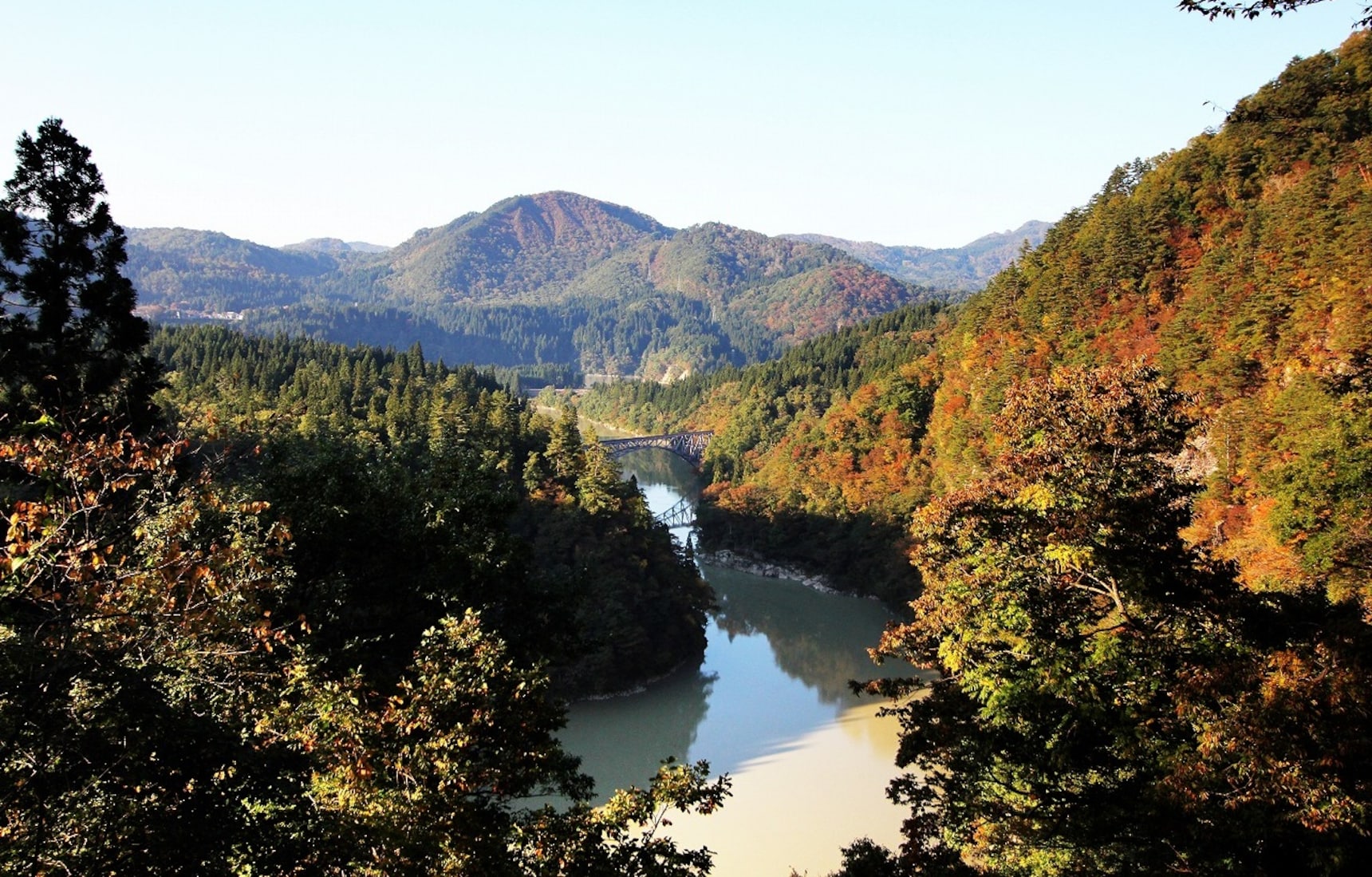 Operating between Aizu-Wakamatsu Station in Fukushima Prefecture and Koide Station in Niigata Prefecture from 1971, the Tadami Line treats passengers to peerless natural scenery drifting past the window. Having been featured in numerous newspapers and magazines, I decided to set out on a trip to see the foliage for myself.
The journey began by boarding a JR Tadami Line train at Aizu-Wakamatsu bound for Koide.
There was a unique view I wanted to see, so instead of getting off at Koide Station —the last stop —I decided to disembark at Aizu-Miyashita Station.

In July 2011, heavy rains in Fukushima severed the train routes, impairing a key lifeline for local residents. The 27.6-kilometer (17-mile) distance from Aizu-Kawaguchi Station to Tadami Station is now served by buses.
How many years had it been since I rode a small, local train? I boarded a two-car train and traveled for about an hour. For 40 minutes or so, the scenery was gentle, full of peaceful fields that warmed the soul. At Aizu-Bange Station, I saw layers of mountains in the distance that looked like an ink wash painting.
Beginning at Takiya Station, the foliage had just started to turn colors. The train occasionally blew its steam whistle as it passed through the fields, cutting a trail across the beautiful scenery of mountains and rivers.
The small stations along the way enticed me to disembark and see what unique sights they had to offer. This train has so few passengers that the doors open and close manually for those who wish to board or alight. However, it was the midst of the fall foliage season, so there were large tour groups aboard. The Tadami Line is a popular destination for those out to see the foliage.
Finally, we arrived at Aizu-Miyashita Station. From there, I would make my way to a popular spot where you can see both foliage and snowfall.
The train let us off and, blowing its whistle again, returned to the mountains. Because the Tadami Line train plies its way up the mountains and there can sometimes be fallen leaves or frozen patches on the rails, the station crew always carry bottles full of sand to coax the train along.
I took a photo of the train at Aizu-Miyashita Station and exited the station. I found myself alone. Where had the other people who had just gotten off with me gone? I was the only one remaining at the station.
A member of JR personnel gave me directions to the nearest tourist office. When I first got off at the station, I didn't think there was much around here, but I soon found that not only was there a tourist office, but lots of restaurants, convenience stores and even a pharmacy after a short walk.
Was this an indication of how many people visit here? In fact, there was proof of the fact that many overseas travelers come here at the station. In winter, lots of tourists from Taiwan apparently come to see the snowfall. At Miyashita Station, there was a log of the various countries from which people had visited. Taiwan was far and away the most, followed by Thailand and Hong Kong. Surprisingly, no one from Korea had been here.

I asked the tourist office staff, and they said they occasionally see Koreans in town, so I guess that means they just neglected to mark the board. I decided this was a perfect opportunity to affix my own red sticker as the first Korean to formally visit.
The tourist office had a range of pamphlets in different languages.
I had three stations in mind as potential places to get off and see the view. The reason I went with Miyashita Station was that it had simple, straightforward roads that would let me find my way with ease. Given that there are few trains on the timetables here, there was something fun and thrilling about planning an itinerary in time to make it back for the next train.
I next arrived at Mishima-Juku, a roadside station. I was told that this uniquely-styled building had an outstanding view nearby. Seeing lots of people gazing down at the flowing river, I too, got excited to take a look.
The path through the mountains, starting from this rest area and on through a tunnel, was a road leading to a stunning view. View Point B was just two minutes up the trail. Seven minutes up was View Point C, and then View Point D.
As I climbed the trail to Point B, which I had gazed up at before, I took a look down at the JR Tadami Line route. It was amazing to think that I had just been on the train across the bridge, chugging past in an instant. Everyone was on standby with their cameras to snap the train as it flew past. It was a blink-or-you-miss it opportunity.
The lovely foliage along the Tadami Line lived up to the hype: it was lush and beautiful.
Ascending higher and looking down, I was able to see far into the distance. Each viewing point had signs indicating the times the train would come past, with many people congregating to see it.
However, I missed the train by just a minute!

Mishima-Juku sold craft goods, local food products and everyday necessities like those you would find in a convenience store. Like most rest areas you will find along Japan's national routes, this one had a restaurant with a unique menu serving local specialties.
With all the climbing up and down in search of the observation points, I had gotten a bit hungry. I decided it was time to eat. I waited for my Aizu free-range fried chicken to arrive while I looked down at the river.
One specialty of the region is curry and fried chicken made with local free-range chicken. Unfortunately for me, the curry was sold out on that day, so I resolved to make up for it by trying the fried chicken.
The chicken was nice and crispy, with juices that trickled into the mouth, giving way to soft, tender meat. It was truly delicious! In an instant, I'd already gobbled up half of it.
In addition to curry with local Aizu chicken, they also had a unique souvenir that consists of Japan's traditionally famous Chikin Ramen, an instant ramen pack, produced in collaboration with Aizu using its local chicken. Among the unique specialties were foods recommended by the station master himself.
There were also various chicken curries in different flavors. The chicken I tried at Mishima-Juku was great, so I hope to share it with someone next time I come.
As the seasons turn from fall to winter, the days grow shorter. Taking stock of the time, we boarded another train for Aizu-Kawaguchi Station and then got on a bus running the route that had been severed due to heavy rains. I arrived at Tadami Station and stayed for the night.