World Heritage Sites & World-Class Mochi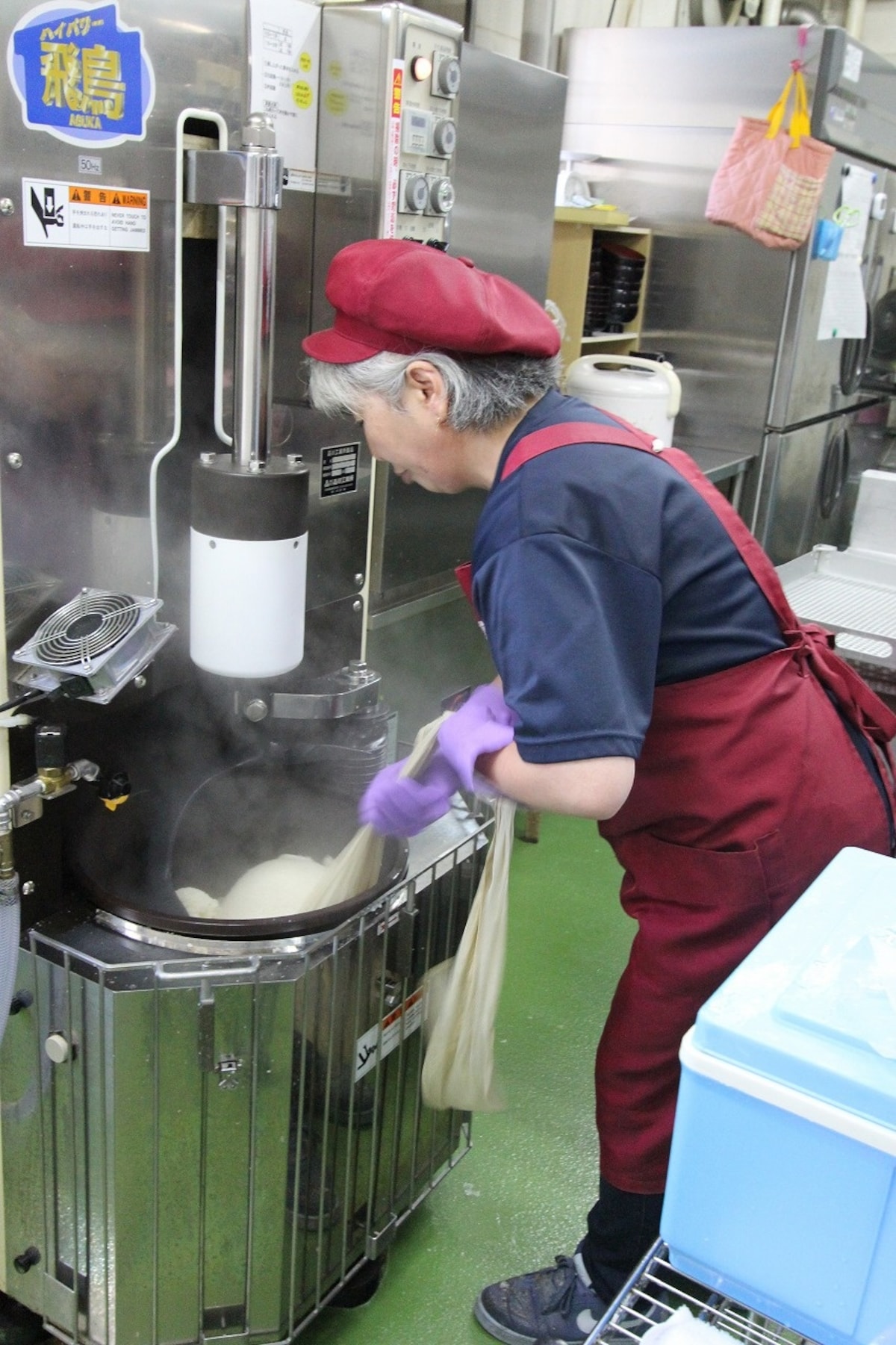 The freshly made mochi is combined with a variety of ingredients and sent out to the customers. Even though I have lived in Japan for about 20 years, I tasted several things here for the first time. I wondered what was so different about the mochi at the Genbikei rest stop. People eat mochi where I live in Saitama Prefecture, but many have it just once a year, roasted around New Year's. And karami mochi, topped with grated daikon, was a truly fresh taste for me as a Korean, but this…
I tried lifting up the soft mochi that was just made in the kitchen. Wow! How far does this stuff stretch? I was so shocked at how elastic this mochi was, I honestly had to laugh. Normally if it stretches that much, it would just fall off the plate. According to Konodera, "What makes our mochi so great is that it is soft and sticky, with a chewy texture, but doesn't stick to your mouth."
Just thinking about it makes me want to eat it again. I cut the stretchy mochi and popped it into my mouth. It really was soft and sticky without sticking to my mouth! Its chewy, supple texture totally reminded me of a gummy candy. Eight types of mochi seemed like quite a lot, but in the blink of eye, I had happily taken them all down. The most memorable flavor was the mochi topped with Japanese umeboshi (pickled plum) and shiso leaf. I never really liked the flavor of umeboshi before, but I will never forget how delicious this mochi was.
At Genbikei Rest Stop, you can freely purchase grains and vegetables produced right in the village, but the mochi and other foods made from them are most popular with visitors. It is an extremely fun rest stop that hosts several mochi-centered events lined up every month, just like the mochi they serve.
Genbikei Rest Stop is one place you cannot miss if you are ever around Ichinoseki and Hiraizumi. About a 10-minute walk from there, you will find the famous soratobu dango, or, "flying dumplings." When you arrive at this gorge, also named Genbikei, the view is breathtaking.

So they say that dumplings can fly through the sky here above this gorge where you can hear the babbling stream?
A pretty large crowd gathered at a small square gazebo there. Were the dumplings all of these people were ordering really coming from across the gorge, flying through the sky?!
We decided to order up some dumplings. You just drop ¥400 in the round basket and clap the board to send a signal!
The old dumpling maker heard the signal from all the way across the gorge, pulled the basket in as fast as he could, and signaled back to us. What a novel idea in this wonderful town! The dumplings flew through the sky on the rope! I witnessed it for myself.
The dumplings came back to us in the round basket.
Beneath the dumplings were three cups of ice cold green tea in paper cups. Can you believe since there are three types of dumplings, there are three types of green tea too? These flying dumplings are some thoroughly amusing treats. Ichinoseki is undeniably the center of the mochi world.
Once my eyes and soul were satisfied at the World Heritage Site, I got to eat some delicious mochi and experience a whole new mochi culture. I have a feeling that traveling this course would be even more unique and moving during the fall when the leaves are changing.