Getting Crafty in Fukushima Prefecture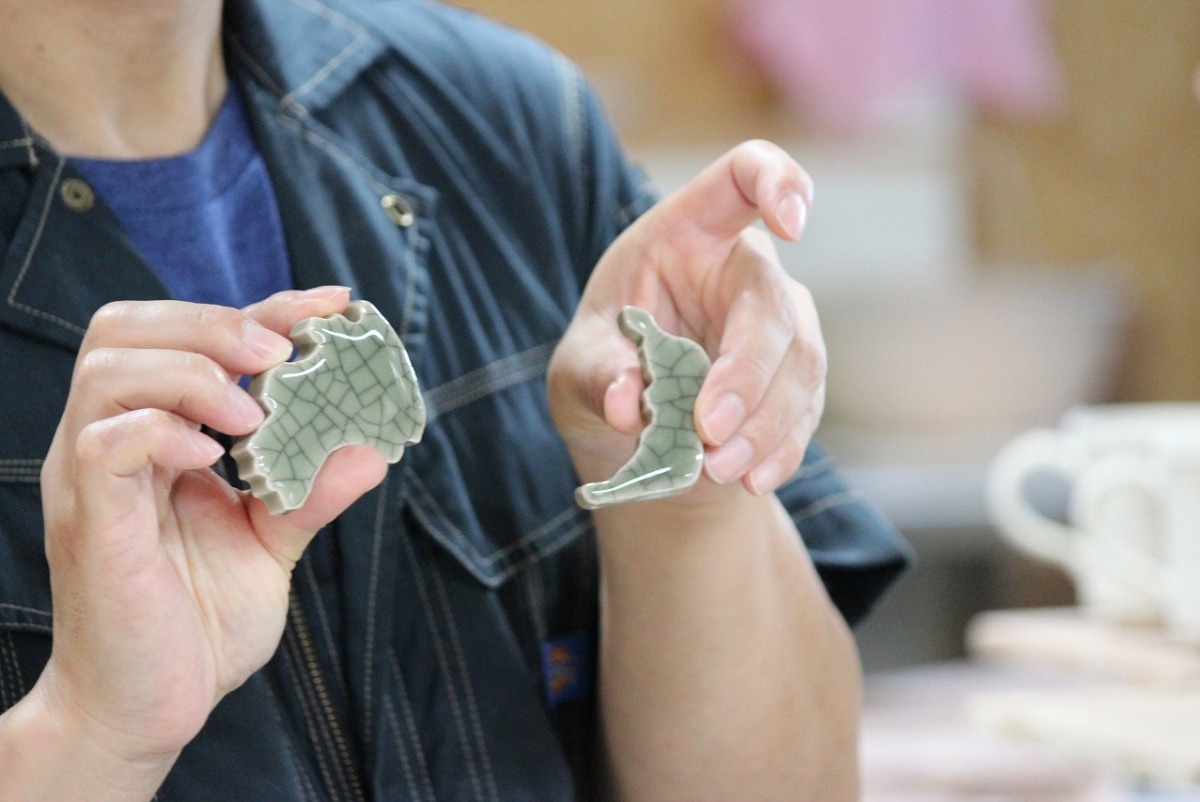 Deeply engrossed in conversation, we headed down to the first-floor workshop to try making pottery. The two will soon get married. One grew up in Osaka and the other in Fukushima, and they showed me chopstick rests they made in the shape of each of their home regions.
They also show me cups, each individually made on the pottery wheel, which they will give to the guests at the wedding ceremony they will be holding soon. What bright smiles! Cautiously, I suggest that perhaps what lit the fire in their hearts, motivating them to once again take up that 300-year tradition and live for the moment was having "someone." Someone who will stand by them, and lend their strength when things get tough. Someone who will offer a shoulder to lean on in times of need. That kind of someone.
Sue sits before the pottery wheel with an intent expression.
As though by magic, the lump of clay becomes a pot. In the blink of an eye, the pottery wheel and clay take on a new form. The artisan's hands look as though they are working magic.
I listen to a lecture, then, for the first time in 20 years, I too sat down at the pottery wheel like old times and tried following his example.
Of course, it did not go as I expected. As the pottery grew thinner, I became more and more nervous.
It had looked so much like magic. The higher it got, the weaker my bowl became, and began collapsing. It only took an instant.
After many ups and downs, I completed my bowl. I cannot keep up with the eye, sensibilities, or touch of 300 years of artisans, but in that moment, the feel of the clay brought a profound sense of joy. I am the one who brought this bowl into existence and the one who will fire it. In the same way that it is special, so too are all people special. No matter who your parents are, where you were raised, or where you live now. We are all the same in that each and every one of us is special. Through the earthquake, the wars of the past, and all of the troubles like the nuclear disaster we are dealing with now, I came to realize that all of us are special. I give my thanks to Sue and Kaori, the successors to the 11 generations of the Obori Soma-yaki tradition. Working at the pottery wheel at Suetoku-Gama, I learned that there is nothing in the world that is not special. In a few weeks, this pot will dry and be fired, and I cannot wait until the day it comes.