A Foodie's Guide to the Delicacies of Tohoku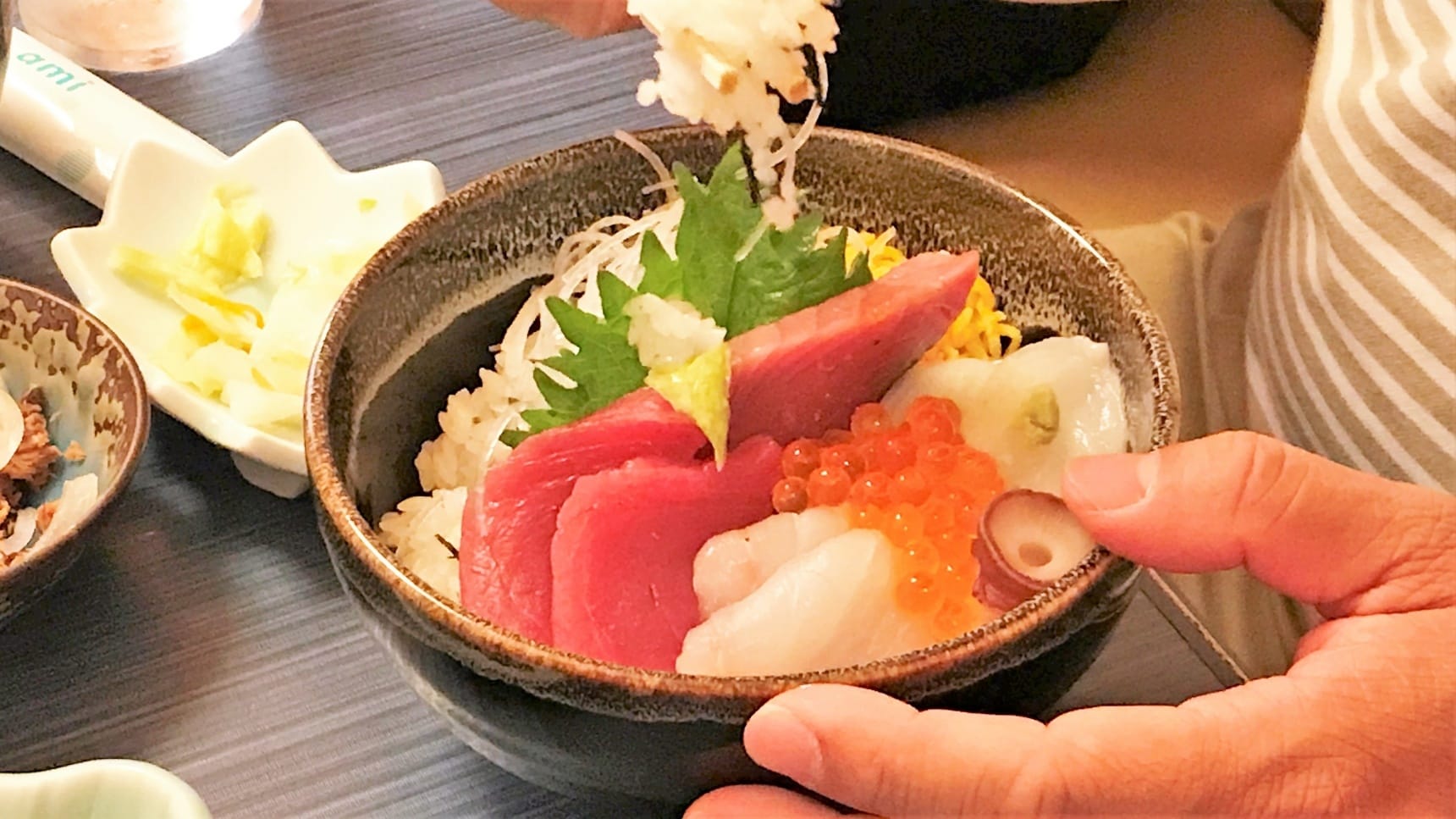 The waters off the Tohoku Pacific Coast play host a confluence of the Oyashio and Kuroshio (Okhotsk and Black Sea) currents, where sea urchin, abalone, seaweed and other delicacies are part of the active fishing industry. We're here to introduce some of the gourmet treasures from the ocean with a freshness that you simply have to taste to believe.
'Kaisendon' with fresh seafood direct from the harbor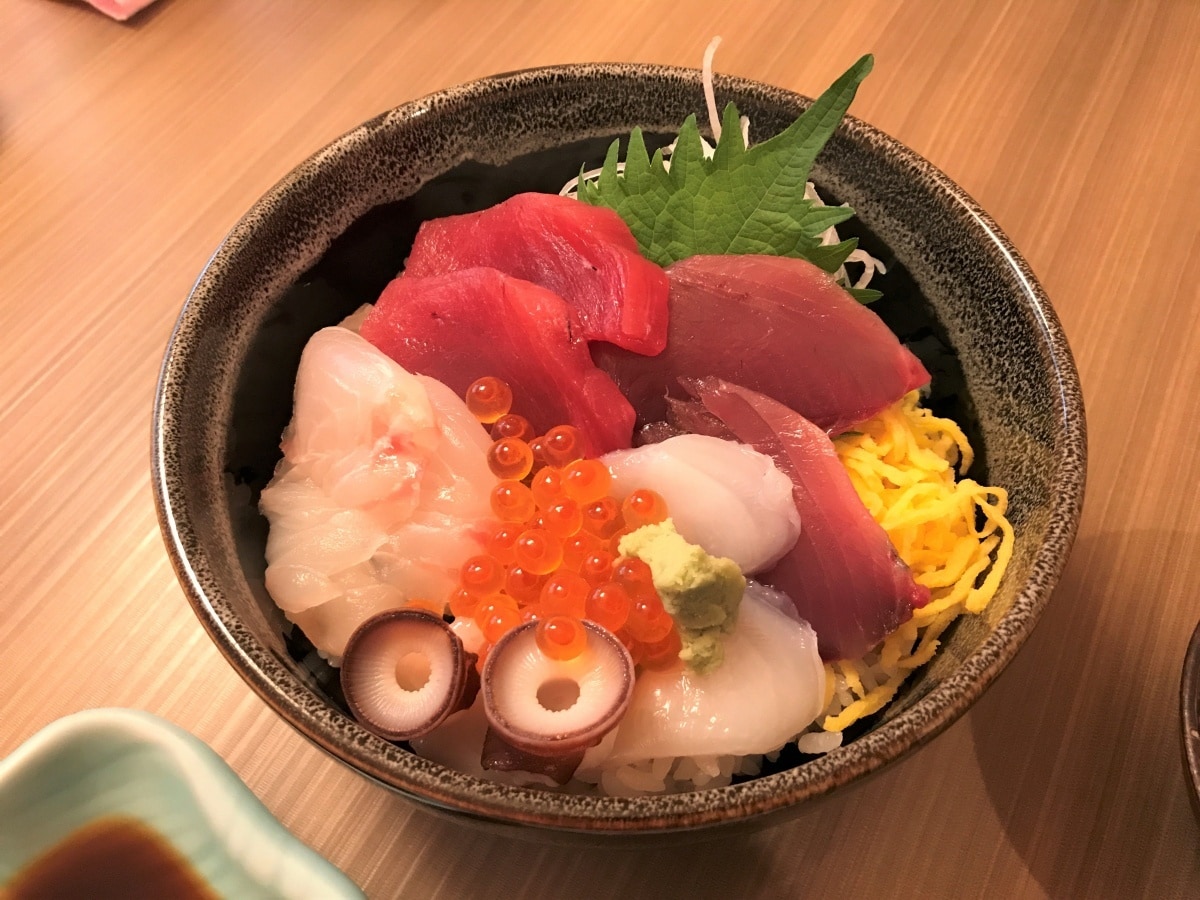 Near Kesennuma Harbor, which boasts some of Japan's largest catches of katsuo (skipjack tuna) and maguro (Pacific bluefin tuna), is the Kesennuma Fish Market and its rich assortment of seafood products using only the freshest fish. Lucky visitors might even have the chance to receive a sample! Since the same facility houses restaurants serving these fresh ingredients, I decided to try some kaisendon (seafood bowl with rice) packed with Kesennuma white-meat fish, octopus, scallops, bigeye tuna, skipjack tuna and more. I recommend this area for tourists short on time since lunch only costs about ¥1,000 and you can do some souvenir shopping while you are at it!
Processed shark fin products line the shelves.
Visitors can also purchase fresh fish brought directly from the port.
I recommend the pre-packaged shark fin soup. Just add an egg and it is ready to eat.
Kesennuma Fish Market
Address: 2-13 Minato-cho, Kesennuma, Miyagi Prefecture
Access: approx. 10 min. (about ¥1,000) by taxi from Kesennuma Station on the JR Ofunato Line
Hours: 8 a.m. - 5:30 p.m.
Gorgeously packaged instant ramen (a limited-edition product)
Those with an interest in architecture should not miss the Minami Sanriku San San shopping street, designed by world-renowned architect Kengo Kuma. In order to leave a legacy of the new course charted after rebuilding the temporary shopping street used in the wake of the Great East Japan Earthquake, the design here incorporates a wealth of human touches and interesting features, such as the addition of shop owner-inspired jubako (tiny box houses) in the plaza of the new shopping street. In addition to eating and drinking establishments, San San also has many gift shops featuring products originating from the local area. One example is the instant ramen that could draw attention for its beautiful packaging alone. I loved the well-worded description and color choices and was unable to resist the phrase "Tohoku limited edition," so I quickly bought some.
How to best enjoy the ramen
1. Preheat a ramen bowl and the (unopened) liquid soup packet.
2. Add the contents of the heated packet and 300 milliliters of hot water to the bowl, then stir well.
3. In a pot of boiling water, let the noodles cook for three minutes, then lightly drain them before continuing to cook them for two minutes over medium heat. (Cook them to your desired firmness)
4. Completely drain the boiled noodles, then add the soup from Step 2. (Add leeks and char siu pork as desired)
This instant ramen is really well made. It is packed with high-quality Tohoku ingredients, giving an expensive flare to the seafood soy sauce recipe. I was thoroughly impressed by the full-bodied chukamen noodles, carefully made over two days' time, and the great harmony of the soup's ingredients (Sanriku salt, Pacific saury, and rich soy sauce broth). If you follow the instructions above, you can add your own personal touches at home, such as grilled saury, for an authentic ramen just like you would find in a restaurant.
Nori tsukudani from Matsushima Bay, handmade and filled with nutrients
This tsukudani is made with thick cuts of nori (edible seaweed) harvested from Matsushima Bay, carefully preserving the natural flavor and texture, then boiled down in soy sauce for 12 hours. With just a little sweet flavoring, it pairs very well with steaming hot rice or okayu porridge. The product is additive-free and has been lovingly made by hand to bring out flavors unavailable through automation. Everyone from children to adults as well as vegetarians will definitely appreciate the results. For ¥500 or less you can make a purchase in show of support for the region's recovery after the earthquake, and the lightweight, environment-friendly vacuum-sealed packaging is yet another benefit.
Minami Sanriku San San Shopping Street
Address: 51 Itsuka-machi, Shizugawa, Minami Sanriku-cho, Motoyoshi-gun, Miyagi Prefecture
Access: from Sendai Station, approx. 90 min. by Miyagi Kotsu express bus (bound for Minami Sanriku-cho)
Hours: 9 a.m. - 5 p.m. (although restaurants are open later, please check the official website for details)
Sendaizu Soybeans
Soybeans, with their dietary fiber and great nutritional profile, are called the "meat of the soil." For centuries, they have been cultivated here in large quantities, mainly in eastern Sendai, the largest city in the Tohoku region. The Great East Japan Earthquake, however, hit many farmers quite hard, including soybean growers. The Sendai Bean Project was launched to help restart soybean production after the disaster. I was impressed by the efforts to find new possibilities for soybeans, to bring to market new soybean products, and to convey the appeal of soybeans to the consumers who enjoy them. These Sendai beans are being sold not only in Tohoku but also in large urban markets such as Tokyo. So if you happen to find some, please give them a try. Also, if you buy some as a gift, it will be a nice show of support for the local farmers.
Soy Choco
This treat takes Miyagi shirome soybeans originating in Miyagi Prefecture and coats them in chocolate. The aromatic and sweet results have a distinctive taste and provide a unique way to enjoy soybeans. They come in six varieties: white chocolate, milk chocolate, bitter chocolate, matcha powdered green tea, black tea and coffee.
Soy Chips
Compared to conventional potato chips, soybean chips have lower sugar, higher protein and plenty of fiber, which lets them shed the typical label of junk food. I recommend them for anyone who has dietary restrictions or is particularly health conscious!

You can find them here:
Maison de Gâteau TANABATA, S-PAL Sendai Store
Address: S-PAL Sendai East Bldg. 2F, 1-1-1 Chuo, Aoba-ku, Sendai, Miyagi Prefecture
Access: a two-minute walk from the East Exit of JR Sendai Station (connected to the station commercial complex)
Hours: 10 a.m. - 9 p.m. (rotating holidays)
Take a gourmet tour of Japan's Pacific Coast
I really think that a trip that teaches you about a local area through its food is the best idea for traveling gourmands. Rent a car and head north following the Pacific Coast. Your trip will take you to sightseeing wonders crafted by the hand of nature, while the highlights will come from fresh seafood plucked from the local waters. While reveling in culinary delicacies, do not forget to also look at the latest souvenirs and gifts in each region. Hopefully, the points of interest presented here will help make you a little more informed when you set course for Tohoku. If the area has been off your radar, now is the time to take an interest and plan your gourmet foodie tour.