Hungry in Aomori? Find Delicacies in Hachinohe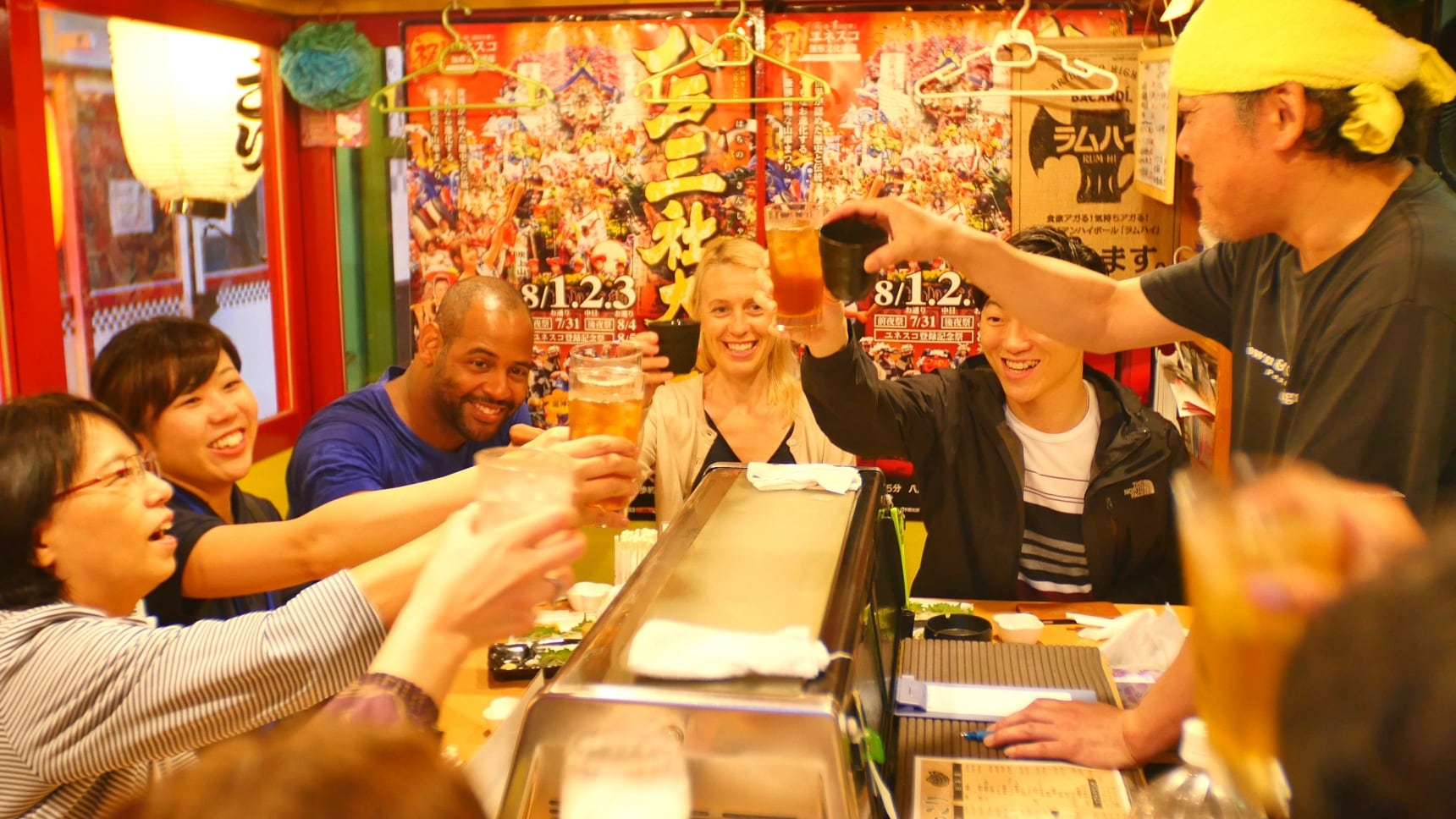 Aomori Prefecture includes some of Japan's most important fishing ports and markets that are buzzing from morning to midnight. Hachinohe, the prefecture's second-largest city, is home to prosperous agriculture, forestry and fisheries industries. Here are the places that you absolutely can't afford to miss, whether you're a regular or a first-timer.
Mutsuminato Station Morning Market
Take the JR Hachinohe Line early in the morning and get off at Mutsuminato Station. This is a spot where you can experience Hachinohe's uniquely lively atmosphere and bustling crowds every morning, except on holidays. The Mutsuminato Station Morning Market, which is also called the Kitchen of Hachinohe, has the Hachinohe Municipal Fish and Vegetable Retail Market as its centerpiece. Here you can find sights and tastes that are rich and authentically local. You'll find yourself overwhelmed by the sheer variety of simple yet exquisite local dishes on offer. This is where Hachinohe's restaurants get their fresh ingredients, from beautiful newly caught fish to side dishes and processed seafood products. Make your trip perfect with a sumptuous yet low-priced breakfast, and make sure to choose your own side dishes to go with your rice and miso soup!

Mutsuminato Station Morning Market
Address | Minatomachi, Hachinohe City, Aomori Prefecture
Access | Just a short walk from JR Mutsuminato Station
Opening hours | 3 a.m.-12 p.m. Monday through Saturday of every week (breakfast at the Hachinohe Municipal Fish and Vegetable Retail Market is approximately between 5 a.m.-10 a.m.). Closed on Sundays and New Year (the Hachinohe Municipal Fish and Vegetable Retail Market is also closed on the second Saturday of the month)
Tatehana Wharf Morning Market
Hachinohe's paradise for gourmets, the Tatehana Wharf Morning Market, is held every Sunday from March to November. Also called the largest morning market in Japan, this market is a must-visit for any tourist in Hachinohe. From the time the sun rises, you can see the shops busily setting up their market stalls. Domestic tourists and locals stroll between the stalls, evaluating the wares with an expert's eye before buying up the cheap and fresh ingredients. By nine in the morning, it's time to close shop. The market boasts nearly 400 stalls along its 800-meter length and attracts a bustling crowd of no less than 15,000 visitors every time. At this market, you can not only taste delicious gourmet foods at incredibly low prices but also try out traditional local dishes. You can also experience the unique charm of Hachinohe. The cheerful greetings tossed around by the stall owners will make you feel the energy that is characteristic of Japan's northern prefectures. It's a good idea to make some lists of where you want to visit before you go to eat your all-important breakfast. Then you can raid all kinds of stalls on a full stomach!

Tatehana Wharf Morning Market
Address | Tatehana Wharf, Shin-Minato, Hachinohe City, Aomori Prefecture
Access | Ten minutes on foot from JR Mutsuminato Station
Opening hours | Every Sunday of the month from March 12th (Sun) until December, from sunrise until around 9:00 a.m.
Miroku Yokocho
If you enjoyed the perfection of a Hachinohe breakfast, don't forget to turn your sights to Japan's largest complex of food stalls in the evening: Miroku Yokocho! This complex of food stalls in the center of Hachinohe was reconstructed in 2006. Inside this yokocho or network of back alleys, over twenty small restaurants crowd the intersecting streets. Here, you can find virtually any famous local dish, carefully prepared with local ingredients and fresh seafood caught in the sea off Hachinohe's fishing port: ichigoni, squid, Hachinohe maeoki mackerel, and so on.

This complex of food stalls is always bustling with customers who come to drink alcohol and chat as the stall owners lay out their foods. Complete strangers will come to exchange toasts together, and stall owners will chime in with some cheerful conversation of their own. There's hardly an empty seat to be found in the evenings when people come to let their minds drift in a nostalgic atmosphere full of memories. Whether you're a frequent visitor to Hachinohe or a first-time tourist, you're sure to find the food stall complex of Miroku Yokocho a place where you can immerse yourself in the daily lives of the locals. Treat yourself and explore the local tastes while you stroll through the alleys. Miroku Yokocho is the perfect place to go for just a nightcap, and no one will bat an eye if you sit in one of the restaurants alone at a later hour. Even if you're not sure how to place an order in Japanese, don't let the language barrier keep you from enriching your journey with a visit to Miroku Yokocho.

Miroku Yokocho
Address | Between Mikkamachi and Muikamachi in Hachinohe City, Aomori Prefecture Access | Ten minutes on foot from JR Hachinohe Station
Opening hours | Depends on the restaurant
Kofunato Ocean Food Restaurant
Aomori Prefecture is synonymous with ichigoni. This famous local fisherman's dish was created in and around Hachinohe, in the southern part of Aomori Prefecture. To make ichigoni, the fishermen who used to dive into the sea in search of fish put sea urchins and abalones—commonly caught around Hachinohe—into a pot, then added some simple seasoning in the form of salt and soy sauce. The sea urchins turn reddish as they harden until they look a little like strawberries. People say that this is where the name "ichigoni," literally "strawberry boil," comes from. Even today, people in and around Hachinohe often eat ichigoni at times of celebration.

Kofunato, a restaurant that overlooks the Tanesashi Coast, offers its customers a beautiful view. You can see the Pacific Ocean right outside the window, and even hear the sound of the waves. Come here to not only enjoy fresh food straight from the ocean but also to feel closer to the sea by experiencing its tastes and sounds. This is something you can do only at Kofunato. The sea urchin served here is harvested from the Pacific Ocean that extends beyond the Tanesashi Coast, right before your eyes. People say that they are at their most delicious between May 15th and August. Ichigoni (¥1,300) is a well-balanced dish of sea urchin and abalone fillets, seasoned with only salt and soy sauce and served with finely sliced shiso leaves. The clear soup has a deep umami taste that is ideal for bringing out the natural flavor of the ingredients.

Kofunato Ocean Food Restaurant
Address | Kofunato-tai 10, Samemachi, Hachinohe City, Aomori Prefecture
Access | From JR Hachinohe Station, take a taxi or take the bus bound for Tanesashi (¥100) and get off at the Seagull View Hotel
Opening hours | 11 a.m.-3 p.m., 5 p.m.-8 p.m. (closed on Mondays, also on Tuesdays if Monday is a holiday)
Local dishes that are emblematic of Hachinohe, Aomori
Hachinohe senbei soup, a dish that involves putting simple nanbu senbei (wheat crackers) in soup, may sound a little exotic at first. However, this kind of food has existed since the Meiji Period. Approximately half a century ago, it gradually became a dish that people make at home. Since the trend of marketing local dishes to the rest of Japan picked up, Hachinohe senbei soup has become well known as a specialty of the area. Nanbu senbei come in many flavors, but when people say "nanbu senbei," they're usually thinking of the crackers with a simple fragrance that are a famous specialty from the Tohoku region. The nanbu crackers that are used to make Hachinohe senbei soup are a special variety called otsuyu senbei (soup crackers). Because these crackers don't lose their shape when submerged in boiling the liquid, you can break them up and let them simmer in a pot without any problems. They not only absorb the flavor of the soup but also acquire a fresh texture that feels like that of noodles. The soup varies from region to region. It is made with chicken and tonkotsu pork broth and seasoned with soy sauce (some regions use miso or salt), and also contains burdock, enoki mushrooms, leeks and so on.
Saba no Eki
Hachinohe, a city in the southern part of Aomori Prefecture, is one of the busiest fishing ports in the Tohoku region. Every year from September to October, its fishermen catch mackerel that have migrated south to spawn. The fish is not only fatty, tender, and of good quality, but also rich in high-quality fatty acids such as EPA and DHA that prevent the hardening of arteries. The number of mackerel that can be caught off the coast of Hachinohe is not large, but their reputation as a delicacy is increasing year by year. As a result of various PR efforts, the fish have become known under the name "Hachinohe maeoki mackerel." Still, only a limited number of mackerel are actually caught off the coast of Hachinohe, so this fish is rarely eaten at home in Japanese households. Mackerel also spoils easily. As a result, it is mostly eaten grilled with salt in Japanese-style taverns. Very few restaurants offer raw mackerel, let alone specialize in it.

The "Hachinohe maeoki mackerel and fatty tuna rice bowl" (¥1,800) is made with fish of at least 550 grams that are caught and then immediately processed with quick-freezing technology. Afterwards, the mackerel is marinated in a sauce made with soy sauce, among other ingredients, for three to four hours. The fish is then placed on top of a bowl of Akitakomachi rice grown by contract farmers. Finely cut onions are sprinkled over the mackerel, making the luxurious arrangement even more visually appealing to make customers' mouths water. The taste of the rice and the sauce does a good job of suppressing the smell of the mackerel, and because you can also pour mackerel soup over the whole and eat it as an "ochazuke" dish, it's like having two meals in one. As soon as the aroma of the mackerel oil spreads through your mouth, you will rethink all you thought you knew about this fish. Any meal here is delicious, even for people who aren't very fond of eating raw fish!

Saba no Eki
Address | First floor of the Daimatsu Building, Muikamachi 12, Hachinohe City, Aomori Prefecture
Access | 15 minutes on foot from JR Hachinohe Station (South Exit)
Opening hours | 5 p.m.-12 a.m. (last order at 11:30 p.m.)
Hachinohe Bouillabaisse Festival
The Hachinohe Bouillabaisse Festival, which runs from February 1 until March 31 every year, is no doubt one of the biggest winter events in the area around Hachinohe, Aomori Prefecture. The event has been held continuously since 2012, and the number of participating shops and visitors increases year after year. Here you can enjoy not only Hachinohe's seasonal seafood but also new dishes that the participating shops develop to whet visitors' appetites. Restaurants that want to serve food at the Hachinohe Bouillabaisse Festival must observe some strict standards:

(1) They must use at least four kinds of fresh seafood caught off the coast of Hachinohe, and preferably use local and fresh produce.
(2) Besides bouillabaisse, they must make sure to serve another dish that makes use of the leftover soup.
In other words, the Hachinohe Bouillabaisse Festival is characterized by its support for high-quality local production for local consumption as well as by the complex flavors it offers to visitors.

As one of the event's organizers says, "The most important goal of the festival is to have as many people as possible taste Hachinohe's delicious seafood and local agricultural products." For Japanese cuisine and its distinctive dishes, these kinds of local food traditions are absolutely essential. The concept of bouillabaisse is a European import, but Hachinohe breathed new life into the dish with its own unique standards and rules. While delicious seafood is the obvious centerpiece of every dish, you could also say that the soup stock produced in the course of preparing the food is actually the most important part of a meal. If you find yourself visiting Hachinohe while the festival is ongoing, make sure to search out a good restaurant and get a taste of Hachinohe bouillabaisse.