A Super Cheap Akihabara Tour
Budget Food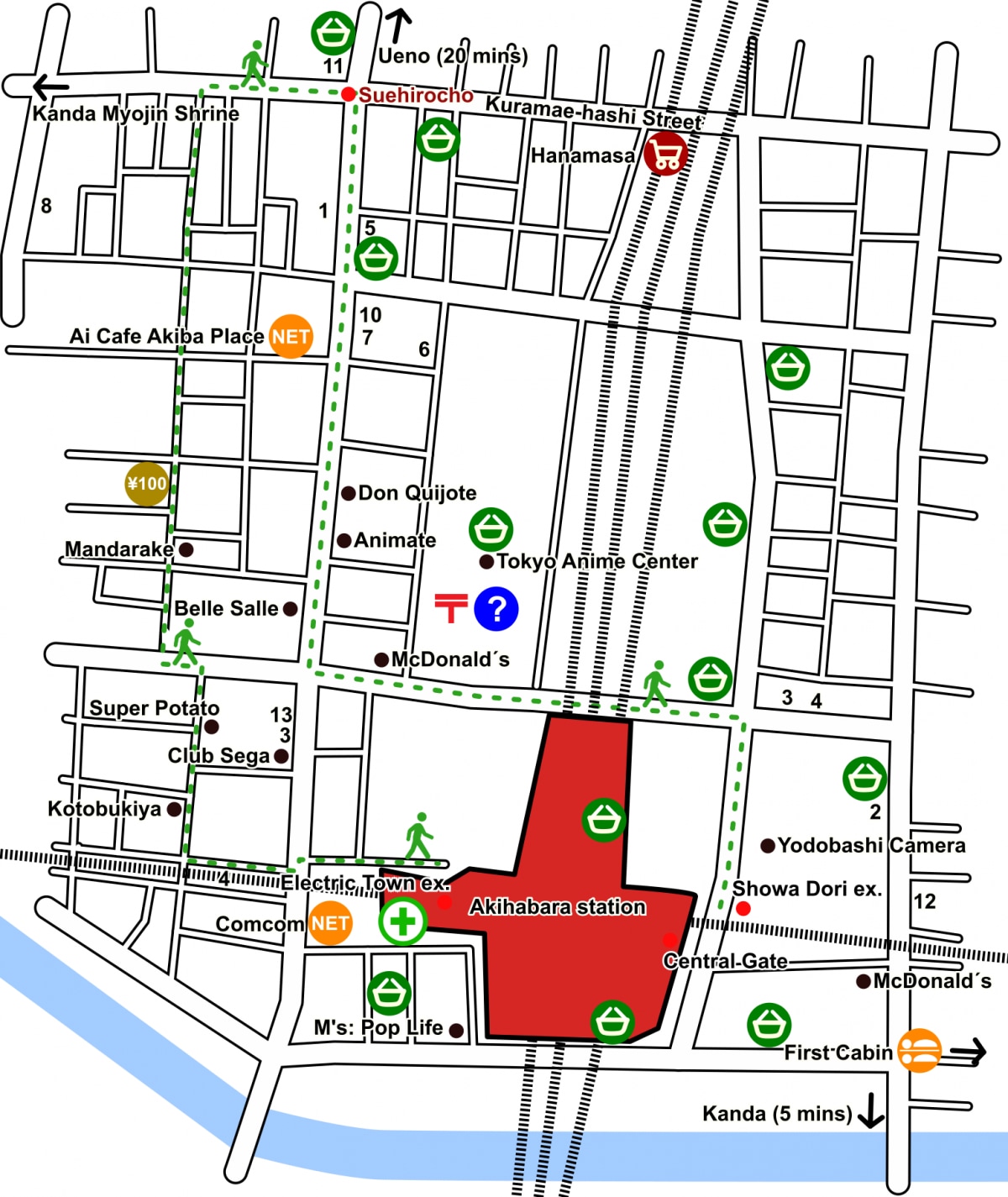 You'll find a number of budget restaurants in the Akiba area listed numerically on the illustrated map above.
1. Mos Burger (モス)
Japanese burgers. Burgers from 220 yen • 7am-11pm
2. Matsuya (松屋)
Rice bowls and curry. Gyudon bowls from 290 yen • 24h
3. Yoshinoya (吉野家)
Gyudon and curry. Bowls from 330 yen • 24h
4. Katsuya (かつや)
Meat cutlet rice bowls. Bowls from 490 yen • 7am-11pm
5. Hidakaya (日高屋)
Ramen and dumplings. Ramen from 390 yen • 24h
6. Sukiya (すき家)
Gyudon and curry. Bowls from 360 yen • 24h
7. Tenya (天丼てんや)
Tempura. Bowls from 500 yen • 11am-11pm
8. Hotto Motto (ほっともっと)
Bento boxes. Bentos from 390 yen • 9am-9pm
9. Vie de France (ヴィ・ド・フランス)
Bakery in the Yodobashi Camera store building. Breads from 120 yen • 7am-10:30pm
10. Komoro Soba (小諸そば)
Cheap soba and udon joint, with plastic food outside, so it's easy to choose your bowl. Soba from 300 yen • Two blocks past Don Quijote on Chou Dori
11. Taiyaki Kanda Daruma (たいやき神田達磨)
Classic taiyaki (fish-shaped sponge cake with custard or bean filling). Taiyaki from 250 yen • Just outside Suehirocho station
12. Coco Ichiban Curry House (カレーハウスCoCo壱番屋)
The true taste of Japanese curry. Curry + rice from 500 yen • 24h • Just outside Metro Hibiya exit 1/JR Akihabara Showa Dori exit
13. Go!Go!CURRY (ゴーゴーカレー)
Darker and richer curry sauce, with some splendidly unhealthy toppings available! Curry + rice from 530 yen • 10:55am-9:55pm • Next to Club Sega on Chuo Dori
Cheap Supermarkets (スーパー): Hanamasa (肉のハナマサ)
Hanamasa is a dirt cheap supermarket. 24h • A little north of Akihabara station, to east of Suehirocho station, along Kuramae-Hashi Dori and under the train tracks
Pharmacy (ドラッグ ストア): Kokumin
Kokumin has a store in Atre Shopping Mall (アトレ), connected to JR Akihabara station on the west side, near the Electric Town exit (10am - 9pm).
How to Get There & Away
From Shinjuku station, take the Sobu Line to Akihabara station (18 mins, 160 yen). From Tokyo station, take the Yamanote line to Akihabara station (4 mins, 130 yen). It's also accessible via the Metro Hibiya Line.

Recommended rail passes: Tokyo Subway Ticket, Tokyo Metro 24-hour Ticket, Tokyo Metropolitan District Pass
Tourist information (観光案内所)
On the second floor of the UDX building, the large complex to the north of JR Akihabara Electric Town exit (11am-5:30 pm, closed on Monday, Thursday).

Would you like to read more? Get the full book below!