Soothe Your Throat With... a Kit Kat?!
It's no secret that Japan is the land of amazing Kit Kat flavors. Nestlé Japan continues to prove that nothing is impossible when it comes to unusual limited-edition releases, and now they're wowing us yet again with what might just be their most unique offering to date.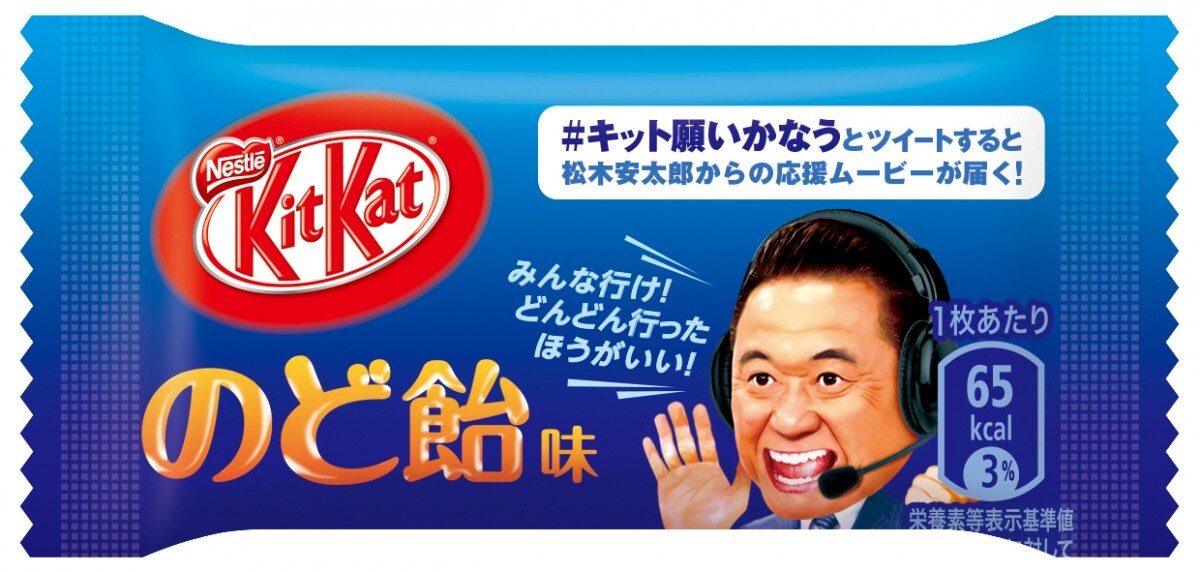 Called Kit Kat Nodo Ame Aji, which translates to Kit Kat Cough Drop Flavor, this new chocolate actually delivers a dose of 2.1 percent throat lozenge powder in every serving. According to Nestlé, the ground cough drop powder has been kneaded into the white chocolate layers of the Kit Kat to provide a "fresh and invigorating flavor."

Accompanying the unique release is some equally unusual packaging which features the image of Yasutaro Matsuki, a former national soccer player and manager who's also well known for his work as a soccer commentator. His enthusiastic commentary acts as the perfect inspiration for the sweet, which has been designed to support Asahi TV sports broadcasts while helping to soothe the throats of supporters as they cheer for the Japanese soccer team.
Each box, which contains three individually wrapped Kit Kats, features an image of Matsuki yelling out "It's one more point! Another point!!" alongside a slogan that reads "There's a battle there that most definitely can't be lost," as a nod to the fact that Kit Kat is pronounced "Kitto Katsu" in Japan, which literally translates to "Surely Win."

So whether you're suffering from a sore throat or in need of some extra luck to help ensure success on or off the sporting field, the Cough Drop Kit Kat should be at the top of your shopping list this summer. Retailing for ¥140 (US$1.28) at convenience stores across Japan from August 21, 2017, the limited-edition release will only be available to purchase until September 10, following the 2018 FIFA World Cup Russia Asian final qualifying broadcast against Australia on August 31 and against Saudi Arabia on September 5.