Nintendo's Bringing Back Old School Gaming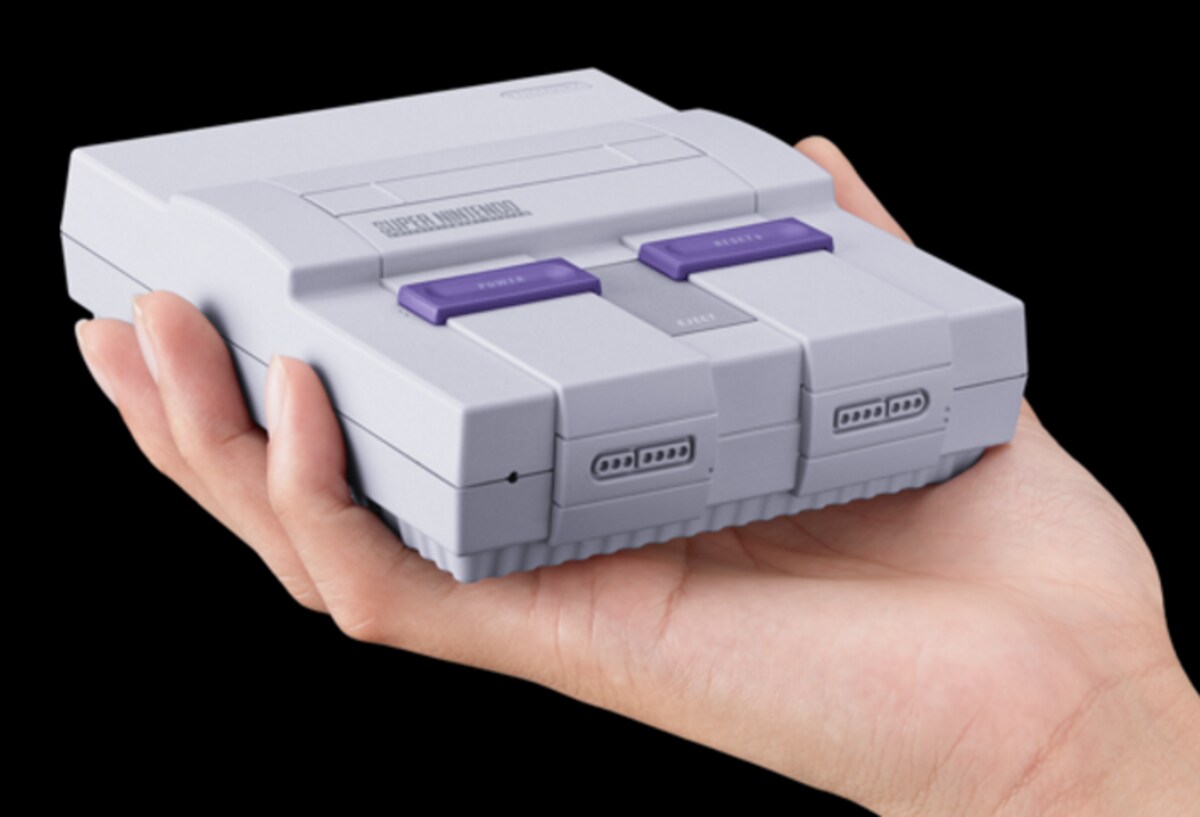 While the system itself has gotten smaller, the two included controllers look to be an exact match to the original spec units.
A follow-up to last year's phenomenally popular NES Classic Edition, the Super NES Classic Edition is a miniature recreation of the, well, classic video game system (which launched in the early '90s, before "console" was the standard parlance) which comes loaded with a number of hit games from the era. Nintendo isn't being quite as generous this time around, as the SNES Classic Edition contains 21 games, instead of the even 30 for the NES version. However, whereas the 8-bit lineup had a few questionable inclusions (only the most hardcore historians were itching to play the non-super Mario Bros. or NES Galaga), the SNES Classic Edition's library is incredibly strong.
The North American and U.K. versions will let you play:
● Contra III
● Donkey Kong Country
● EarthBound
● Final Fantasy III
● F-Zero
● Kirby Super Star
● Kirby's Dream Course
● The Legend of Zelda: A Link to the Past
● Mega Man X
● Secret of Mana
● Star Fox
● Star Fox 2
● Street Fighter II Turbo: Hyper Fighting
● Super Castlevania IV
● Super Ghouls 'n Ghosts
● Super Mario Kart
● Super Mario RPG: Legend of the Seven Stars
● Super Mario World
● Super Mario World 2: Yoshi's Island
● Super Metroid
● Super Punch-Out!!
In case you missed it, of special note is the inclusion of Star Fox 2, a game that was developed for the SNES, completed by Nintendo, but never released. So even if you've got no interest in "old" games, the SNES Classic Edition offers something new. Still, the primary appeal here is retro fun, and Nintendo has gone above and beyond in delivering on that. Not only do you get a collection of landmark games from the 16-bit era, the SNES Classic Edition is an opportunity to relive the frustration of Japan-exclusive titles and releases.

The Japanese version of the mini system, called the Nintendo Classic Mini Super Famicom, also comes with 21 games, but only 16 of those align with the North American/U.K. set.