The Biggest Highway Bus Terminal in Tokyo
Shinjuku Expressway Bus Terminal Location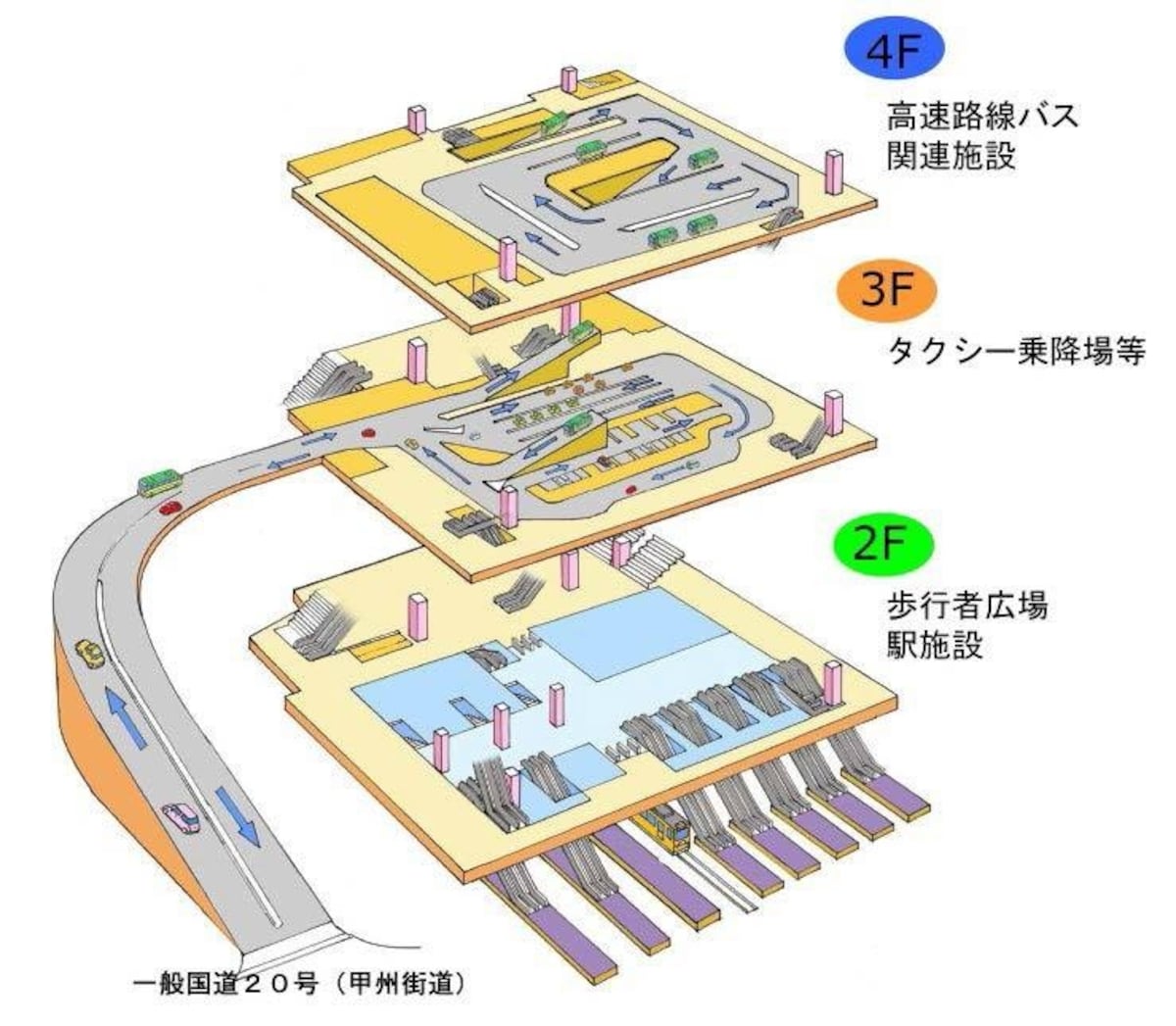 The SEBT, also known as "Basuta Shinjuku," is the biggest bus terminal in Tokyo. It can be found right in front of JR Shinjuku Station, the busiest train station in Japan—and the world!

The bus terminal is directly linked to the JR New South Gate, but it's also easy to access in about a minute from the JR South Exit or the South Exit of the Odakyu Line. From the South Exits, just cross Koshu Kaido street and head up the elevator or escalator to the fourth floor.
Destinations Accessible from the SEBT
The SEBT is directly connected to most of Japan's popular destinations outside of Hokkaido and Okinawa:

Tohoku
• Fukushima: Koriyama, Kitakata, Shinshirakawa, Fukushima City & Aizuwakamatsu
• Miyagi: Sendai & Ishinomaki
• Yamagata: Tsuruoka, Amarime, Sakata, Yamagata & Tendo Onsen
• Iwate: Morioka
• Akita: Yokote, Omagari, Akita City & Noshiro
• Aomori: Hachinohe, Aomori, Hirosaki, Goshogawara & Misawa

Hokuriku
• Toyama: Tonami, Takaoka, Himi & Toyama City
• Ishikawa: Wakura Onsen, Nanao, Kanazawa & Komatsu
• Fukui: Fukui City

Chubu
• Yamanashi: Fujikyu Highland, Kofu, Ryuo, Yumura Onsen, Hatta, Showa, Nirasaki, Yatsugatake, Kobuchizawa, the 5th Station of Mount Fuji, Enzan, Minobu, Minami Alps City, Kiyosato & Fuji Five Lakes (Fuji Goko)
• Nagano: Komagane, Suzaka, Kisofukushima, Suwa, Okaya, Ina, Iida, Karuizawa, Azumino, Hakuba, Nagano City, Zenkoji, Saku, Komoro, Ueda, Matsumoto, Miyota, Bessho Onsen, Tateshina, Nobeyama Sinano-Kokubunji & Kamikochi
• Niigata: Niigata City, Nagaoka, Shibata, Takada & Naoetsu

Tokai
• Shizuoka: Gotemba Premium Outlets, Izunagaoka, Shuzenji, Shuzenji Onsen, Numazu, Mishima, Shimizu, Shizuoka City, Hamamatsu & Susono
• Aichi: Toyohashi, Nagoya, Toyokawa, Mikawa Tahara, Okazaki & Toyoda
• Gifu: Nakatsugawa, Gifu City, Mino, Seki, Hirayu Onsen, Takayama, Hida Furukawa & Kani
• Mie: Yokkaichi, Shirako, Tsu, Matsuzaka, Ise, Toba, Takiharanomiya-mae, Owase & Kumanoshi Station

Further afield in Kansai, you'll find links to Shiga, Nara, Kyoto, Osaka, Hyogo and Wakayama. In the Chugoku and Shikoku regions, buses run to Okayama, Hiroshima, Tottori, Shimane, Yamaguchi, Tokushima, Kagawa, Ehime and Kochi. Kokura and Hakata in Fukuoka, Kyushu, represent the furthest direct bus destinations from Tokyo.

Of course, most of the major spots in the Kanto region are also connected, including Haneda Airport, Narita Airport, Tokyo Disneyland, Tokyo Big Sight, Tokyo Summerland and the Hakone hot spring area in Kanagawa.
Where & How to Buy Tickets & Catch Your Bus
The SEBT has several floors, but the fourth floor is the departure terminal, presenting both manned and automatic ticket counters and an information counter (English available). It can be accessed by elevator or escalator from the ground floor.

The departure floor is divided into four areas (A to D), and you should confirm the departure area for your bus. If you're having trouble, you can ask an attendant at the information counter. Free Wi-Fi is also available to look for information if needed.

There are also ATMs and a nursing room, 146 chairs for waiting, and 142 coin lockers (including 46 large lockers) available on-site. So if you've got luggage you'd rather not lug along on a Tokyo side-trip, leave it in a locker and enjoy traveling light!