The Best 'Hanami' Spots in Each Prefecture
Kinki Area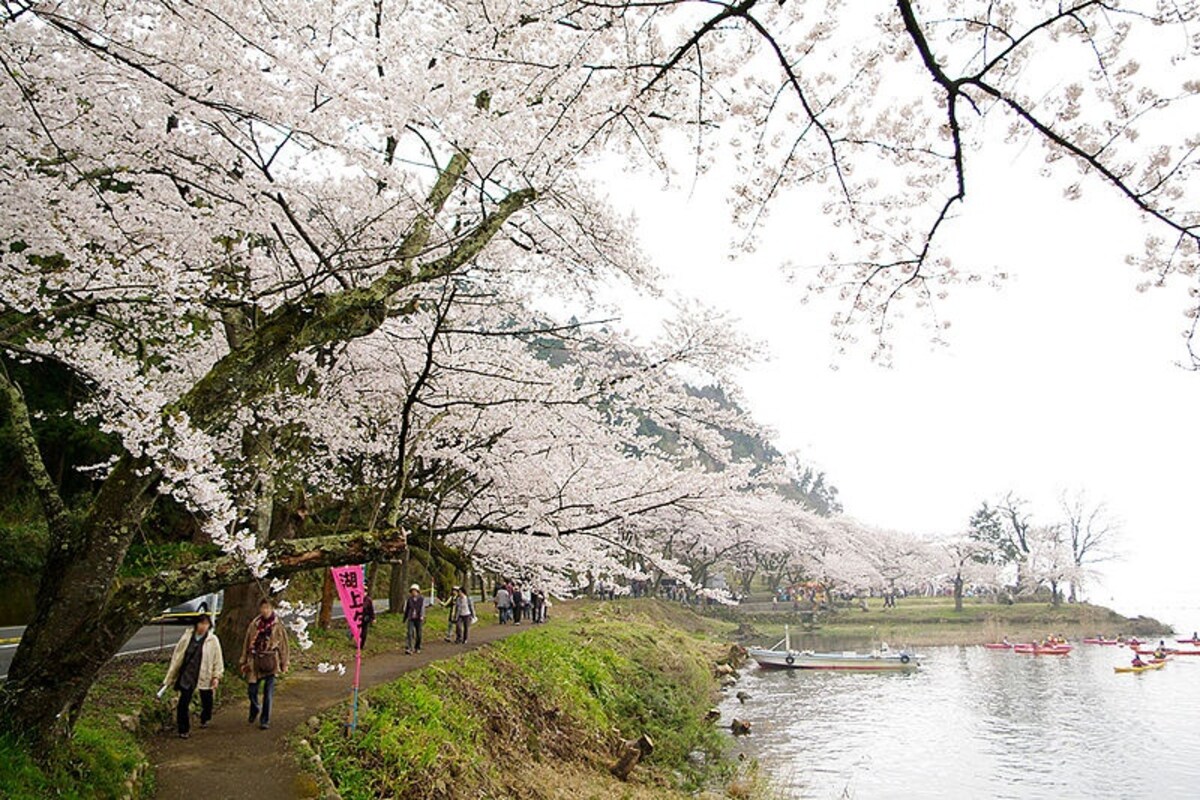 Shiga Prefecture – Kaizu Osaki
Kaizu Osaki is a peninsula in the Biwako Quasi-National Park, offering a beautiful view of cherry blossoms against the scenic backdrop of Lake Biwa.

Kyoto Prefecture – Daigo-ji
The daimyo warrior Hideyoshi Toyotomi held a cherry blossom party here in the 16th century, and people are still enjoying the blooms here centuries later, with the five-storied pagoda adding to the peaceful setting.

Osaka Prefecture – Osaka Castle Park
These expansive grounds are a perfect spot for friends and family to enjoy hanami picnics while enjoying a view of Osaka Castle rising above the surrounding cherry blossom trees.

Hyogo Prefecture – Himeji Castle
Known as one of the best surviving castles in Japan, this world heritage site comes to life in spring with more than a thousand cherry blossom trees.

Nara Prefecture – Mount Yoshino
With more than 30,000 cherry trees of different varieties on its slopes, Mount Yoshino has been called Japan's most famous cherry blossom viewing spot for centuries.

Wakayama Prefecture – Wakayama Castle
This castle setting is a favorite with locals and tourists who come here to enjoy the annual sakura festival.
Chugoku / Shikoku Area
Shimane Prefecture – Matsue Jozan Park
With stage events and a view of the castle, the 190 trees here include: Yoshino cherry, double-flowering cherry, wild cherry, and weeping cherry varieties.

Tottori Prefecture – Minatoyama Park
Located at the foot of the site of Yonago Castle, the sakura here can be enjoyed by day or at night, when lanterns are lit during the annual cherry blossom festival.

Okayama Prefecture – Korakuen
As one of the Three Great Gardens of Japan, Korakuen remains a popular spot to view cherry blossoms in a peaceful, beautifully manicured environment.

Hiroshima Prefecture – Miyajima
With its seaside location, traditional shrine, and free-roaming deer, Miyajima is a stunning place to visit at any time of the year, but in spring, the added beauty of cherry blossoms makes this an incredibly popular tourist destination.

Yamaguchi Prefecture – Kikko Park
After walking over the beautiful wooden arches of the famous Kintai-kyo Bridge, visitors get to enjoy meandering paths, stalls, and lantern-lined rows of sakura trees by the river.

Tokushima Prefecture – Tokushima Central Park
This park surrounding Tokushima Castle blooms with sakura in the spring, inviting hordes of people to enjoy hanami picnics and gatherings under the blossoms.

Kagawa Prefecture – Ritsurin Garden
As one of the most famous historical gardens in Japan, a stroll under the cherry blossoms here comes with added features like a tea house, traditional bridges, and beautiful ponds filled with koi carp.

Ehime Prefecture – Matsuyama Shiroyama Park
About 200 cherry trees bloom here, with a view of the castle tower in the background. The tower is lit up at night, creating a magical atmosphere.

Kochi Prefecture – Kochi Park
Kochi Castle overlooks the city from the park, surrounded by 225 cherry blossom trees in spring.
Kyushu Area
Fukuoka Prefecture – Maizuru Park
Located on the former site of Fukuoka Castle, this park has a number of pleasant areas to enjoy the blossoms among the castle's ruined citadels.

Saga Prefecture – Ogi Park
Originally built by Motoshige Nabeshima and Naoyoshi Nabeshima, the first and second lords of Ogi Domain, this park has more than 3,000 sakura trees on its grounds.

Nagasaki Prefecture – Omura Park
Here visitors can view the remains of Kushida Castle, along with some 2,000 cherry blossom trees.

Kumamoto Prefecture – Kumamoto Castle
Nearly a thousand cherry trees bloom on the castle grounds, making it one of the best places in the city to enjoy a hanami picnic during the flower-viewing season.

Oita Prefecture – Ohara Weeping Cherry Tree
The Ohara shidare-zakura ("weeping cherry tree") is over 200 years old. Located by the side of a road, the spectacular tree is lit up at night so visitors can enjoy its night-time beauty.

Kagoshima Prefecture – Kotsuki River
Flowing through the middle of Kagoshima City, Kotsuki River is a convenient spot to enjoy the blossoms in the middle of the city, with roughly 500 sakura trees lining the river.

Whether you're traveling around the country, or looking to enjoy a hanami flower-viewing picnic among the locals, we hope this epic guide to Japan's sakura spots helps you get the best out of this year's long-awaited cherry blossom season.